We did the double-whammy again this year: Trunk-or-Treat at the branch on Friday and Trick-or-Treating on Saturday. We only spent about an hour doing each which was perfect... more than enough candy, and the kids got to traipse around in their costumes.
Ruby finally,
finally
, got to pull on her white shirt, suit and tie. Woo found her a briefcase type bag for collecting candy, and I slicked her hair back. Her costume was a hit at the branch, but decidedly less so out on the street.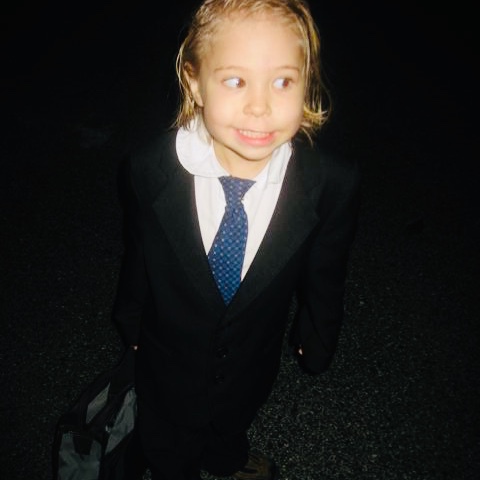 No matter how close she got to people's faces and shouted, "President Uchtdorf!!" They continued to look confused.
They'd look up at Woo who would say, "President Uchtdorf," and they would smile and nod as if they knew exactly who he was talking about.
Herbie ended up being an elephant. We took a trip to the party store, and he was immediately smitten by the elephant trunk. I spent about a half hour tacking ears and a tail onto a grey sweat suit on Friday, and was pretty pleased with the results (especially for the amount of time and effort I put into it).
Herbie enjoyed himself at home in his costume, running around making elephant noises, "I'm an elephant!"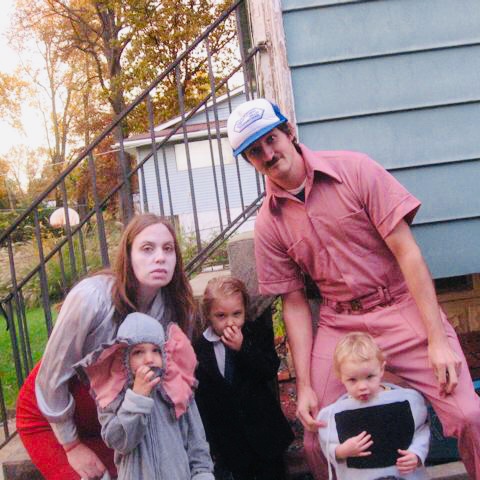 On the street was a different story. Herbie got very, very quiet. Woo thought that maybe the trunk was making it hard for him to breathe, and moved it to his forehead, but really Herbie had just discovered that a lot of people try to be scary for Halloween, and he was pretty uneasy about the things he was seeing.
Moses' costume elicited the most comments from random people walking past us:
"Oh, look at the baby!" (women and girls)
"He's a computer!" (the technically challenged)
"He's an iPod!" (those in the know)
"An iPod! You guys are so creative!" (those of superior intellect)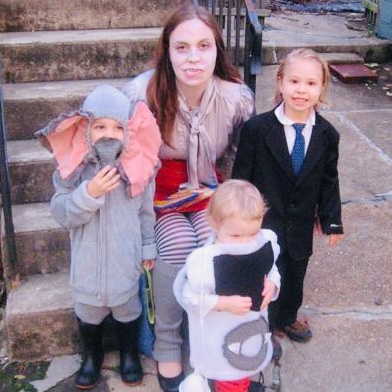 A half hour before the Trunk-or-Treat, I finally thought of a pregnant woman costume that I like: a boa constrictor that had recently swallowed a goat (or maybe even a human baby... it is Halloween after all...), but I didn't have the time or the supplies to pull it off. Instead I went with a my original plan: a vampire. Not original, I know, but I've never been one before, and it seemed easy.
The kids thought I was funny, but Woo couldn't get over how "terrible" and "awful" I looked. It must have been terrible and awful in a good way because I won the costume contest.
At the very last second, Woo donned a jumpsuit and hat to be a mechanic. He's never given much thought to his costumes, but he mourned the days where he could just grab some random clothes out of the trunk of his car and win any costume contest around.
I guess his single, glory days are behind him, now that he gets upstaged by his wife! (Although, some might argue, that the only reason I won was because he cheered so loudly for me.)
He did get lots and lots of laughs when he truthfully said, "This is what I wore to my wedding."
Anyway, I hope you all enjoyed yourselves this week. Woo has some pictures on his phone. I've put in a request to share them, but I can't make any promises.