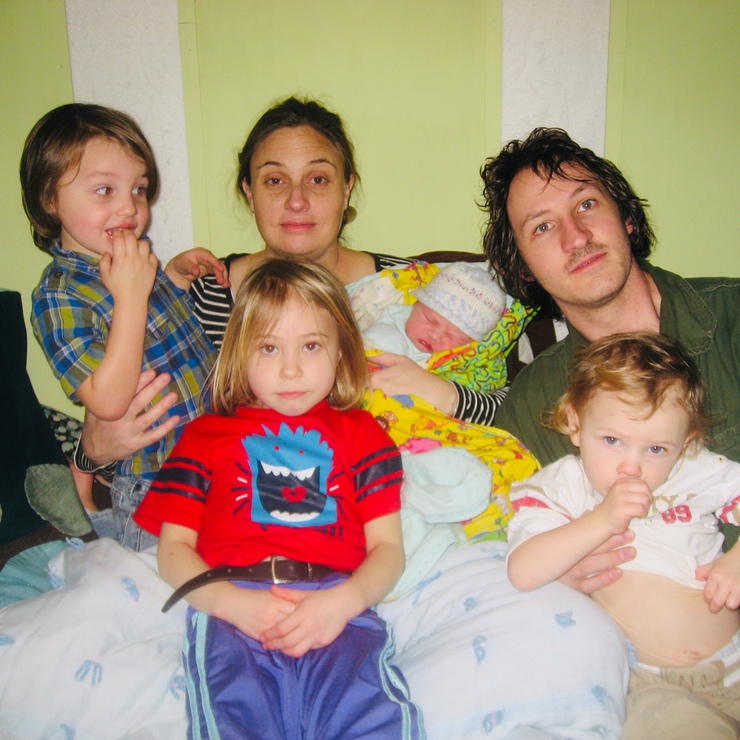 We do now have a name for the baby: Linus Maximus. He's only been alive 36 hours so there isn't much to report other than he's fat, healthy, sleeps a lot, and eats well.
Herbie has had a rough couple of weeks. The anticipation of so many exciting things has really gotten to him. He threw a tantrum a couple of days before my Mom came out, and when I went to talk to him, he cried, "The baby's not being born, Grandma's not coming, the house isn't sold and we're not moving!"
Even after Grandma finally came, he threw at least a tantrum a day. I'm really hoping that it will end now that the baby's made his appearance, and Grandma's come and gone, but maybe I shouldn't get my hopes up.
A couple of hours after Linus was born Herbie asked me, "Mom, can we move today? The baby is born."
He is super excited to have a baby brother, even though we decided not to name him Rooster (Herbie's pick), and it's inspired him to be a better man. "Mom, I'm not going to say 'poop' anymore because I'm a big brother."
Moses was a little confused the morning Linus was born, but has really taken to him since then. He likes to come up and give him kisses, runs for a car or truck to share with him when he cries, and asked about the "baby! baby!" first thing when he saw me this morning.
I even caught him laughing with a doll, giggling "baby! baby!", and making kissing noises before his nap today. Mom, Dad and Baby are the only people in our family that Moses can currently identify.
Ruby has been reveling in the idea of being a little mom for quite some time now. She's especially excited to help dress Linus in his pajamas, fetch me anything I need for him, and inspect his umbilical cord. She enjoyed doing little things to help Grandma make lunch.
In some ways Steven had his easiest labor ever. In others, he wondered if it was his "Abrahamic test."
He got a full nights sleep because I didn't have close contractions or any back labor all night, and didn't think it was worth keeping him awake for. But, when things picked up, they went quick, and for a couple of minutes he thought that he would be catching the baby himself.
I think he washed his hands three times and said about a million prayers. I guess he passed because the midwives showed up, and all he had to do was cut the cord.
I'm enjoying the feeling of having the baby out --- one of the best physical feelings in the world. It's hard to sit and relax when I feel like I can finally do so many things easily again (like stand for more than five minutes).
Anyway, I hope everyone had a good week!