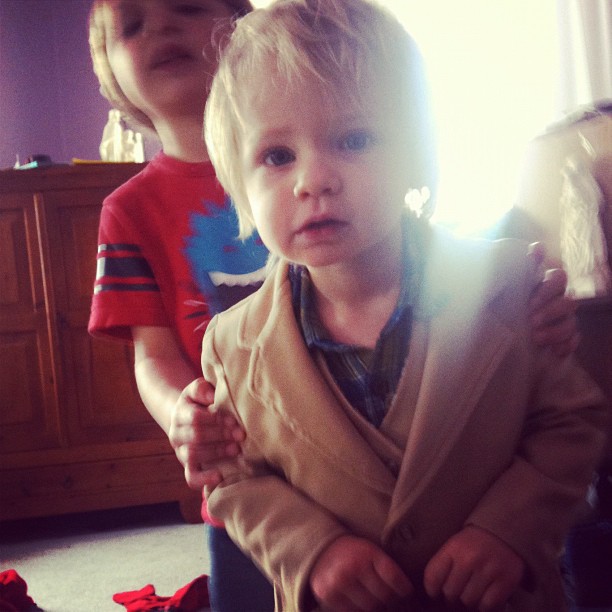 We finally learned what's triggering Moses' fear of the wind on a walk this week.
Moses (as if having the revelation of a life time): Mom! My hair didn't blow away!
Me: It didn't blow away?
Moses: No! It's stick... it's sticked to my head!
Me: Is that why you've been scared of the wind, Moses?
Moses: Yes, but it didn't blow away! It sticked!
Me: That's great, Moses!
Woo: Moses, you have many years ahead of you before you really have to worry about male pattern baldness.
And speaking about bald... we finally got to move the pinball machine into Woo's office this week (Yay!), and the kitchen seems quite spacious without it. When Herbie first walked in he said, "It's bald in here!"
Herbie had a hard time napping while the carpet layers were here. He kept trying to negotiate with me before finally settling down.
Herbie: Mom, if you let me get up, I'll let you sit by me at dinner.
Me: Hmmm.
Herbie: If you let me get up, I'll let you carry my scriptures to church.
Me: Herbie, you're not swaying me. Go to sleep!
I asked Herbie what color we wear when we're baptized.
Herbie: White! And brown.
Me: Brown?
Herbie: If you're John the Baptist, you can wear brown.
Very observant, Herbie. John the Baptist is always wearing brown in any picture. Why is that?
Ruby had Crazy Hair Day in school. When we told her, she immediately wanted to dye her hair blue (K--, have you been talking to her?). Woo has a precious box of kool-aid packets that he went through to find a flavor he could live without.
Unfortunately, for Ruby, it was strawberry, so she had to settle for red hair. Following instructions on the internet I applied the kool-aid, and then immediately rinsed it out, so she wouldn't have red hair for weeks. It rinsed out to a nice strawberry blond, and she picked out an entirely red outfit to wear. I thought it was pretty cute (unfortunately the color doesn't show up in any pictures I took), but apparently she had an altercation with another little girl with big poofy hair, who thought her hair was "stupid."
Ruby returned the sentiment, and now that little girl "is not invited to Herbie's birthday party."
That'll show her!
Linus has been called "Whinus" and "Whiney" more than Linus and Liney this week. We finally figured out on Thursday that the time change was probably behind his cranky behavior. I didn't think that moving the clock this direction had much of a impact on the kids' behavior, but it did affect Linus. Maybe because he's still taking two naps during the day. I don't know. Anyway, thankfully, most of Friday and all of Saturday he was back to his normal smiley, giggly self.
I worked myself a little too hard to get the house ready for the carpet layers last week, so I spent a few evenings this week watching movies and eating popcorn. I feel a lot better. I still managed to completely finish painting Woo's office (it only needed one coat, unbelievably), and get about halfway done with the kids' rooms, so that has been exciting to start moving stuff to where it belongs.
Pinball has been a favorite after-dinner activity for the past couple of nights. The desk we had didn't fit when all was said and done, so yesterday, we picked up a mid-century study hall desk from Weber State and wall clock from South Ogden Jr. High (before it was torn down) from some guy who's better and smarter about hitting surplus sales than we are.
I also have my eye on an old library card file at the auction Tuesday night, and a couple of bookshelves from Ikea to harness all of Woo's "treasures." I don't think anyone knows how extremely excited I am to have that done :). So far it's looking pretty nice in there with the exposed brick walls.
Woo continues to work feverishly on his update. Thankfully, he took some time out to move Oogli LLC from our bedroom to his office last night. He says he has made a lot of progress on the update in the last little bit, so I'm hoping (and I know he is too :) that it will be done soon.
The snow on our lawn has started to melt, and Woo is probably the only guy in town to say that he's sad to see it go, and he's not quite ready for winter to be over.
He also has started a new project of tracking the temperature of our bedroom (and now his office) every minute. He has plans to expand to outside, and other rooms of the house. If you want to see the graph, I'm sure he'll send it to you. He's quite proud of it.
Well, that's about it for this week. I hope everyone's doing well!