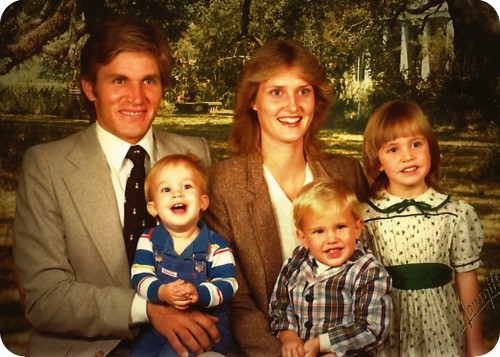 (Dad, Jos, Mom, Tys, Me)
Josey was being potty trained. Dad sat him on the toilet, told me not to move him and left. The problem was ... Josey was crying.
A lot.
He said he was stuck and wanted me to help him off. I pulled his arms, but his bum was down in the hole, and I wasn't strong enough to lift him out. Tyson was with me, but even with both of us, we couldn't do it.
Tyson panicked. Josey was terrified. I thought it was a crisis.
So, I did what anyone does in a time of crisis: I called Grandma.
She arrived minutes later to pull Josey out. Dad arrived immediately after that, and he was mad (I guess I missed the part where he'd told me he'd be down the street at the neighbors and would be home soon).
I remember being confused when he was telling people about it a few days later and laughing.