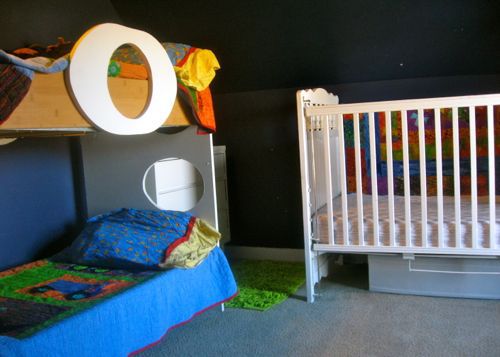 As you can see, this area of the house was completely unfinished when we moved in.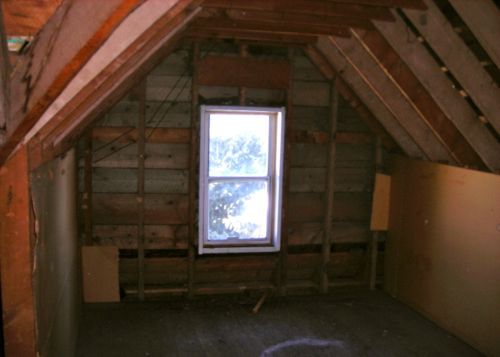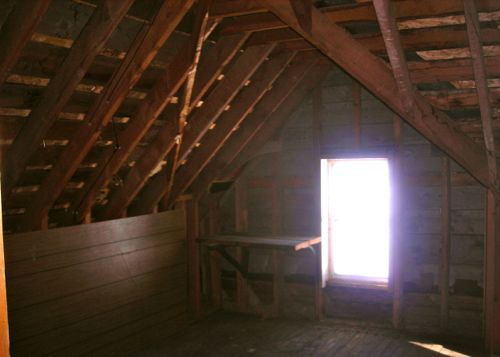 Woo spent months cutting insulation to exact sizes to fit in between the rafters (one of the worst experiences of his life, he says).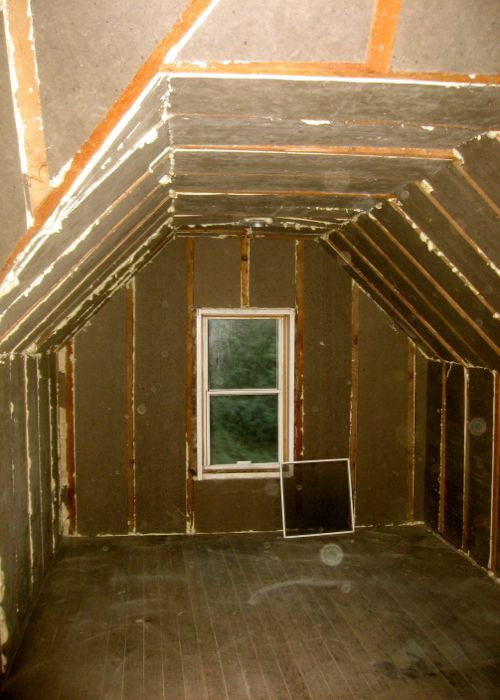 And here we are today.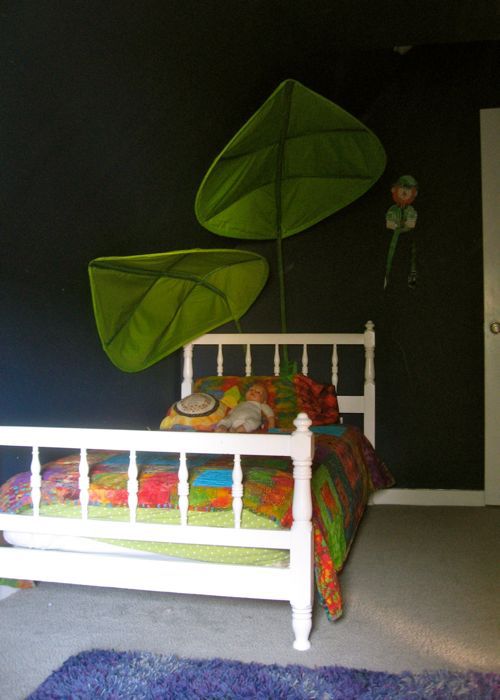 I love a light and brightly colored kids room just as much as the next person, and that's what I would've done, if creating a cute kids room was my #1 goal.
But, it was not my #1 goal.
My #1 goal is getting my kids to sleep as much as humanly possible.
Trust me, everyone is much happier, when they get the sleep they need, and thanks to having Daylight Savings 8 months out of the year, they often go to bed before the sun is down, and need to sleep-in longer than daybreak.
A dark, dark room is the best way for us to achieve this.
I painted the rooms just a touch lighter than black: navy. I made curtains with navy fleece lining (essentially like hanging a heavy blanket over their window), and it's deliciously tomb like in there.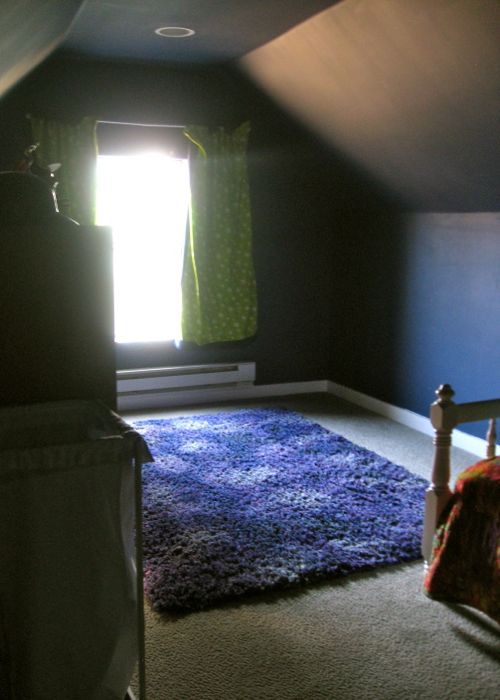 Perfect for inducing sleep.
I had originally planned to style their rooms after I finished painting, and then ... I don't know if it was the pregnancy talking or just common sense, I realized that it would be a colossal waste of my time.
Because these are rooms for kids! They're going to want to line up their most precious treasures on the dresser.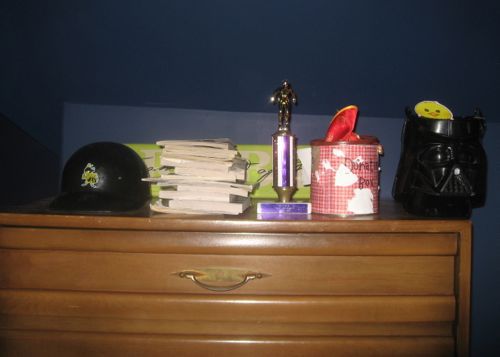 They're going to proudly display my old trophies, as if they were their own.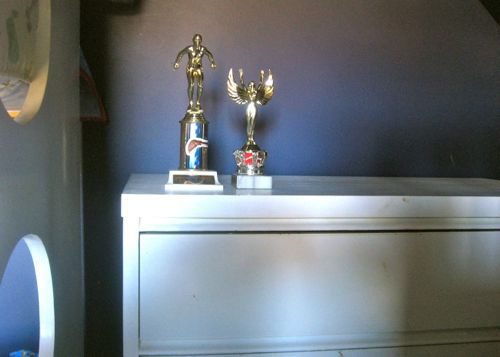 (I can only assume that it inspires them and lights a fire under their own ambition. Maybe one day, you too, can win 9th place at the Murray Thanksgiving Invitational, Moses!)
And they're going to want an old frame to rotate whatever piece of their own art tickles their fancy the most at the time.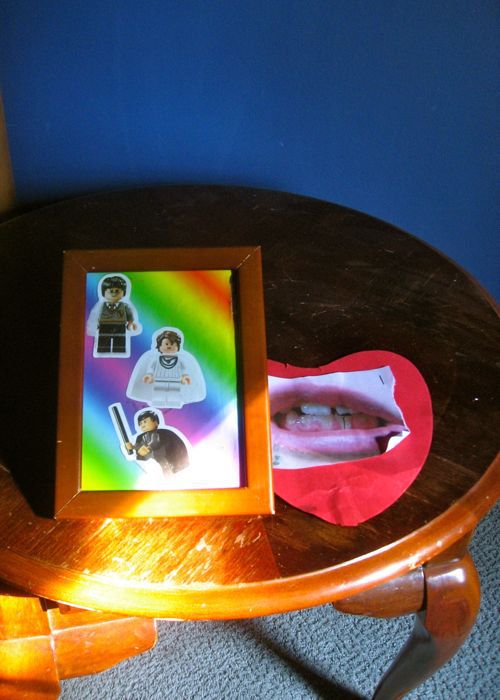 While hanging their most fabulous stuff on the wall.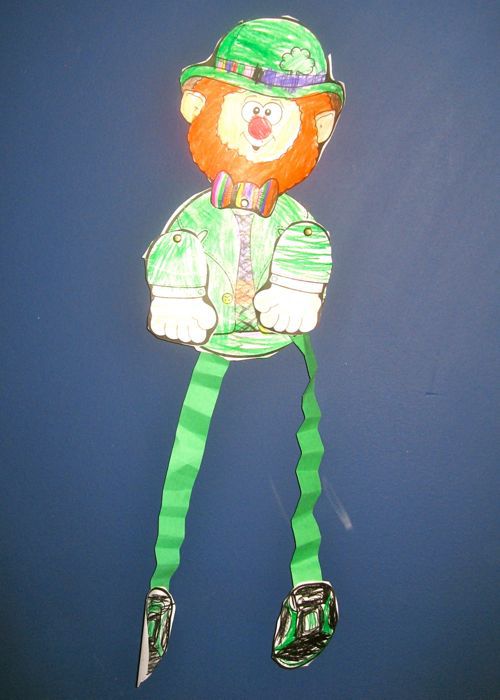 I guess what I'm saying is: If you want to see gorgeous kid rooms (to our adult eyes), you've come to the wrong place.
I'm done with these rooms, and don't plan on doing anything else to them, until the kids are older, want to work on it with me, and have learned how to sleep in!
Right now we'll concentrate on learning how to keep it neat.
Beautiful quilts courtesy of my mother.