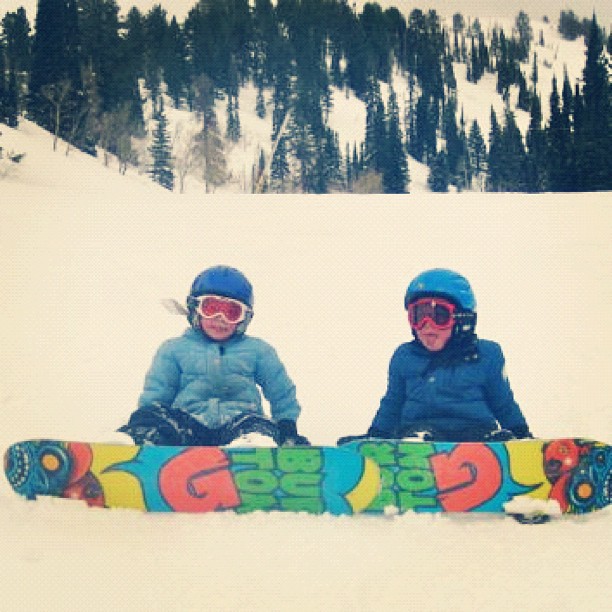 In possibly the most daring thing he's ever done, Woo took both Ruby and Herbie snowboarding at the same time.
When they got back, the kids looked like they'd had a great time. Woo looked shell-shocked.
Ruby: Mom! The ski patrol found me!
Herbie: Mom! I was a little bit scared of the steep parts at first! But, then I went down them!
Woo managed an eye roll.
When they left here it was raining. But, when they got off the lift, it was a full-blown blizzard. Herbie refused to stand up, and tried to slide down the mountain on his bum. Ruby, as you can imagine, did a lot of whining and complaining. Eventually the snow subsided, and the kids (more or less) got into their groove.
Ruby went ahead around the corner, and when Woo turned it, there was no Ruby, but three possible paths. He took the path of least resistance, which turned out to be the wrong guess. Woo and Herbie ended up beating Ruby to the bottom, where they found out from the ski patrol that Peter and his dog, Woolly, had Ruby.
Ruby: Mom! The ski patrol said I was a good little snowboarder!

Woo (under his breath): He said he eventually got tired of her inching along, and just picked her up and brought her.

Ruby: Mom! When I grow up I want to be a ski patrol!

Dad said they're like police!
Ruby spent the rest of the afternoon drawing a picture of Peter. I think she was quite taken with him.
Woo declared he thought he was finally ready for spring.
3.28.11