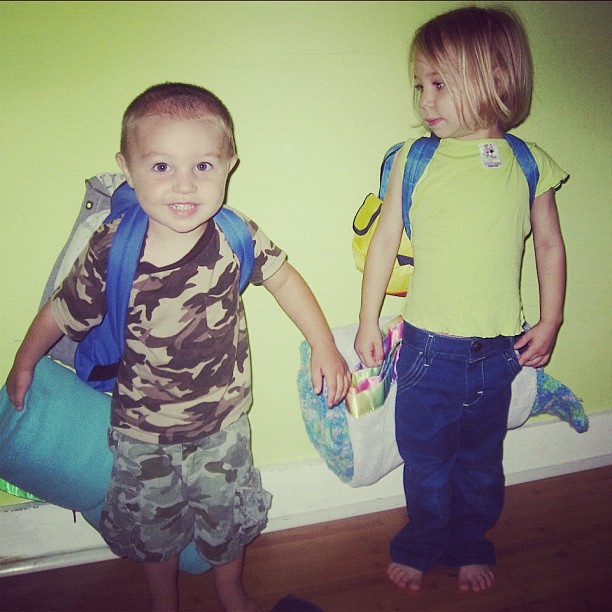 I felt that everyone was in the mood for a vacation, but then again it could've just been me.
The week before we left, the kids may or may not have worn the same clothes for 4 days in a row.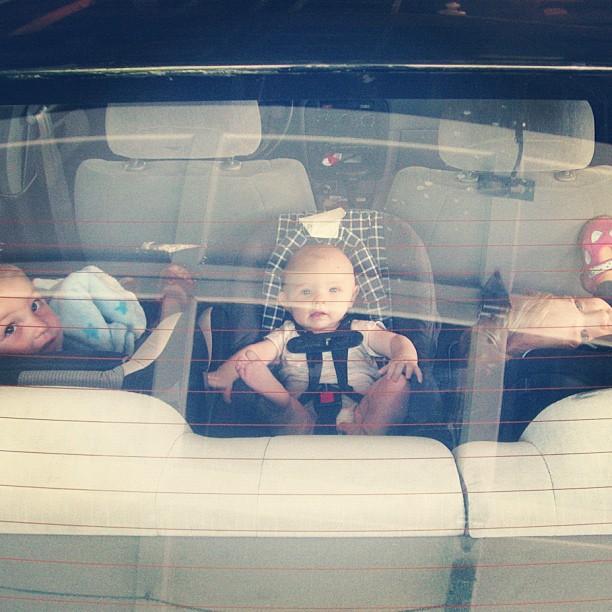 We started our tour of Missouri with a visit to our land in the Ozarks. We were happy to see that the Rambo Church of Christ is still going strong just down the road from our subdivision, but unfortunately weren't in the area on Sunday to check it out.

Everyone was in good spirits, and Woo and I were apparently a little too optimistic because we set off on a quiet walk down a fire road immediately after zipping Ruby and Herbie up in their tent.
We returned to raucous laughter, a naked Herbie, and an unzipped tent filled with dirt, sticks, leaves, and the rain fly.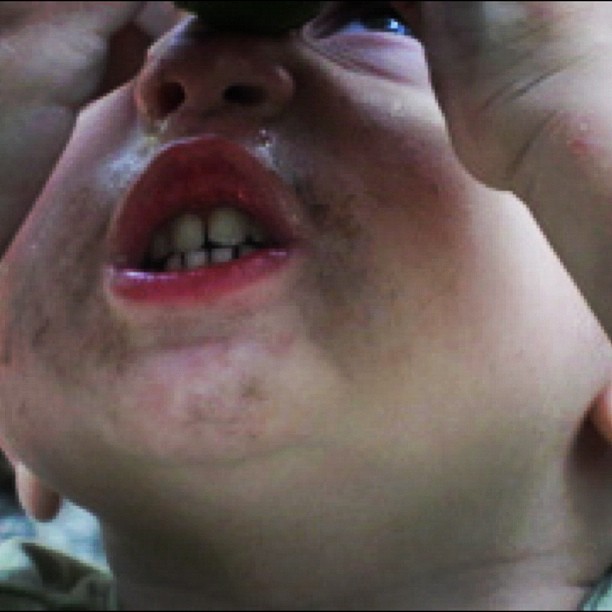 The kids spent the night strapped in their seats in the car.
Getting the kids to sleep continued to be a struggle the entire trip. Couple that with waking up early and less than stellar naps in the car, and you get daily encounters with ornery, whiney, grouchy kids.
Looking back, they were actually pretty good in the mornings, but, boy, they were a pain in the evenings.
One highlight of the trip was going to a Pentecostal meeting in Tightwad, Missouri. Everyone there was super excited to see a young family with kids walk into the room.
I couldn't wipe the smile off my face when 2 men picked up 2 acoustic guitars, 1 man picked up an electric guitar, 1 picked up a bass, 2 women positioned themselves behind microphones behind them and 1 sat down at the piano (over half the congregation).
We were treated to 1/2 hour of hymns from a pretty good country-rock band.
Woo tried to record and shoot video from his pants pocket. Herbie was fascinated by the "violin backpacks" (guitars with shoulder strap). Ruby asked, "Where's the drums?" and Moses fell asleep in the arms of a friendly woman.

Monday was our most peaceful day.
We'd camped in Wallace State Park, which was perfect for little kids. It had a little lake with a well maintained trail and bridges all around it. We walked around it twice watching other kids (none quite as young as ours) fishing and catching worms and frogs.
Ruby and Herbie collected walnuts in their pockets and threw them in the water. Later we drove to Adam-Ondi-Ahman. We ate lunch and napped on blankets in the grass. The weather was perfect, and it was very pleasant.
Since Woo felt that I'd omitted nearly all that was awesome he added a little.
A few other highlights from the trip are:
finding fresh corn (harder than you might think for the midwest),
ticks, ticks, and more ticks,
finding free wifi at every town we passed,
allergies,
a stinky vehicle,
driving fast on windy, hilly country roads,
the RLDS temple,
Charley's buffet (all you can eat school lunch + thousands of homemade desserts to choose from),
nearly empty State Parks with beautiful weather,
ticks,
nauseating radio stations: "Homeless people walk a lot. They don't have cars or even ... a home.",
drafting off diesels to save on gas,
slightly falling gas prices.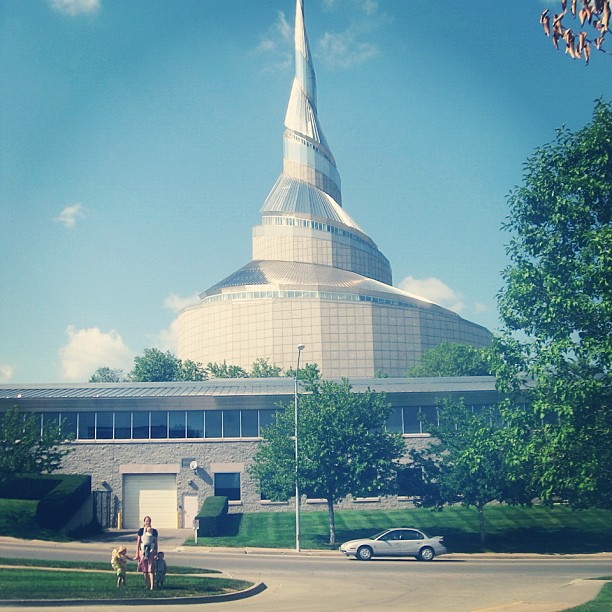 Lowlights include:
whiney, tired kids,
urine in the car,
body odor,
various and sundry after-effects of Charley's buffet,
the amish town (or rather, "best day trip in rural Missouri"...if you're blind, deaf and dumb!),
ticks,
chiggers,
?-bites,
cheap fiberglass tent poles,
over-ripe fresh corn,
no swimming,
Chelsey's inexplicable determination to follow a vacation agenda (for the first two days...),
returning to a computer with a fried logic board.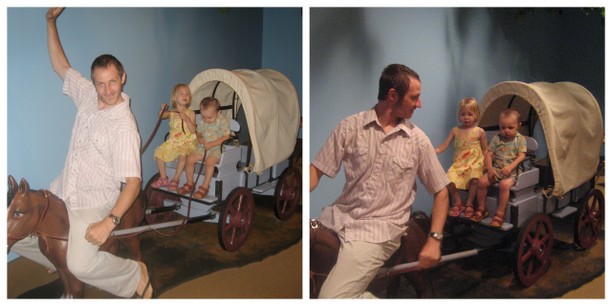 Since the highlights out numbered the lowlights, we chose to embark on
another camp out this last Friday. Everything went well except the
sequel to the kids-sleeping-in-tents extravaganza, which ended in a
fantastic Herbie supernova Saturday afternoon and evening.
I had vivid recollections of Keith holding me down and covering my mouth as
I threw tantrums on road trips.
Like father like son.

Hopefully this week things return to normalcy, and I can mow the lawn,
and clean up the yard in the absence of a computer.
We're a lot better at it now, but have you ever gone camping with kids? What are your secrets? Do you remember any great trips as a kid yourself?