You may remember that I mentioned that
I was looking for another sofa for the living room
.
I've been looking on-and-off for a long time --- 2 yrs? But, recently I've been looking every day.
I'm sorry to break this to you folks, but in Utah we have something much better than craigslist (which hardly anyone here uses) called ksl.com.
It's awesome because all pictures are shown on the front page, in-line, and you can just scroll down and see what people are offering.
It's not awesome when you're looking for a sofa, because this is Utah, and not many people appear to have bought a decent looking sofa in the first place.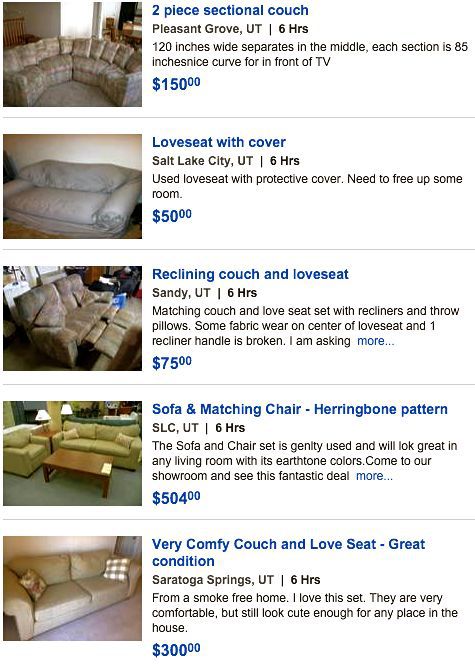 After looking at this kind of stuff day after day for a couple of weeks, I think you can see how I was starting to get a bit discouraged.
Maybe if I was a wizard with reupholstery (just so-so), and if I were made of time (not right now), I could whip one of those up into something I could be happy with, but I don't see it in my immediate future.
I started to wonder if a sofa even existed that I could just buy and immediately love.
I really would love a tufted sofa, and at $599 (plus $160 shipping), this was the cheapest I could find. From my tufted couch searches, I understand this to be a pretty good price, but when you go into it expecting to pay no more than $100, $760 is a bit hard to swallow (okay, really hard).
So, I guess I'll just keep searching ksl.com, until I happen upon $1000, and can think of nothing better to do with it. (Not likely --- just think of all that character I'm building!!)
What are your criteria for buying a couch? Price? Comfort? Design? And do you think a couch is something worth splurging on?