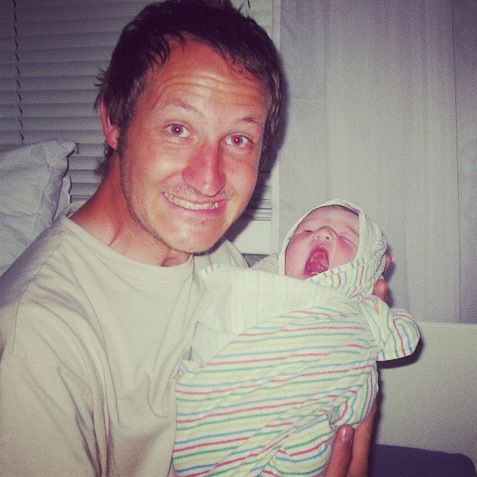 Of course the big news this week is that Penelope came!

I didn't really think that she'd show up on Steven's birthday, but she did and that made it a good birthday for Steven. He hasn't had the best of birthday luck since we've been married, so it was a nice change. I did actually think that something might be up, when all the bad stuff happened to him the day before his birthday ... you know, just to keep the actual day clear.
He broke (or severely hurt) his toe.

Got all ready and excited to go on a bike ride only to find that his rear wheel had a broken spoke.

I fixed his least favorite food for dinner

And so on, and so on.
Even though he never did get his birthday dinner (due to me being busy birthing Penelope), I still managed to whip up a batch of rice pudding in the morning, and he got his gifts from me and the kids:
a big foot and hot wheel from Moses, "You can have these, Dad. I hate them. I just really hate them."

a book wrapped in a receiving blanket from Ruby,

and a bean bag and a book wrapped in another receiving blanket from Herbie.

I got him a pair of ice skates that actually fit.
Labor was good, as far as labor goes. I actually felt like I was controlling it.
We kicked it off with a walk Tuesday night, and contractions started early Wednesday morning. I was able to slow them down enough to sleep the rest of the morning and nap with the kids after lunch. Twice during the day when I was mentally ready to kick it up a notch, we went on more walks, which got things going to exactly where I wanted them. The midwives checked in and went to dinner while Woo and I were on our last walk. They came back about 2 contractions before 2nd stage of labor, which is just the way I like it.
I was not in control 2nd stage, but it only lasts about 10 minutes, so afterwards I always think, "That wasn't that bad." Even though, that IS NOT what I'm thinking AT ALL during those 10 minutes.
I feel really good, and Penelope is a lovely baby. She
looks pretty much like all of our other babies at this stage: lots of spiky, dark hair that may or may not fall out and change color, swollen nose, eyes, etc. We're holding out on the verdict of who she actually looks like.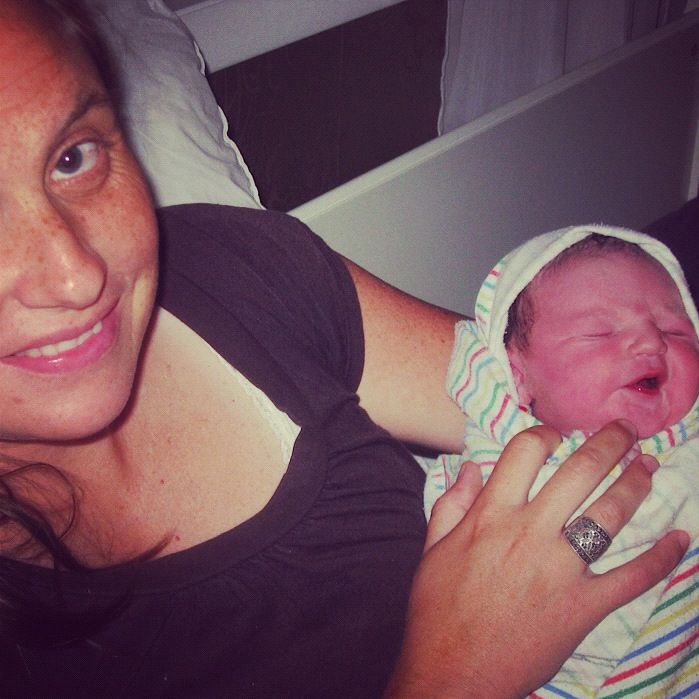 The other kids are thrilled about her. They had more confidence in my due date than I did, telling friends and neighbors that the baby was coming on their Dad's birthday.
In fact, they woke up that morning super excited to celebrate Woo's birthday and for the new baby to come. Ruby and Herbie were unable to sleep. They were as excited for Christmas. When they heard her cry, Herbie said, "It's a girl! That's a girl baby cry!"
We let Ruby and Herbie come down and see her since they were still awake even though it was like 10 pm. Moses and Linus got to see her in the morning.
Moses: We have two babies now!
Linus is very, very gentle with her. He crawls as fast as he can to her, slows when he gets to her, sits, and softly, softly pats her hair.