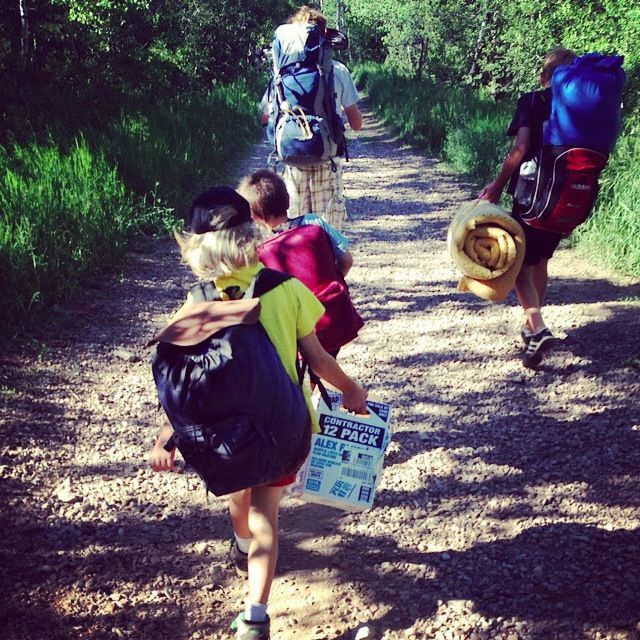 Nothing but summer fun in these parts. First, Woo's nephews visited us for a few days. He kept them entertained by taking them canoeing, swimming, fishing and camping.
Woo cooked the best fish he's ever had over the fire, helped by his hand-mixed, secret-recipe fish rub, beginners' luck and disregard for the timer.
Don't expect him to replicate it.
The next night they picked up Ruby, Herbie and Moses and some more food. Ruby was ready with her water bottle from an old pepper shaker, her SWAT hat, and floods (cut off in this picture).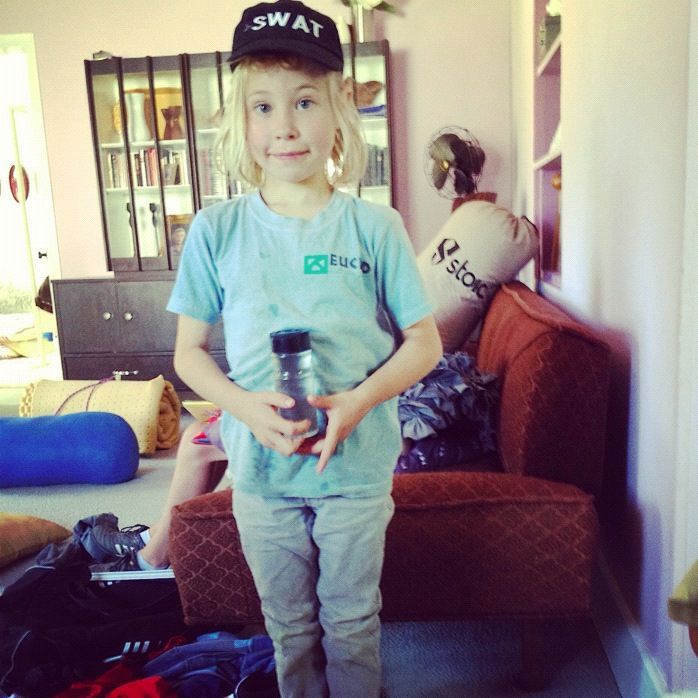 They went to a campground very close to us, but requires about a mile hike in. Moses did very well carrying his own sleeping bag and a spare set of underwear in Woo's backpack.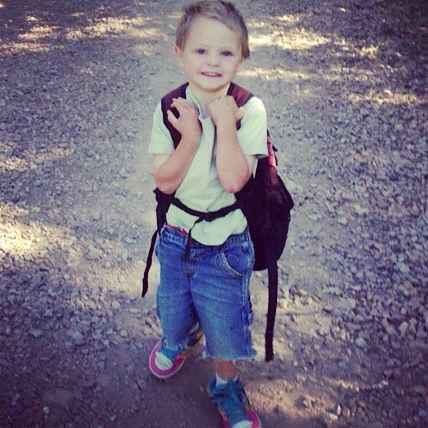 Linus, Penelope and I got to stay home, and after they went to bed, I had some fun painting in the kitchen until it got dark. Then I had less fun.
At least I had the few pictures Woo sent me to keep me safe until morning.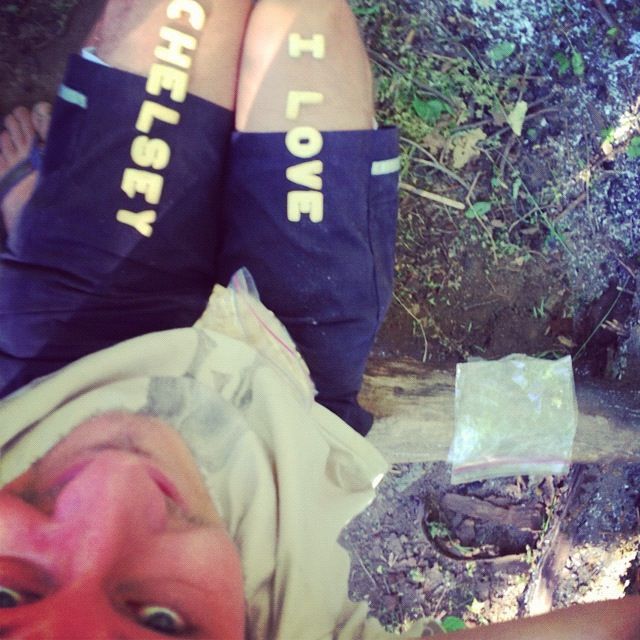 But wishing that I'd also gotten to eat the tin foil dinners I made (Woo did bring one home for me).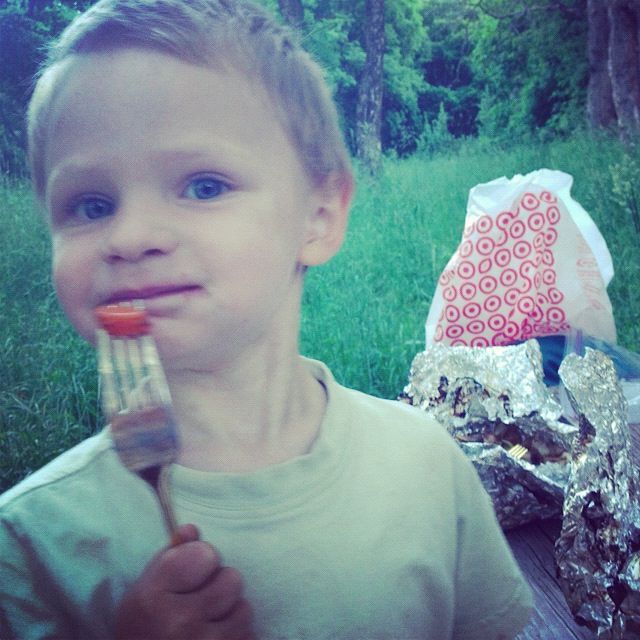 After dropping the nephews off at home, we raced (beyond hope of being on time) for the kids' mountain bike race. I can't decide if it's a good thing or not that we didn't know that they always start late.
We had no idea how the kids would do or if they'd even have fun. Woo was worried that they'd just ride at the same pace as everyone around them, and not try to go fast. He was thrilled to see Ruby pass the 1st place kid on the single track.
And then she crashed.
After some crying (by Ruby), Woo convinced her to get back up. The crash took the wind out of her sails, but she finished one more lap, and said she had fun.
The second she crossed the finish line, she hopped off her bike looking for Grandpa.
Ruby: Are you coming to my baptism, Grandpa?




Grandpa (thinking it must be coming a lot sooner than he thought for her to be asking): Yes! When is it?




Ruby: January.
Had she been thinking about that the whole last lap?
Herbie actually ended up coming around the second lap in first (I think) due to Ruby's crash, and the other kid ahead of him refusing to do another lap. We yelled to him that he was finished, but he wanted to do another lap. We watched him round the corner and ride off. He stopped after that lap to take a long drink, but then took off on another. He wanted to go around again and again; he couldn't get enough.
Which is funny because on the way there, he said
"Mom, is the race long?"




"No, it's not long."




"Good, because if it's long, I don't want to do it."
(Ruby in blue shirt and blue Thomas the Tank Engine helmet. Herbie in dark green shirt and yellow helmet.)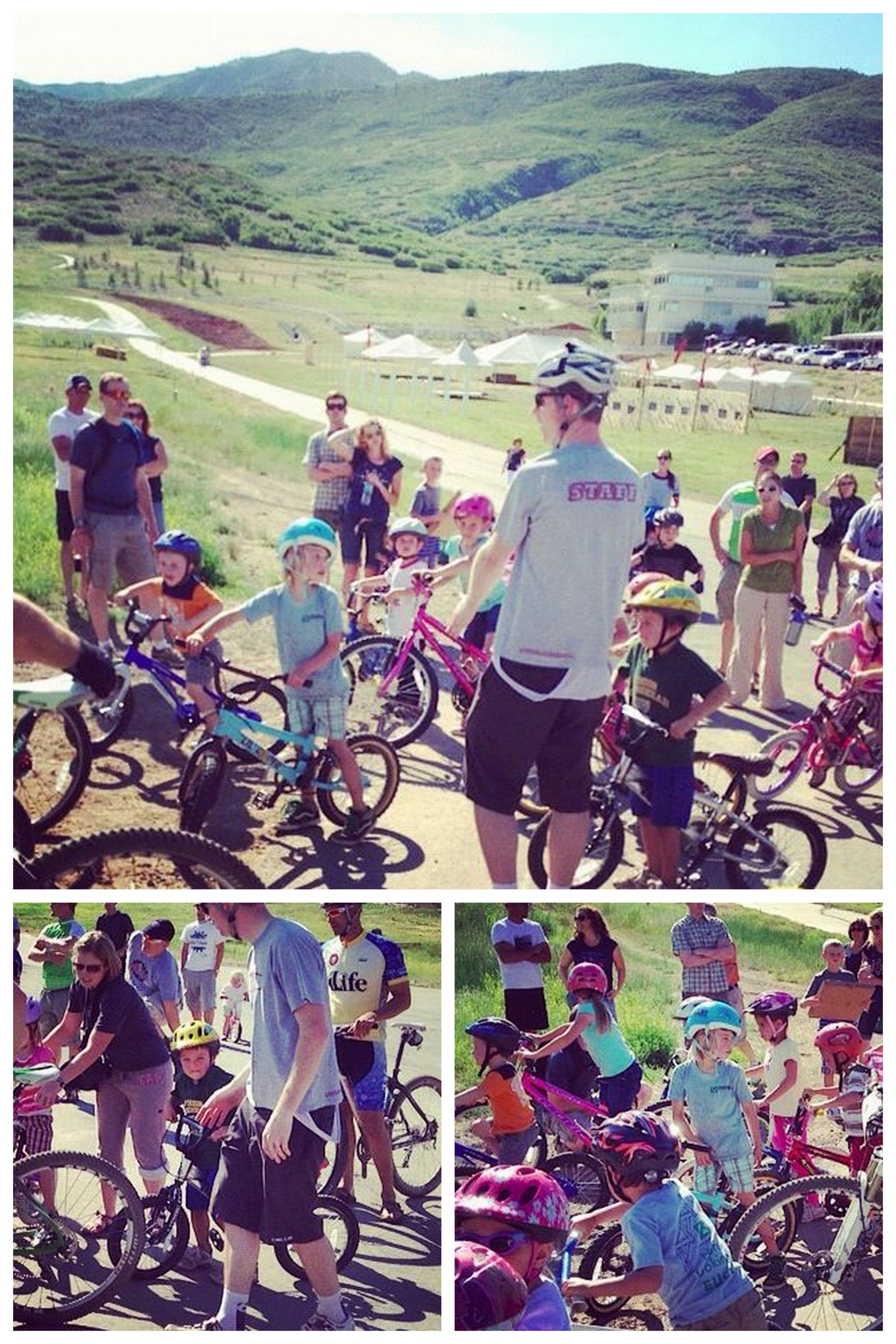 We stopped at
Dairy Keen
for dinner. Moses and Linus couldn't be bothered to eat when there was an electric train driving overhead. All Ruby and Herbie wanted to do was drink, and Penelope was completely non-pulsed. She ate her fries with relish.
We drove to Grandma and Grandpa's to stay the night, and dropped by cousin's in the morning.
Ruby: Mom, this is the best day ever!