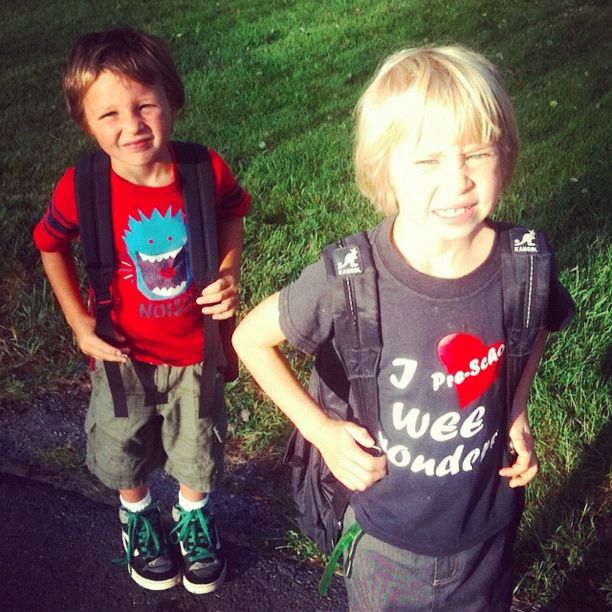 The day Herbie's been waiting for his ENTIRE life finally arrived!
Starting Kindergarten!!!

Herbie came home and told us every detail. I felt almost like I'd been there with him.
He told us:
of trying to get off the bus when it arrived at school, but being unable to because of the big kids from behind rushing past (some of them pushing him back into the seat),
of things the bus driver had said over the intercom,
who he sat by during story time,
everything.
He told us that his teacher tied his shoe at recess when someone stepped on one of the laces, and then later his teacher read a story about a girl who went to Kindergarten for the first time and didn't know how to tie her shoes.
Coincidence???
Herbie is in serious danger of becoming the teacher's pet, what with his affinity for older women, his ability to sit still, and his desire to do this school thing perfectly.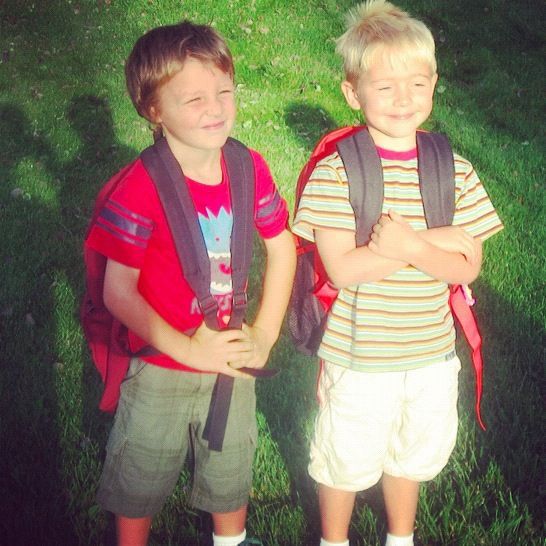 Ruby, on the other hand, has been working on her love life.
Henry is her new best friend,
Ruby: I think I'm in love with him.




I'm going to marry him.
Which, of course, is almost as good as done.
Ruby: Parker says he's going to marry Melissa.
(When we smile) It's true.




He's really going to marry her.
Except for later this week she appeared indecisive.
It appears that another boy has entered into the mix, as well as memories of her old flame, Evan, from Kindergarten.
I'm sure she'll work it out before the time comes.
Ruby had library day this week and brought back the same book she first checked out last year, A Day in the Life of a Police Officer.
It shows a female police officer who helps a lost boy find his way home and captures an escaped bear from the zoo in a garage.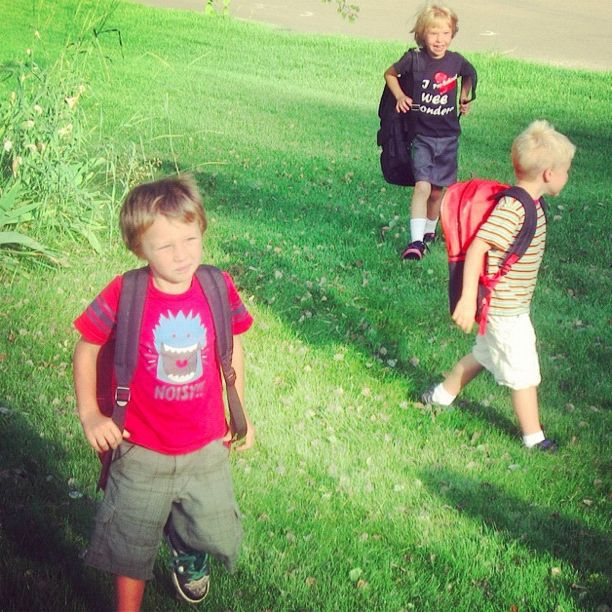 The first morning Ruby and Herbie climbed onto the bus, Moses frowned at me,
There's no kids left.




Me: What's Linus?




Moses: A baby.




Me: What are you?
He laughed and pitched his voice high,
And I haven't seen him being sad about being left at home since.
He was very excited when we drove down to town that same day while they were in school, and he saw "a giant m&m", an ambulance, and ate a donut.
He told me he was going to tell Ruby and Herbie all about it when they got home, and he did.
I've discovered that when Ruby and Herbie are gone, Moses is pretty good at cleaning up. Part of it is probably the individual attention and part of it is that no one else is going to do it, if he just stands around or slips into a corner to play with cars.
Linus has largely replaced his "No! No!!! No!!!!" with an adorable scowl. When he first started saying it, Steven said, "He thinks he's in charge." But, I think that he's now realized that he's still an 18 month baby, and he's not in charge of much. Yelling no at us is not going to change the outcome. He still has his moments, but I hope he's on the road to also learning the word, "yes."
Penelope was blessed today. We had both sets of grandparents and the families of A-- and S--, J-- and T--, and L-- and B--. Woo was very nervous. He told me he was more nervous for this one than he'd ever been. He did a great job, like I knew he would. Two of my favorite things he said in the blessing were that she'd learn the Christlike attribute of turning the other cheek and loving others even when they didn't treat her as they should, and to know that her trials were not curses, but blessings to help her grow closer to Jesus Christ.
Penelope, for her part, was a model baby: sleeping through the entire thing and the rest of the meeting.
I've been very tired this week. Waking up an hour earlier than I have for 6.5 years to get Ruby and Herbie to school, and not wanting to give up an hour of my alone time in the evening to go to bed, has not been a good mix.
L-- tells me I'll adapt. She's probably right. Woo and I also played Ultimate with some people in the park Friday night. I had to rotate out to keep an eye on the kids in the playground, and stop early to feed Penelope, but I got my fill of play and loved it. Woo had fun, but not as much fun as he'd have playing with his old team. Not many people play at that level, unfortunately.
Well, that's about it. Hope you all had a good week!