I didn't get a ton done on the house this week. I had to do some cleaning and some resting.
It turns out that I can't keep the house clean, feed and attend to my little kids, work on the house and grow another human all at the same time. Who knew?
I just keep plugging away when I can, and I did finish
the second coat of paint on the mudroom
(yay!!). I can now start organizing in there! (The mess in that place is driving everyone over 30 crazy!!)
I also talked earlier about maybe
hanging some file baskets on the wall for shoe storage
, but it didn't take long for me to figure out that shoes in a pile on the wall were not going to look much better than shoes in a pile on the floor. Woo suggested a filing cabinet. Hmmmm ... I've seen some kind of neat filing cabinets in my time. (Plus, they take so well to spray paint!) We'll have to see what turns up.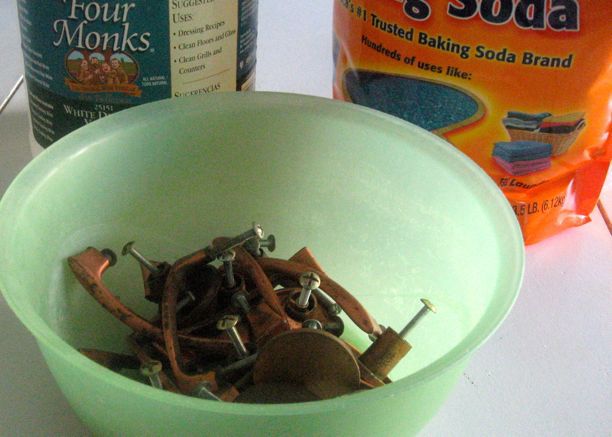 I also removed all the knobs and pulls from the cabinets in preparation for painting them. My original plan was to replace all hardware, but the more I looked at mine, the more I liked the 50s/60s shape to them, and decided to spray paint them first. I can always get new hardware later, if I don't like the finished result.
My knobs have a coppery finish that I thought would be fun with
the turquoise I've picked for the cabinets
, but when I cleaned them, I found that the finish had been painted on and was peeling off in many parts. Boo.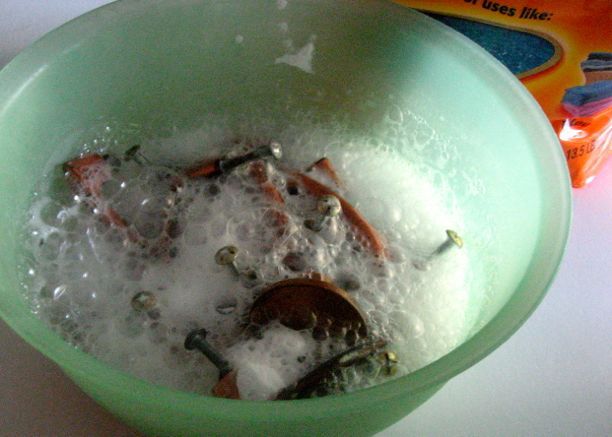 Anyway, I've got to hurry and do all my spray painting for the rest of the year before temperatures drop. I don't have a good place to do it in the house or garage -- eek!!
(Wouldn't it be great if this room were done before baby comes??)