Ruby rode summer out with a bang with this get up:

I'm not sure you can see it all, but it consists of
a neckerchief and belt, over
a western shirt and shorts, over
a box, over
pants and a t-shirt, over
shorts.
I unfortunately don't know what look she was going for because I laughed the second I saw her, chased her around the corner taking pictures with the iPod, and then she didn't want to talk about it. Odd.
The day before at breakfast, she assembled this handy gadget: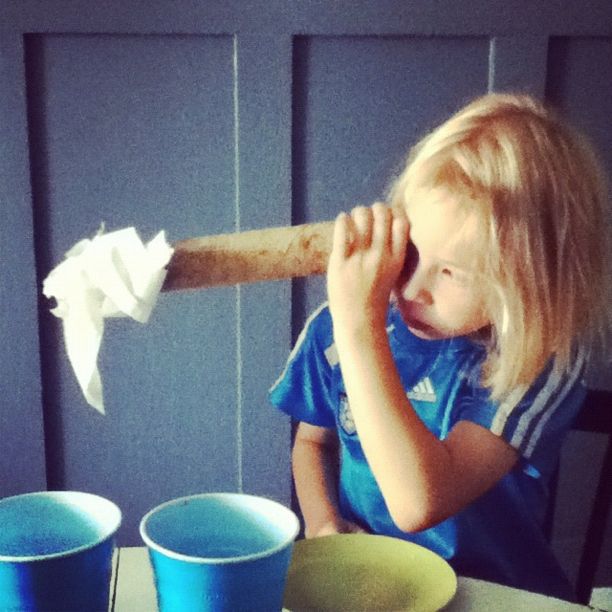 Telescope on one end, hand cleaner on the other.
Moses took a page out of Ruby's book dressing as Mater. That hanger is his hitch.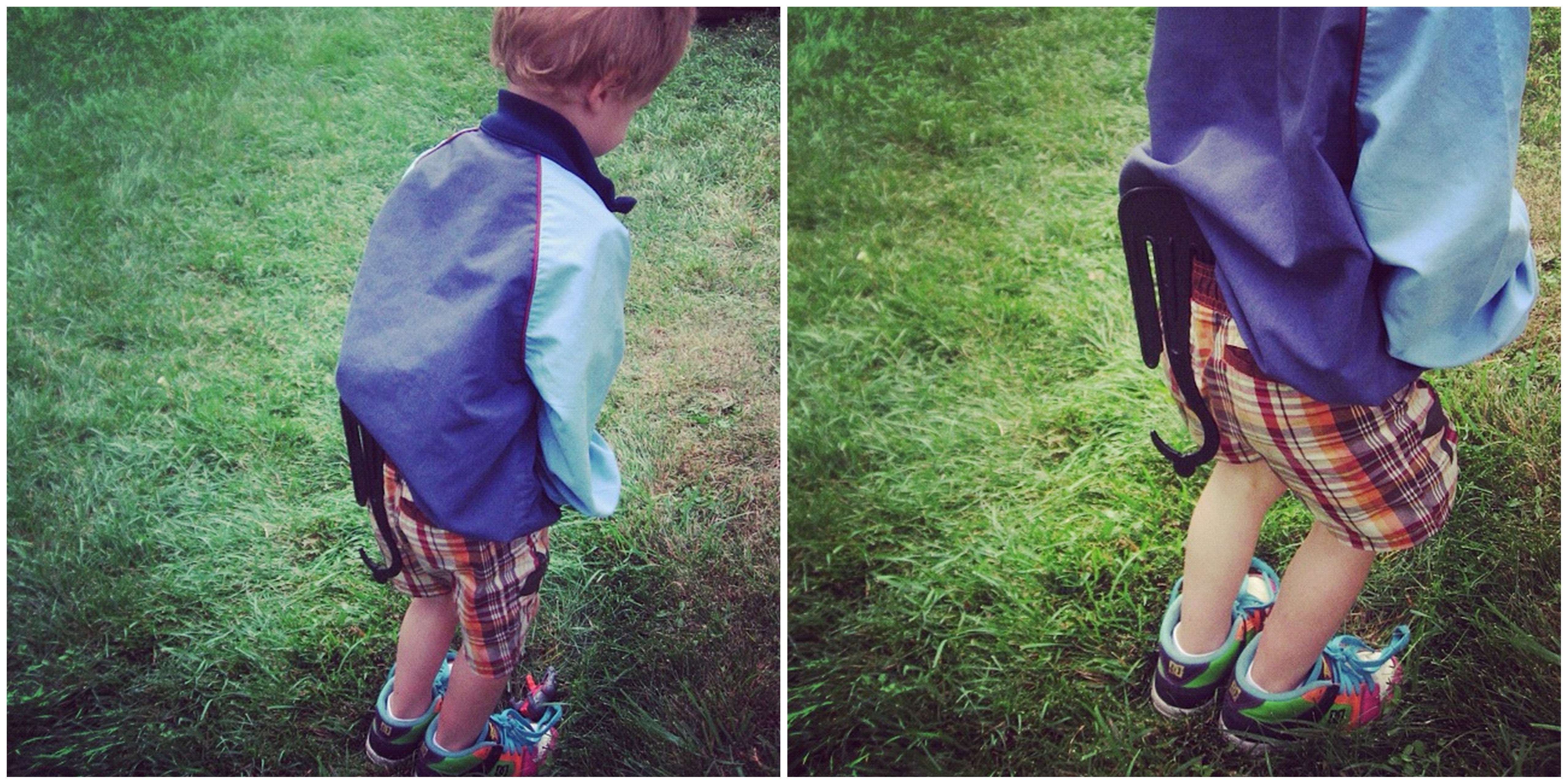 Everyone in the family (except me -- more on that later) gets excited for the start of school. They all finally get the new stuff we've been saving, for one thing.
Linus studiously put on every single pair of his new socks and promptly wore them (without shoes) into the dirt pile. Then was shocked and appalled when I confiscated them to throw in the laundry.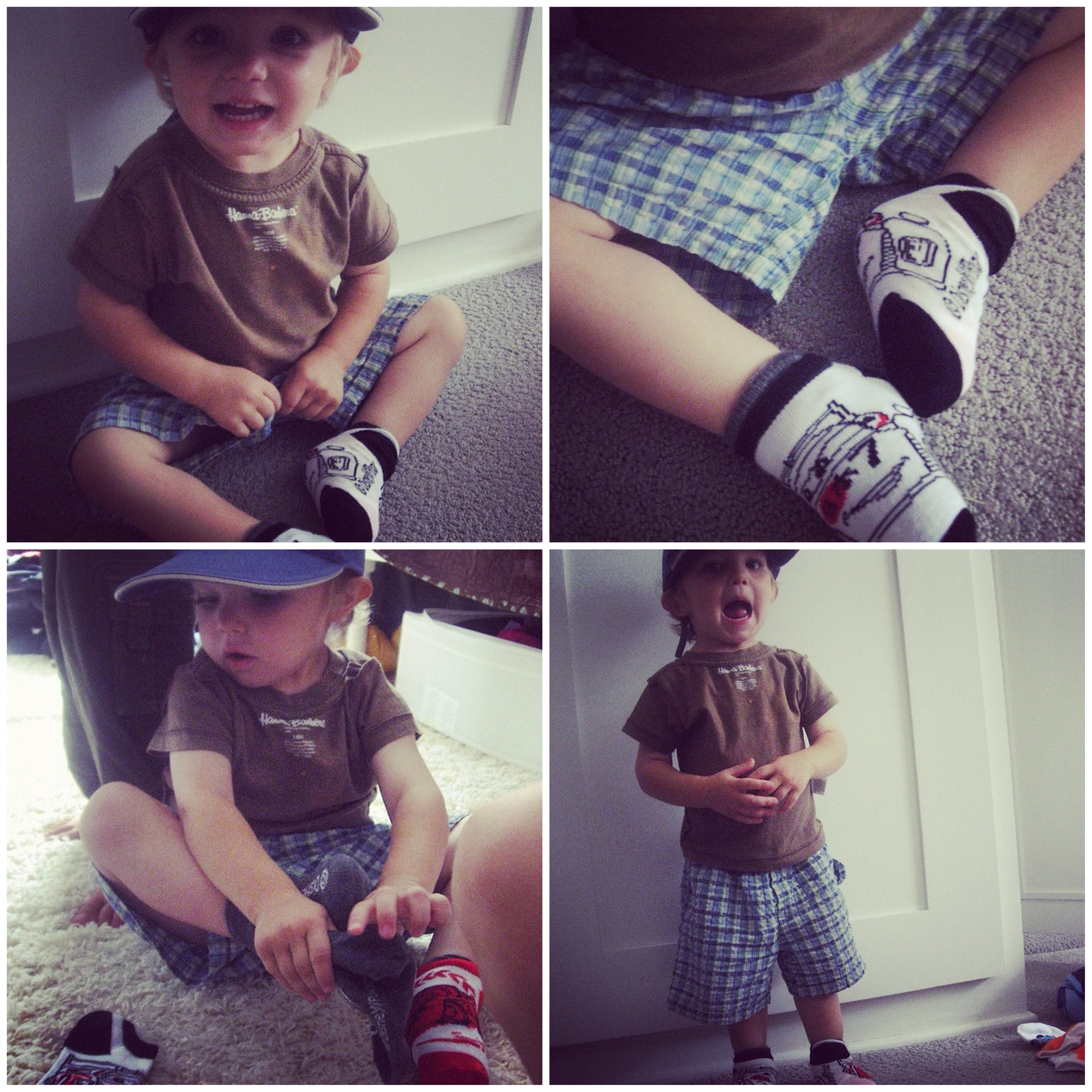 We all get to make a trip to the school for Back-to-School night (which, between you and me, is always anti-climatic).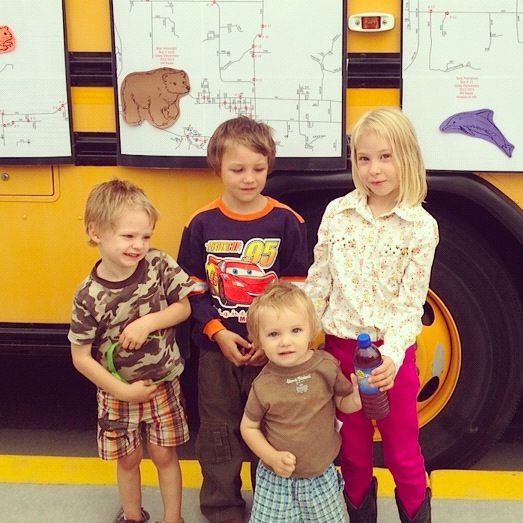 And we all head to the bus stop the first morning to take pictures and wish Ruby and Herbie well on their next new adventure.
I'm probably the only mother on the face of the earth, who doesn't look forward to the start of school.
There are two reasons.
First, I think they are gone too long for such little kids. I know they have recess at school, but not much unstructured time at home. Mornings are spent getting ready for school, and while they do have some time in the evenings, it's not much after dinner and getting ready for bed.

Secondly, adjusting to school is not a pleasant experience. I know it's because they're exhausted, but the kids act like they don't have a brain in their heads, can't go two minutes with breaking something or picking a fight, can't hear or comprehend a word we say to them, etc.
I can tell that Ruby is trying really hard to keep her act together this year, and she's about half good kid and half space cadet. Herbie, who is going full-day for the first time this year, is having a harder time.
It took us almost two months last year to figure out that the kids should be going to bed earlier then they had been. I really hope the adjustment's not as long this year!
Moses and Linus are having a lot of fun playing alone together. It helps that Linus can now talk and romp around.
Also, Moses is no longer so possessive of his belongings (i.e. any car in the house), and is actually a very kind big brother.
Linus: I. like. you. Moses! I. like. you!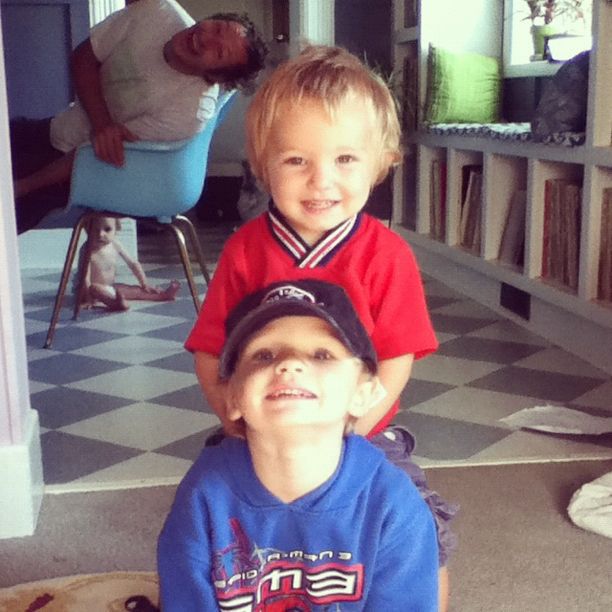 And Penelope is an easy camper at home because, well, she's a baby.
Hope you all had a great end to your summer!