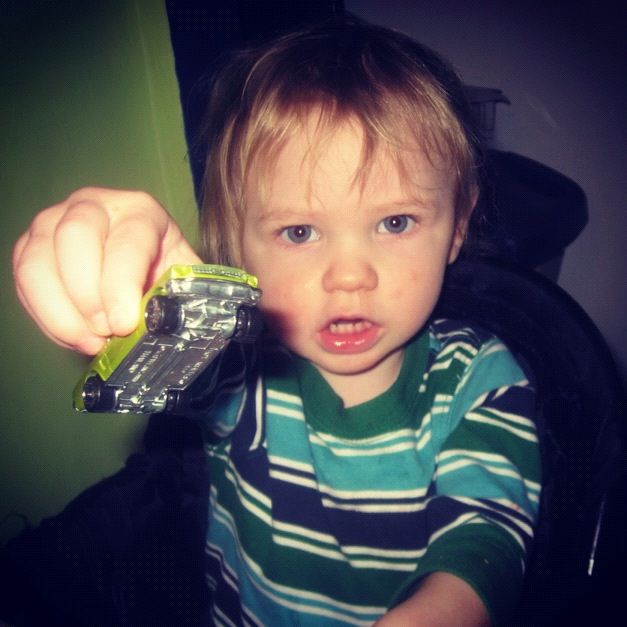 Ah, 2 yr olds are easy to please on their birthdays. Moses' favorite gift was the matchbox cars that he'd already gotten for Christmas, but that I'd put in the closet a few days ago after the kids had been arguing over them.
He was thrilled, and played with them all evening.
To tease him, Woo would say, "Can Dad play with your cars, Moses?" and Moses would say, "NO! Dad-dee!" over and over again.
We also taught him to say, "I'm doo (two)!"
The nursery leader gave Mosie 4 suckers (I assume for his birthday). I unwrapped one and gave it to Moses, who ran off, one for Ruby and Herbie, and one for myself. Moses returned from around the corner holding his sucker out, "Tank oo, Mom! Tank oo!" He's a sweet little boy.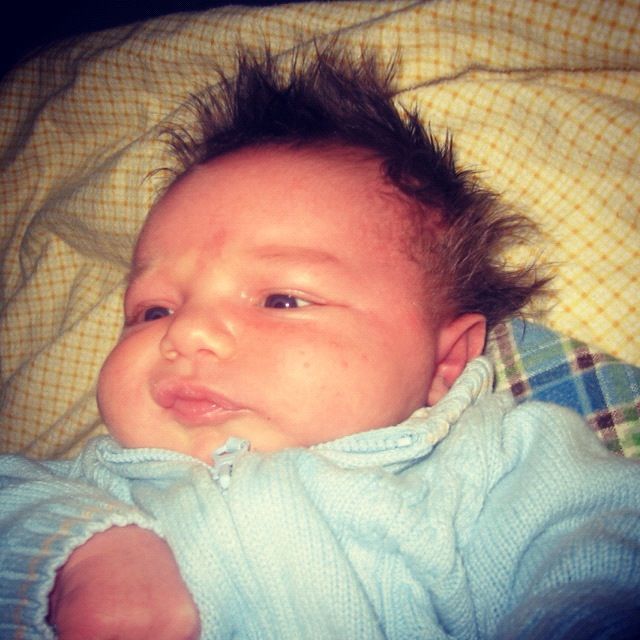 I don't normally think of myself as being a newborn person, but having Linus has reminded me of how adorable they are. One of my favorite newborn things is the way their little arms immediately spring up when I unwrap them from their swaddle after a nap. He sticks his butt and his lower lip out and stretches his arms up as high as they can go, so that the little balls of his fists are at the same height as the top of his head.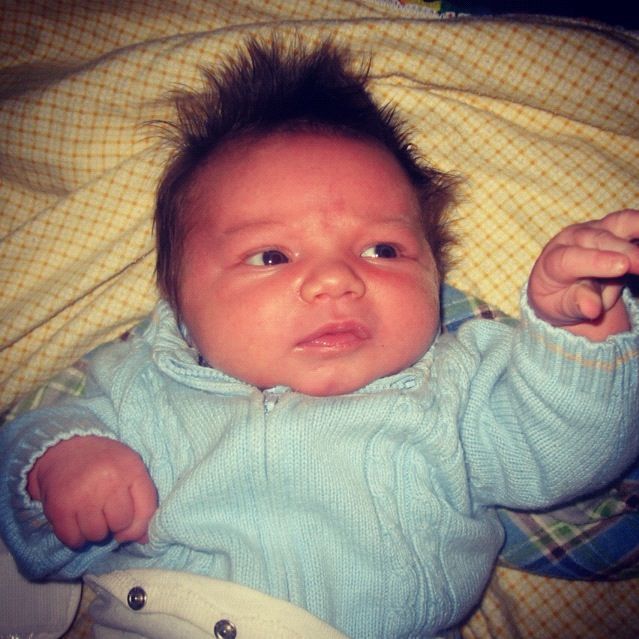 Woo and I sometimes laugh about how their heads are so huge and their arms are so little, that even with us manually trying to maneuver them, they just can not touch fingertips above their heads.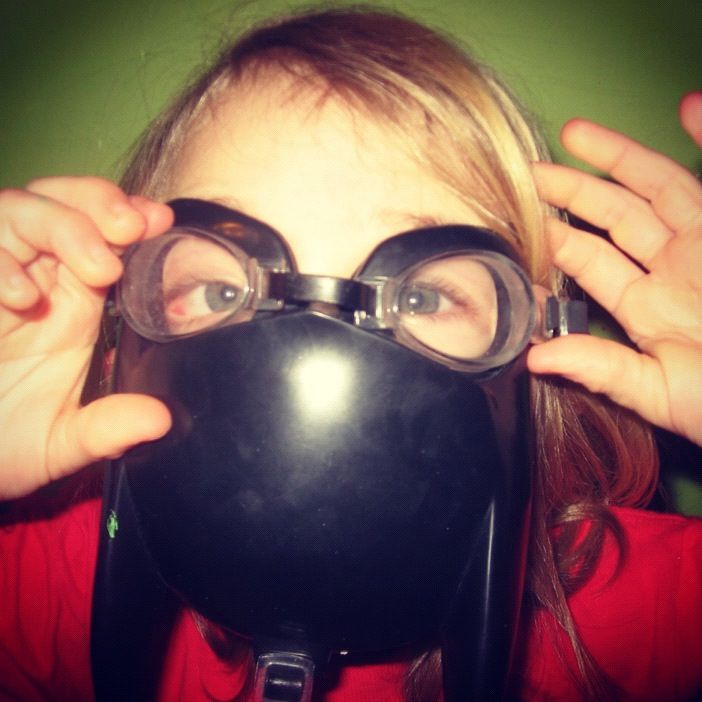 Ruby hasn't forgotten how much she wants a new team shirt. She's asked me probably once a day, but I kept putting off a walk to the thrift store because of the cold weather. We did get to go Saturday morning, where she got a bright red lifeguard T-shirt. She's made all sorts of plans to wear it to the pool, and to show it to the real lifeguards, but in the meantime she's been wearing it constantly with her red jeans.
Where to move to has been a hot topic around here. Finding a house we like has been hard, and Woo and I were again revisiting the idea of building, but I just didn't think I could do it at this time in my life. Ruby piped up, "That's ok, Mom! We can build the house! You can sit on the grass and watch us!" Herbie really liked that idea too, "And I'll climb up the ladder and work on the roof, when Dad says I can..." They made all sorts of plans, so I guess that problem's been solved.
This week I also got out Ruby and Herbie's watercolors again. They absolutely love painting, and work very hard on their creations. We enjoy almost an hour of absolute silence, while they're working on them.
Woo has decided that he never wants to pay another utility bill again, if he can help it. He's been researching solar, wind, and geothermal power, wood burning stoves/furnaces, radiant heat... Is there anything else? Oh, and bidets, but that's another story. He'd like to get something installed in any house we buy ASAP, and is starting to look into contractors and tax credits and benefits in anticipation.
I'm at that time where I can really enjoy having a newborn. Pregnancy's over, labor's over, sleepless nights, learning to nurse, milk coming in, kinks in the routine, figuring out how to fit older kids with baby's schedule, all over. I'm still over-weight, but every week, my clothes fit a little better and a little better, so that's heartening.