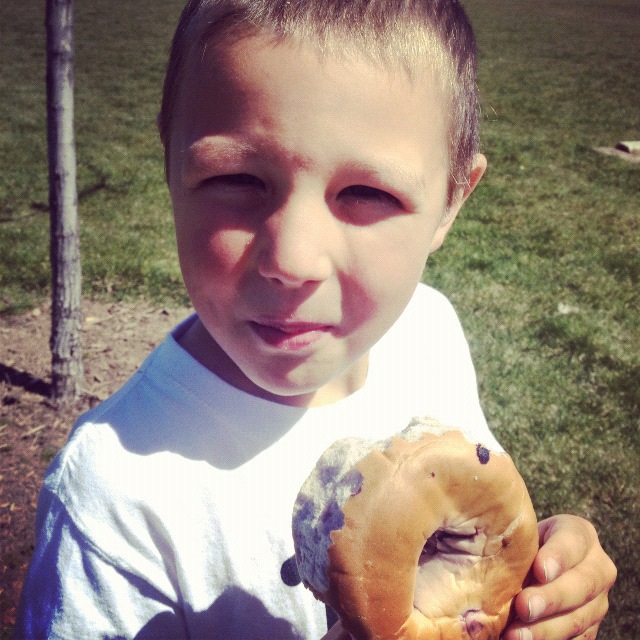 Herbie did a lot of fun stuff for his birthday. He got to eat two eggs for breakfast, opened presents before school (I'm happy to report that watches are still a big hit with the 1st grade set -- even in this iPhone era), handed out treats to his class, got called to the office for a card from the Principal, got a card and small gift from his teacher, ate lunch in the park with Woo (with a lunch he'd already taken nibbles out of while packing it in the morning), went on a bike ride and played frisbee for his Daddy Day, ate tacos and strawberry shortcake for dinner, ran sprints around the house (because, as everyone knows, that's the best thing to do when you get your own watch), had his Story Night with me ...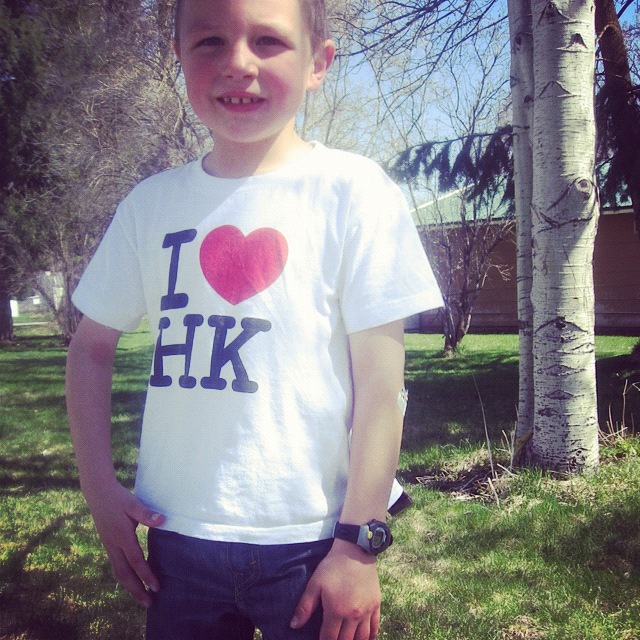 But, his favorite thing he did all day? Helping Woo mow the lawn for the first time this year.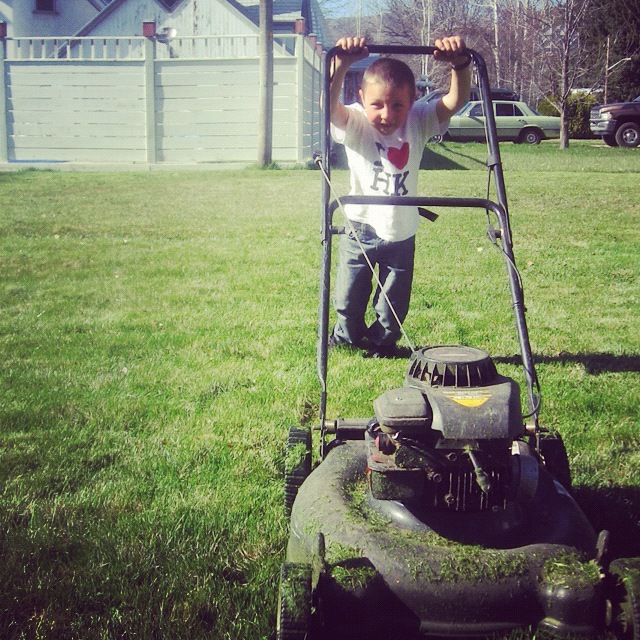 He went to sleep a very happy and satisfied boy.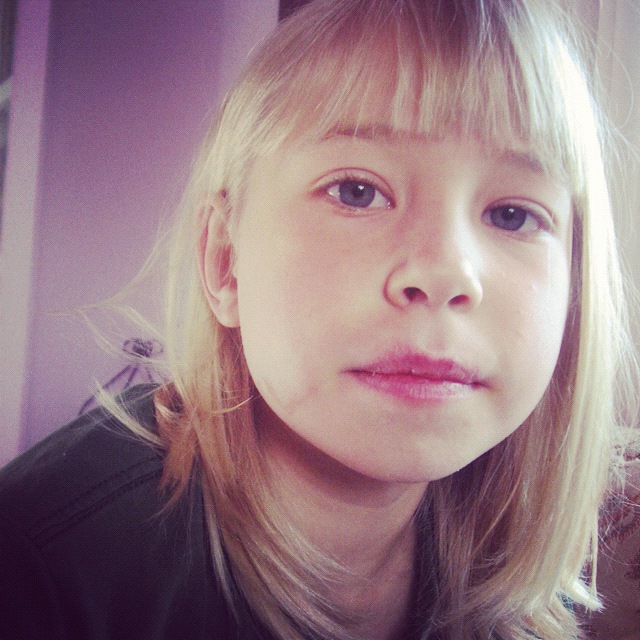 Ruby came home from school one day very upset. It took both Woo and I talking to her and a couple of periods of cooling down before we finally found out that a kid on the bus had threatened her with one of the most important things to her -- loss of friendship -- because she was being obedient to her parents and refusing to trade (we had to outlaw that one when she started bringing home potentially harmful or valueable things). After talking to her and telling her we were proud of her for doing the right thing, she felt much better. It's a lesson that can't be learned too soon, I think.
And we may have finally, finally worked out a successful night plan with Ruby. She goes to sleep on time, and we let her stay up an extra half hour on Friday nights reading. None of our kids seem to be so affected by loss of sleep as Ruby, and so far, so good.
Woo and Penelope play the same game every morning. Woo sits down to eat his breakfast (usually from the stash of sweetened cereal he keeps in his office, and after the rest of us have already eaten), Penelope will run to the kitchen and fetch a bowl. Then she'll run back to the table, holding the bowl out in front of her, and calling to Dad. Woo will put one piece of cereal in the bowl, and Penelope will hug it to herself, eat her piece, and hold out the bowl to Woo again and again.
Actually, it doesn't have to be breakfast and it doesn't have to be sweetened cereal. Whatever he's eating, Penelope will want some, and she'll act like it's a delicious treat, even if it's something she doesn't like normally.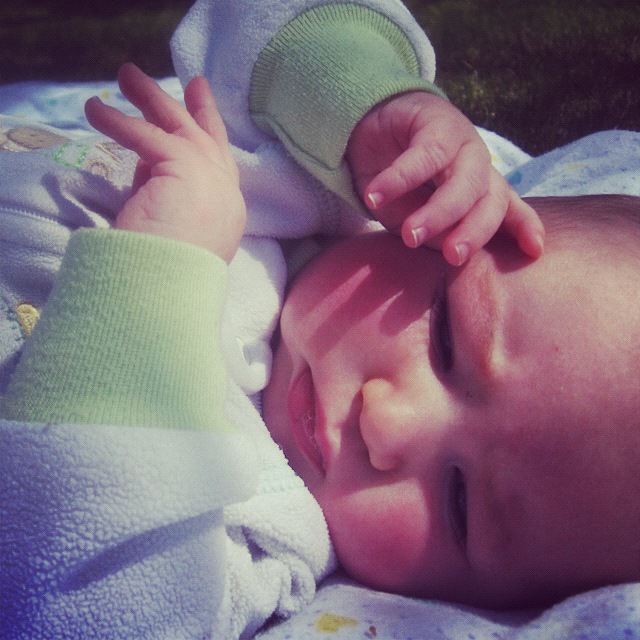 Archie is now eating every 4 hours instead of 3. He gets to stay awake longer staring at his little fist and smiling at passersby with his whole body, and I get more time. For the first time since I got pregnant with him, I feel like the unrelenting mess is mine to vanquish. Not the other way around. I even cleaned almost all the carpets this week.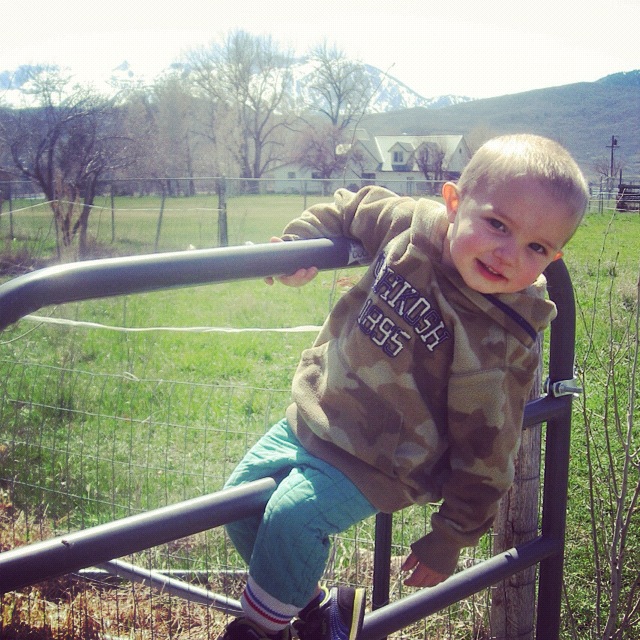 We had our recurring
family home evening
on strangers and related topics (Yes, we know that the kids are more likely to be hurt by someone they know, and we talk about that too), but it definitely made an impression on Linus.
Linus (coming in from playing outside): I come in because there's a lawn mower out there.
Me (surprised): You're scared of lawn mowers?
Linus: Yeah. The guy on the lawnmower going to 'neak us.
Me: Sneak you?
Linus: Yeah. And I'm going to cry.
It's good to be cautious, not sure about too cautious, but I'm sure he'll regain his love of lawn mowers in a few weeks.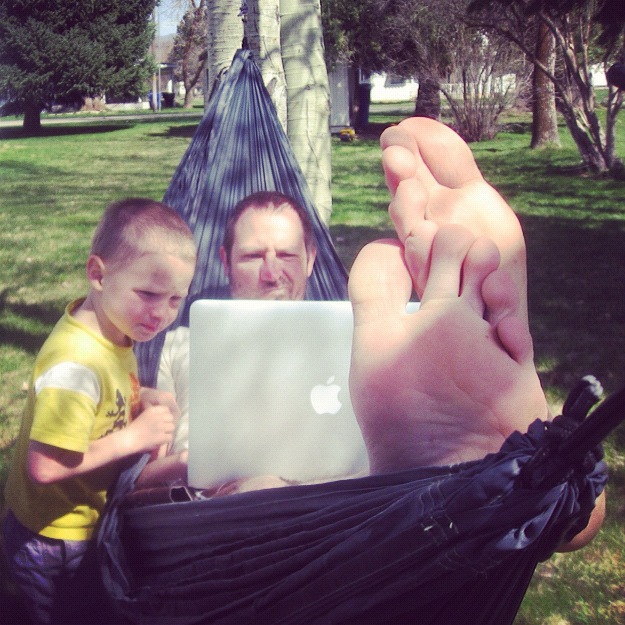 The weather finally turned wonderful towards the end of the week, and Woo moved his office outside to the hammock. It works pretty well when the rest of us aren't out there pestering him. He also went fishing and mountain biking, and he likes to say things like, "I hate living here." while staring out at the mountains.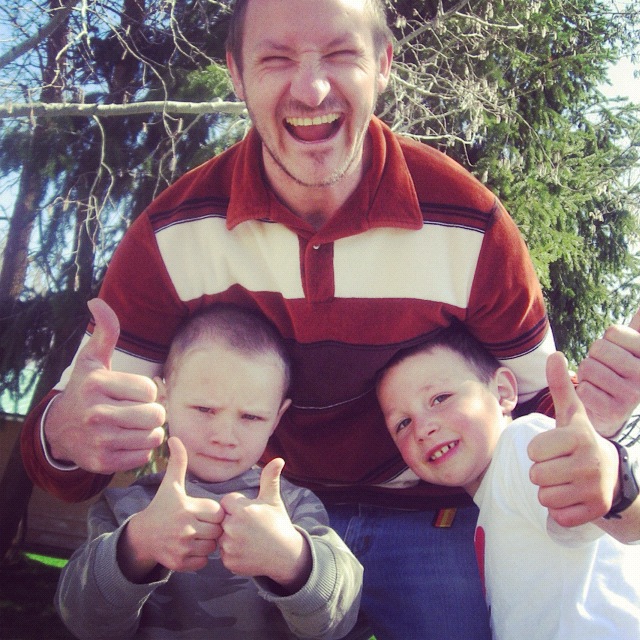 Moses has a giant crush on a little girl in
Joy School
. He has a blurry, beat-up picture of his classmates dressed up for the nativity, that he keeps by his bed to look at her. The thing is, I'm pretty positive she has a crush on a different little boy in the class. My heart aches a little thinking that Moses will almost certainly have his heartbroken a few times in life. I hope that he'll be the better for it, not the worse, and will someday find a woman just as sweet and sensitive as he is.