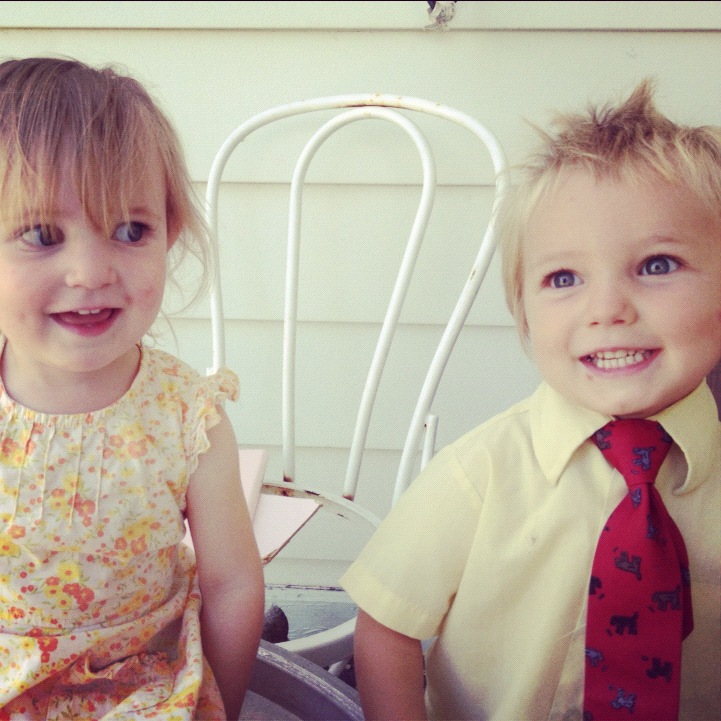 These pictures are kind of embarrassing because they show the sorry state of our porch. The good news is -- I picked up new porch posts from Lowe's this week. The bad news is -- it was humiliating.
I had Linus, Penelope, and Archie with me, and we waited in the front of the store for our order. An employee wheeled them out, took one look at us, and turned straight around and walked to the back of the store, leaving the posts there in front of us (Bad experience with women and small children??).
Getting those out to the car along with my cart full of kids was going to be quite the struggle, so I pestered the cashier to see if there was someone who could help me get the posts out to the car. She corralled a guy passing by, who reluctantly wheeled the posts out behind me.
And this is the part where I fulfilled all their expectations of being a pain in the rear, when I had him throw the posts in the car above the seats, and closed the rear hatch. The top corner of the rear windshield popped out.
I wasn't actually too worried, since I've done it before, and it popped right back in. No problem.
In fact, in the heat of the moment, I thought it would be a good idea to pop the entire rear windshield out so the posts could just hang out the back. While I was working on that, the guy said, "I think you should just tie them on top of your car."
Hmmmm. He did have a point there, so we pulled the posts out of the car, deposited them on top of the car, and he practically ran into the store with the cart.
I struggled for a couple of seconds untangling the bungees, ropes, etc. that we have in the car before some wonderful guy waiting for a friend in a car asked me if I needed help.
Of course, I did.
He did a fantastic job securing the posts, and I drove a few blocks to secure the rear windshield in it's groove in privacy. (Where another man driving a car load of kids, stopped to see if I needed more help -- I didn't).
I drove home wondering whether the first two guys would've been more helpful in an earlier time, and whether I should've tipped the third guy? But, you do kind of expect better service when you spend hundreds of dollars at a place, even now. Right?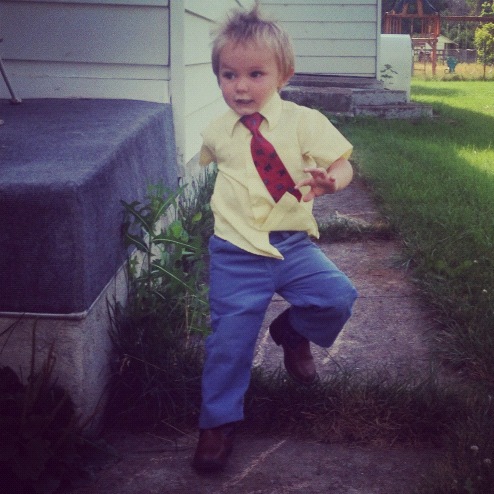 Linus has still got it. Before Lowe's, we were at the pediatricians, and Linus kept up a steady stream of commentary in a loud whisper. The receptionists and nurses giggled appreciatively at everything he said, and kept muttering, "They are so cute! He is so cute!"
He even bewitched the doctor who had to exclaim, "And this one is SO CUTE!" After Linus had said nothing spectacular, but threw up a charming smile and chuckle after he said it.
Today he walked out of church down the middle of two rows of visiting college girls who were all very appreciative of his knee-high red socks, black cowboy boots, and grey jumpsuit.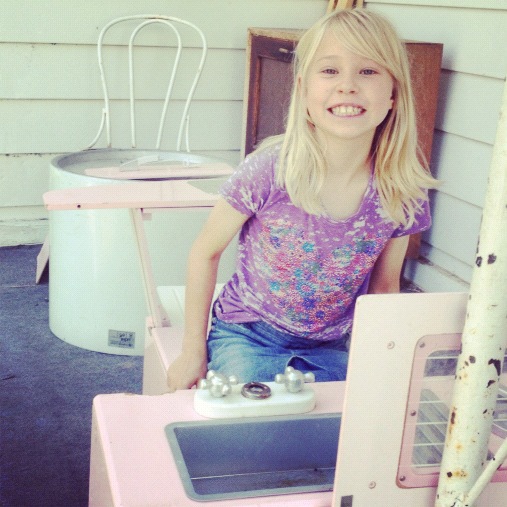 Ruby has spent a lot of time this week climbing the only tree in the yard that she hasn't spent much time in -- our spruce. The branches are very dense, and she's created an "office" up there. One day I came out to call them in for dinner, and she told me she could see the neighbor's pool from where she was. She whispered, "It's beautiful!"
Turns out that spruce tree has lots of sticky sap that's hard to wash and brush out of hair, but it does have kind of a fun sparkle to it.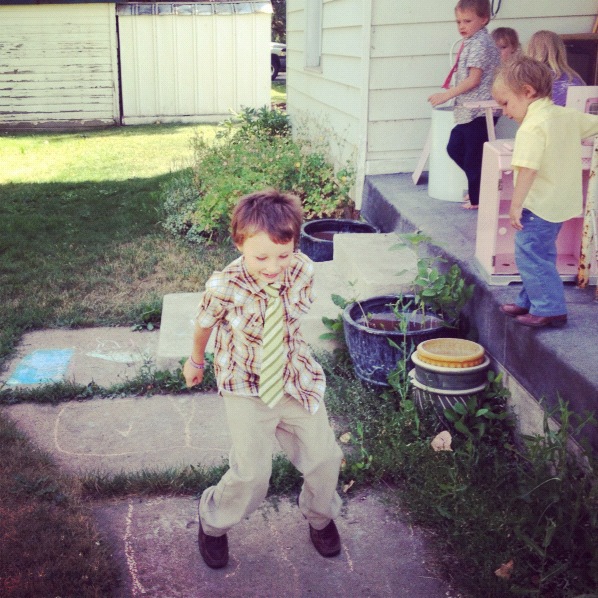 Herbie likes to read mystery books, and then announce that he's "solved" the mystery as he reads the reveal at the end of the book. I like to announce that I've solved the mystery after reading the first chapter in the same books, which always impresses Herbie. He can't figure out how I know. Someday he'll read those books again and find out that his mom wasn't really as smart as she appeared.
I thought Moses went to church today in the worst outfit ever (not the same as in this picture). Well, not the worst outfit. That was the outfit he had on before I made him change a few things. I did make him find matching socks after he came down with a bright orange sock and a bright green sock peeking out from his pants. And I did make him change his too short tie that was red and blue (on his grey and orange shirt). But I still wasn't thrilled.
Before we left, I caught two young women pointing at him and talking about how "stylish" he was. What do I know?
One of Penelope's favorite things to say is that "Etchie-bawd coot! Etchie-bawd coot!" Archie is the only thing I've ever heard her describe as cute, but today she came up to me and said, "Shoe coot! Shoe coot!" I asked if she thought her shoes were cute, but no, she was talking about my shoes -- hot pink heels with several layers of ruffles on front. We may finally have a girly-girl?
Archie has now realized that this solid food thing is not going away, and he'll now let me shove whatever mush I want into his mouth, and he'll swallow it. That's not to say that he likes it, necessarily, but I am getting plenty of food into his belly.
Woo's still spending tons of time working for the startup. We did go for a walk Saturday night out to the super-low lake. Lots of wildflowers have grown up all along the beach we went swimming at earlier in the summer. Woo found a giant bouncy ball and broken ski pole where the water used to be. Woo lives for those kinds of finds. And no, I'm not kidding. We followed two young bucks up the trail home. Woo took lots of pictures of them that didn't turn out.
Well, that's all for our week.