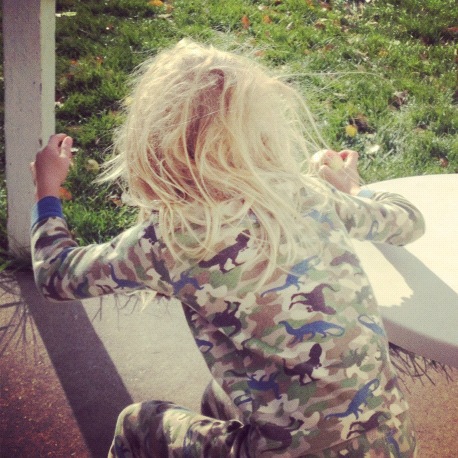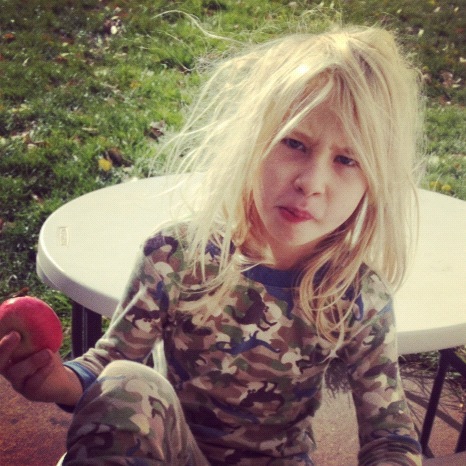 (Ruby may or may not have gone the entire Fall Break without brushing her hair.)
We learned at parent teacher conference that Moses is doing great in kindergarten and fits in really well with all the other kids, but bursts out into uncontrollable tears a few times a week. It's not a complete surprise, as it is Moses' way of dealing with stress, tiredness, etc. but it is kind of surprising that he does it at school. He usually saves that fun stuff for us at home.
Anyway, I rearranged his sleeping arrangements to see if I can get him to sleep in a bit more in the morning, and Woo's worked out a deal with him: a trip to the store for a bag of candy in return for a month of talking instead of crying in school. Hey, it worked with him and thumb sucking :).
Herbie and Ruby are still doing great in school, even with skipping a day. Both their teachers are supportive, and basically said they're not missing a thing the day we picked to keep them home.
Except, Ruby's teacher wanted to know if I'd consider bringing Ruby back to school for an hour that day to practice the song they'll preform for the school sing-a-long the last week of school, even though they also do singing on Tuesday. Ummm ...
Herbie's teacher told me that with kids that are as far ahead in reading as he is, they spend time working on elocution -- on reading with more feeling. Which, to be honest, makes me giggle a bit, even if it's something that I could benefit from.
We finished reading aloud The Lion, the Witch and the Wardrobe. Ruby, Herbie and Moses were incredibly good at recognizing the symbolism in it. I think I only got the very basics (like Aslan and the White Witch) the first time I read it, but the kids took it and ran. I think that they each shouted out something that made me think, "Yeah, I think you're right. I hadn't recognized that before."

(Also, I just learned this week that Phillip Pullman's His Dark Materials series is in response to the Chronicles of Narnia? I wish I'd know that when I'd read it. It may have made a lot more sense to me. Or not. :)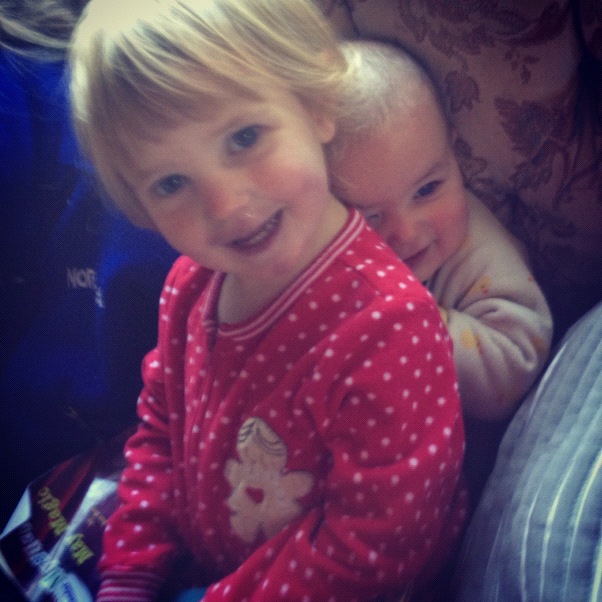 Linus is continuously fantasizing about his birthday (no pressure on anyone planning on getting him a gift ...)
Linus: ... and I want a fower (flower) for my birthday ...
And a NellPea, a toy NellPea.
Me: You want a NellPea for your birthday?
Linus: Yes, a toy NellPea. What turns on and off ... A scary NellPea!
I would argue that he already has a NellPea, but a NellPea that turns on and off and is scary?? That's something else.
Archie doesn't just like to sit, and he's uncomfortable lying on his back. His position of power is on his belly, his arms propping his chest up and his head serenely surveying his surroundings. It makes me think of a tiny male gorilla every single time.
If possible, Penelope has become even more of a Miss Contrarian ...
Me: Etchie's my baby.
NellPea: No! Etchie's not yours baby. Etchie's my baby!
Me: No, Etchie's my baby, and you're my baby.
NellPea: No! I not yours baby! I Dad's baby!
Herbie came home to tell us that the parents of the girl he likes went on
missions
.
Herbie: Her mom went to Austria, and her dad went to Portugal.
It's really amazing how her parents went to the exact same places his parents went on their missions ...
P.S. Woo and I have been married 10 years this week! We ate more chocolate and pizza than we should, argued, laughed and watched Survivor to celebrate --- (Go Tyson!)