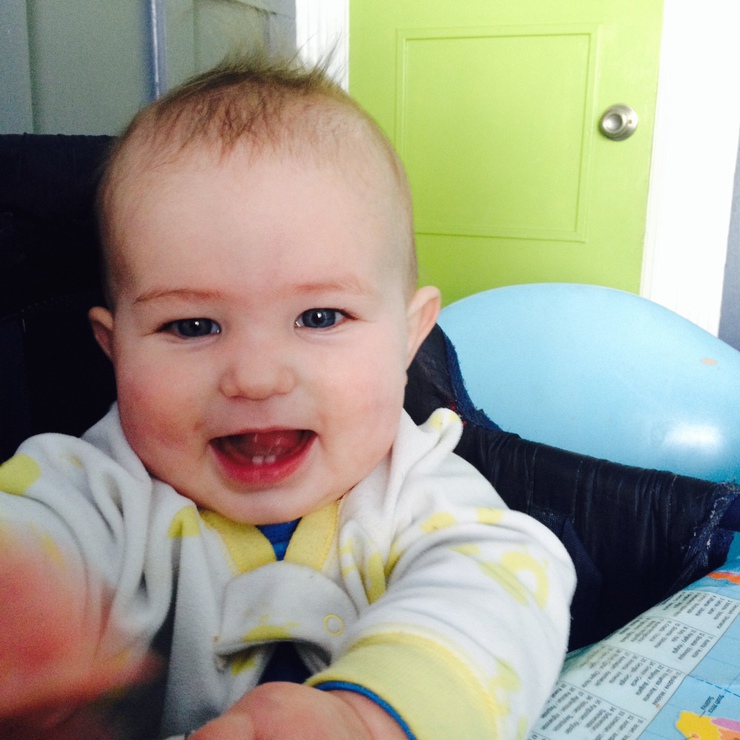 The month of November was a rough one for me. I had officially decided that it was the worst month of the year (Sorry, anyone who loves November). I was feeling pretty overworked and underpaid, so to speak. It's a phase probably every mother gets to go through.
But, after my blessing and some reading and prayer, etc, I remembered a few things.
First, my number one job as a mother is not to keep the house clean. My number one job is to love the kids.
Also, my number one job as a mother is not to get the meals on the table. It's to love the kids.
And finally, my number one job as a mother is not to immediately finish/accomplish whatever it is I've started. It's to love the kids.
I had been spending way too much time doing those other things, which let's be honest, are not fun, and were stressing me out. Spending time with the kids is fun.
These are the changes I made:
1. I clean for an hour in the morning. That's it. I spend the rest of Archie's nap hanging out with Moses, Penelope and Linus.
2. I finally got serious about consistently letting kids help me with dinner. The four older kids each have a night a week where they help me. They love, love, love it! I slow down, and let them do everything they're able to do. Herbie sliced carrots of all different widths for our chicken soup. Linus carried the big griddle all the way up from the basement himself (He was so proud!). Ruby flipped all the pancakes. Moses sliced a potato without incident, but I sliced my finger immediately afterwards (whoops :).
3. I've changed my attitude about being interrupted. For example, getting the living room vacuumed is not really that important. I can stop to tie someone's shoelace or pull apart some legos.
I've been doing these for a couple of weeks, and I feel a million times better. I'm not as tired, and I can tell that Moses, Penelope and Linus (especially) are behaving much better. Moses even poured a full gallon of milk this morning all by himself without crying and panicking and insisting that he couldn't.
Ruby, though, I was still having some trouble with Ruby. Wednesday was a bad day, where basically she was the rudest ever, and I was the meanest ever.
In a way it was good, because we had a great talk afterwards where we worked out a plan for her behavior that has worked very well so far. She's been wonderful for 4 straight days, which has not happened since school started, and definitely not at the end of a long week.
Also, it came out that she's been having a lot of trouble with bullies on the bus. I knew that there were a few rough characters, but she was being targeted directly, which would put anyone in a bad mood. She'd been afraid to tell me, probably because she sometimes couldn't stay totally out of the drama and retaliated, but telling me seems to have been a big relief to her. Hopefully, we can help her figure out ways to cope with it.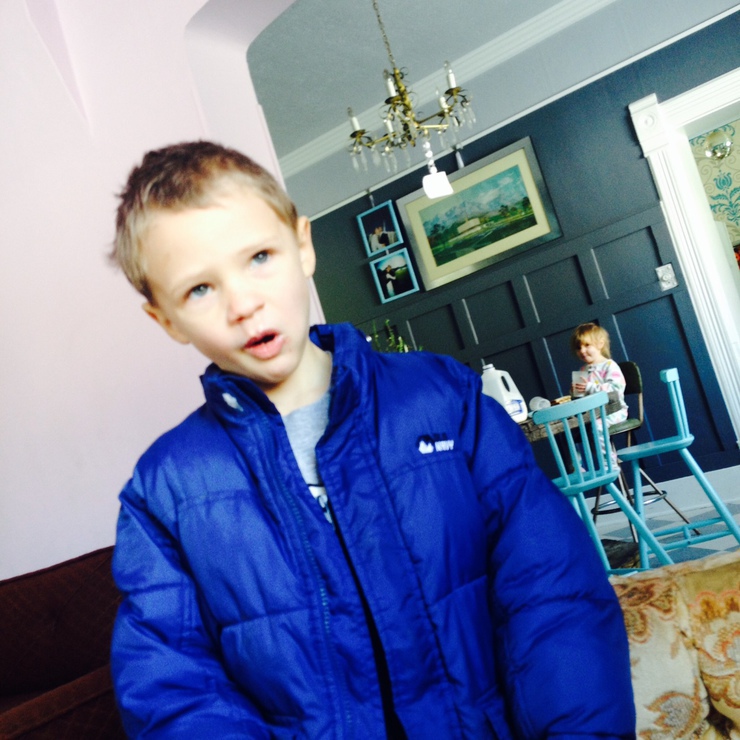 Some history according to Ruby:
Ruby: I know why Ronald Reagan is famous.
He's the one who invented Star Wars.
Me: That's George Lucas, Ruby.
Ruby: Well, he's the one who was president when the twin towers went down.
Me: George Bush ...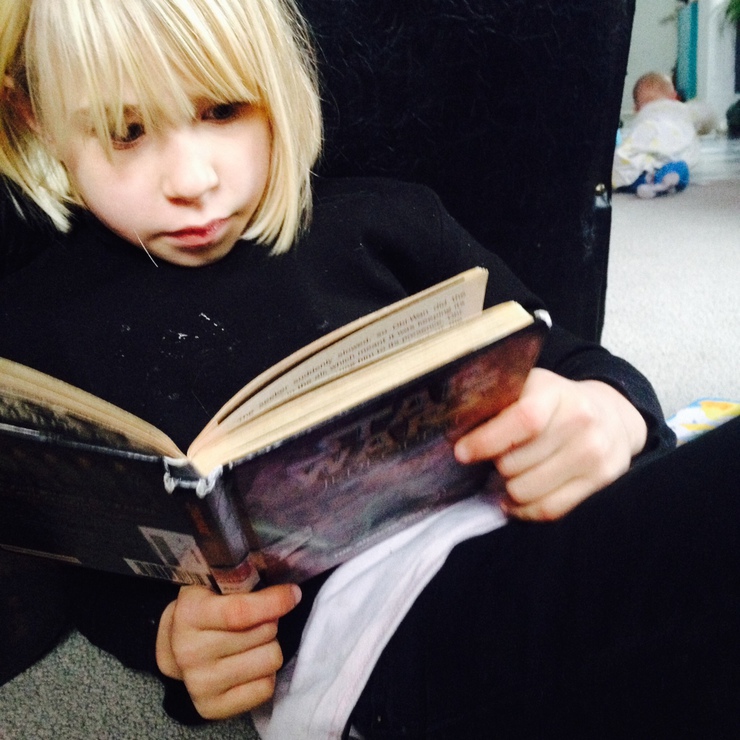 I always love when the kids see a magic show and later attempt to do all the tricks themselves. Moses did a few for me. They involved turning his back to me and then fumbling around a lot in his pocket and then MAGIC!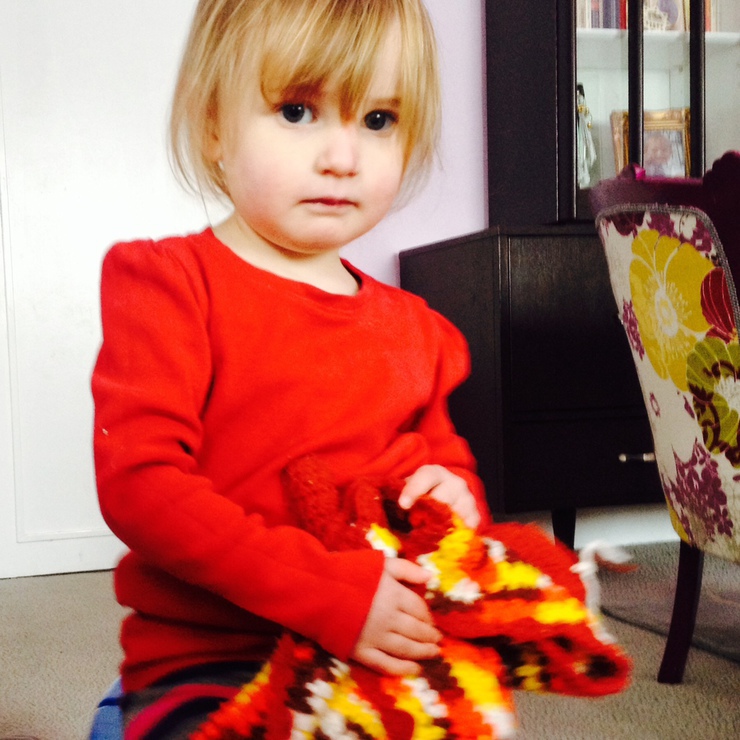 Here's an email I wrote to Woo back before Linus turned fantastic.
Linus is mad. He's pinching my hair as hard as he can.
We've been building some good forts over here. Also, the ice rink is open.
Herbie is possibly the most excited of anyone about helping me with dinner. It helps that I recently got a food processor/blender called the Ninja. He loves that thing and chopping/mixing/blending stuff up in it.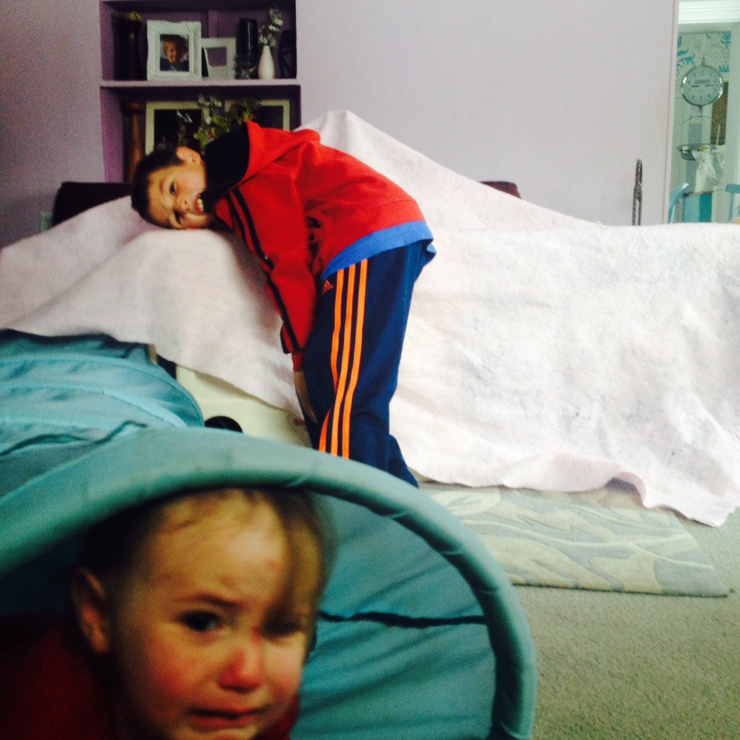 The tree is up, and Archie thinks it's for pulling apart.
Linus (and his many admirers ) playing Atari with Woo for his Daddy Day.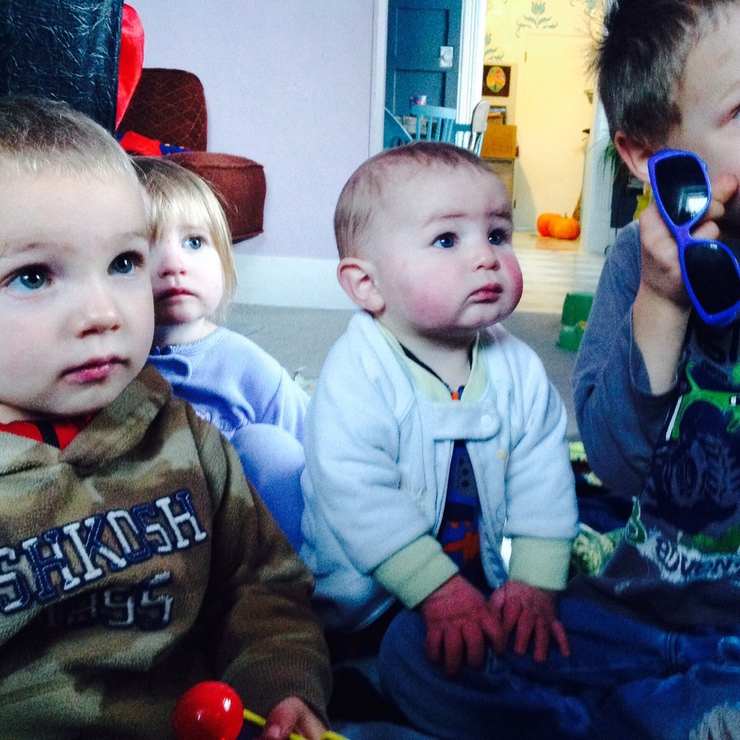 P.S. My brother, Tyson, just won Survivor!
Have a great week!