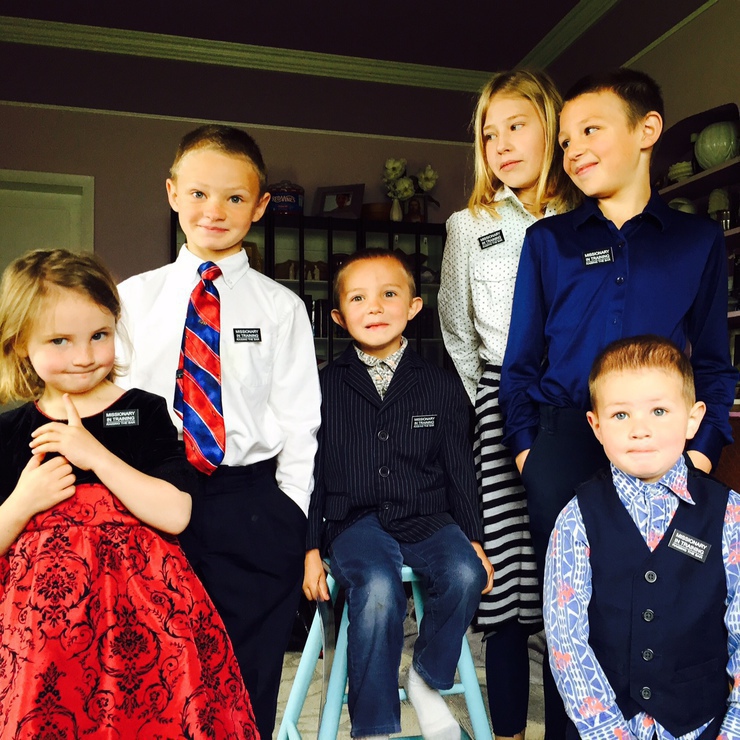 One night, when he was supposed to be falling asleep, Linus starting wailing and crying. When he finally could talk, he told me Herbie had thrown his pants at him, which was ridiculous. Pants don't hurt that much.
In the morning he had a large, purple goose egg on his forehead. I figured maybe the snap? Had whipped him hard? But Woo was smarter, "What was in those pants?"
Herbie (shrugging): Dunno.
Linus: My rocks were in the pocket!
Woo ordered Herbie upstairs to get the rocks, but Linus told us they weren't there.
Me: Where are the rocks, Linus? Did you put them back in the pants you're wearing now?
Linus: Yes!
His pockets are now rock free, but that didn't help me from getting hurt next.
Linus got mad at me before story time and threw his book straight at my face. The spine caught me from my eye to my lip and I yelled "OWWW!!" longer and louder than I ever have in my life. (As Woo can verify, I usually don't make any sound or acknowledgment at all when I get hurt.) I sent Linus to bed and hid my head under a blanket and tried not to cry.
I thought my lip was hurt the worst, but the next day I had a black eye. Hardly anyone asked me about it in church (maybe they were afraid to?), but when someone did, one of my young women, who was standing nearby said, "Oh! I didn't even notice!" Which, if true, is pretty incredible because my eye is pretty purple.
And then today during naps, Archie started screaming and said he got a nail in his eye. Which makes no sense, but he definitely has a bruised, red eye. Maybe poked it on a corner? Some compassionate person in primary gave him a kleenex to hold over his eye, making him look even more wounded and helpless.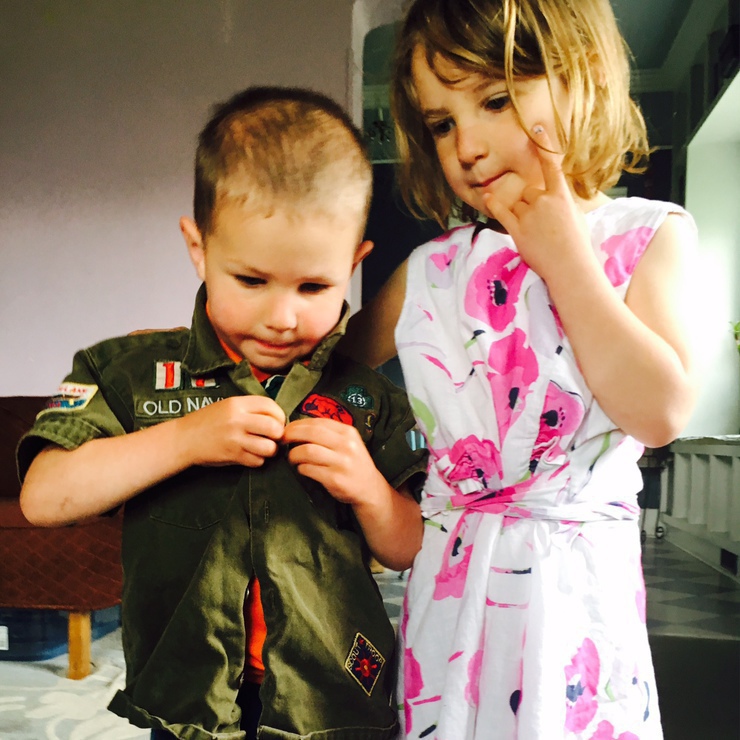 A few weeks ago Penelope's little friend in primary gave a talk on Jesus. Penelope came home talking about how much she wanted to give a talk on Jesus and, lo and behold, it was her turn next. And the topic was Jesus Christ.
When Penelope and I sat down to write her talk, she blurted out the testimony first, "I know that Jesus loves me!" She ended up having many pictures of Jesus to hold up during her talk and she practiced carefully holding them up so everyone could see and putting them back at the bottom of the pile so they'd stay in order.
During a practice run with the whole family, she was so pleased, excited and happy, I had to point out that she was feeling the Holy Ghost and that it was telling her that Jesus really lives and that He really loves her. She nodded confidently, "I know!"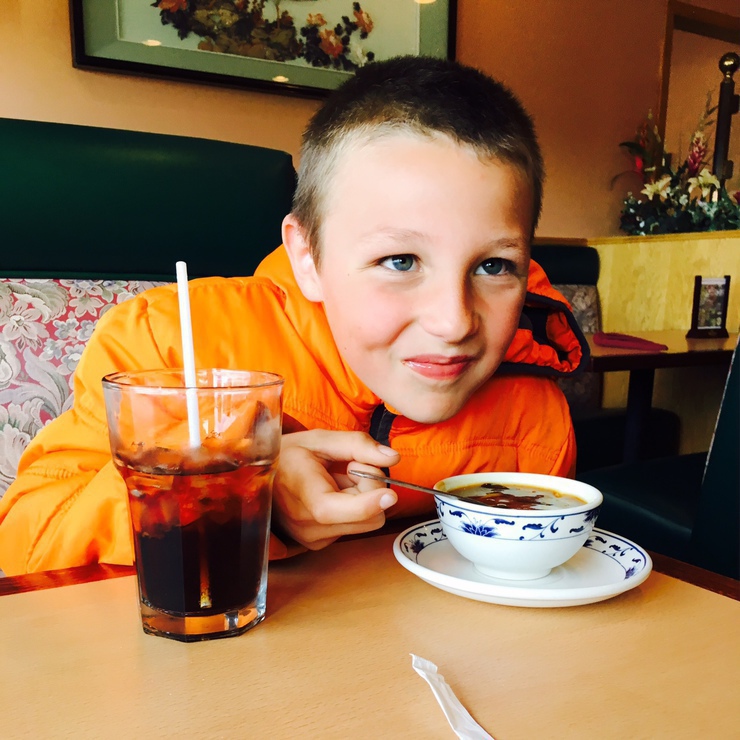 Linus (who apparently had a rough week) was picking on Penelope. Herbie rushed to her rescue with an authoritative, "Liney!! Do unto others as... !" and then he ran out of steam and ended with kind of a lame, "Others would do unto them." As far as Linus knows, he said it right.
Herbie was super, super excited to go shopping with Grandma Sandy for his birthday. He specially planned to wear his BYU basketball jersey she got him for his birthday last year. He came home with a kindle and basketball shoes, which I could've predicted. Herbie loves electronics and gets a new pair of shoes any chance he has.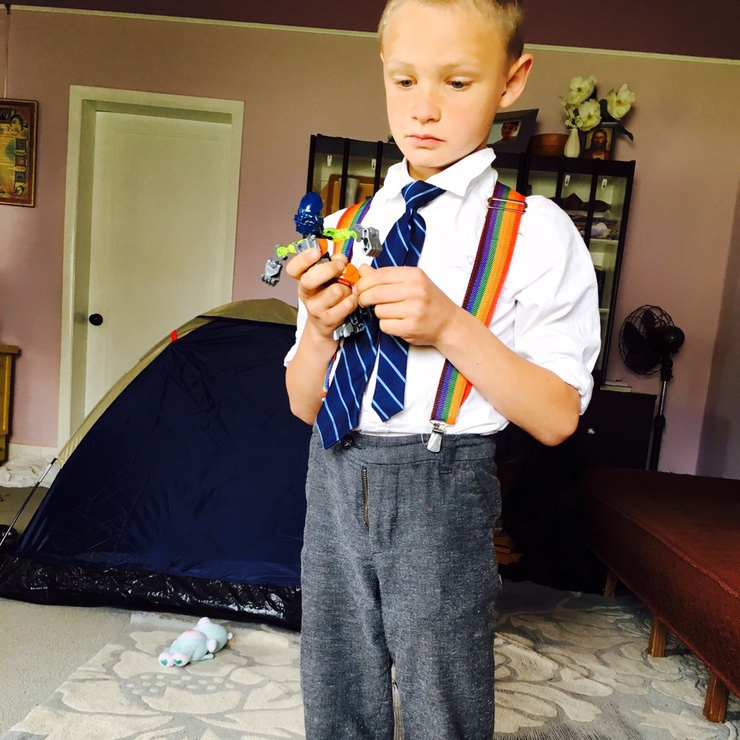 After reading scriptures this morning, Moses announced he wasn't going to break his fast with the other kids--he was going to fast two meals instead of one. I thought he'd been inspired by the scriptures and warned him, he'd want to break that commitment, but if the Holy Ghost told him to do it, he should do it. He had a dark night of the soul when Ruby and Herbie broke their fast and was worried about getting sick, but he kept going.
Then a new convert from India stood up in testimony meeting and told about a time he fasted for a week (?!?) and didn't get sick. No one here is going to fast for a week, but I think it comforted Moses. He made it until dinner, but I'm not sure he'll try that again for awhile.
Archie (walking past a big bleating sheep): Oh! It's burped!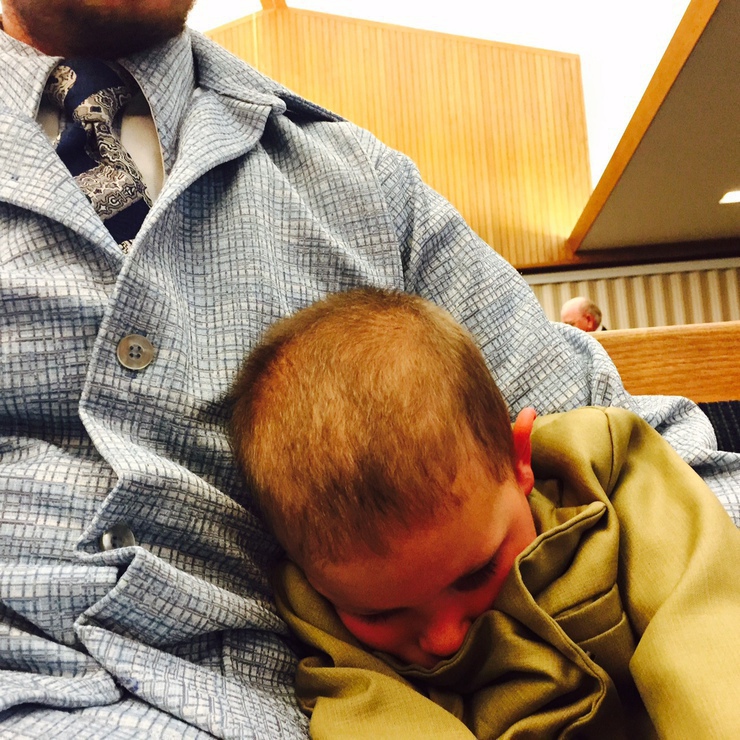 Archie: Ruby! Ruby! I'm going to spy on you. Go somewhere else!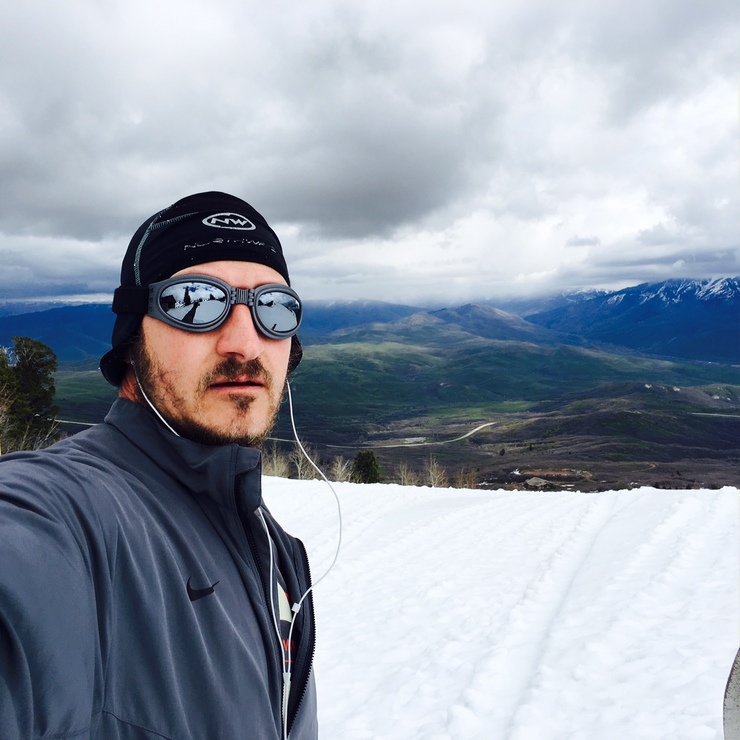 Usually it's the older kids who teach the younger ones things we don't want them to say, but other times it's not.
Woo (mumbling the opposite of affirmations to himself): Just your dad... Jerkface McJerkButt...
Penelope (walking past, in her sweet voice): You're a jerkbutt, Dad.
Woo: Nellpea! You're not supposed to say that!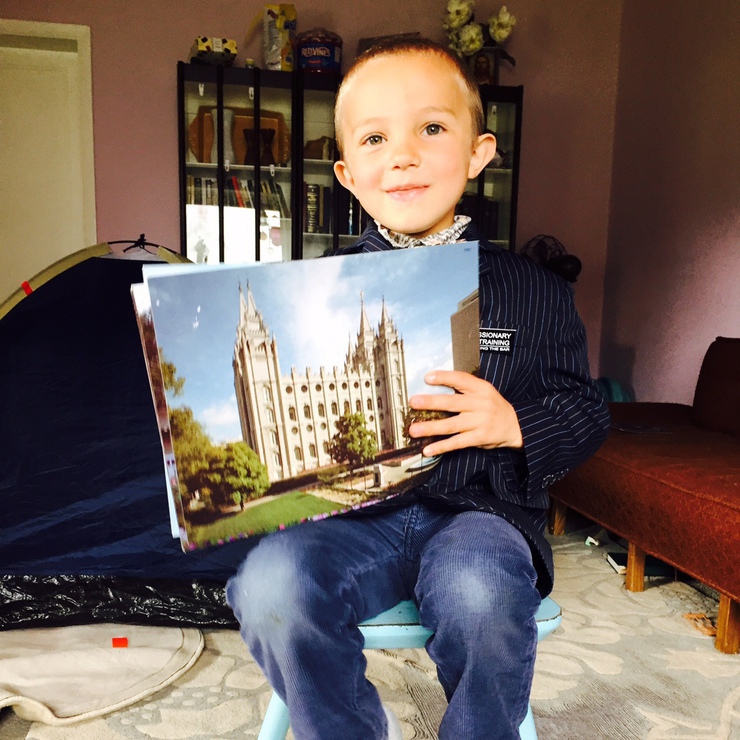 Linus taught his Family Home Evening lesson on temples. Ruby raised her hand and asked about a picture of a font on the backs of twelve oxen. I thought Linus would say it was the baptistry. At least, that's what I would've said. Instead he said, "It's the tabble-nacker."
When we laughed he explained himself further, "the last one we went to--the tabble-nacker."
Which is where we figured out he thought he was looking at a picture from the new Provo City Center Temple, which used to be a tabernacle.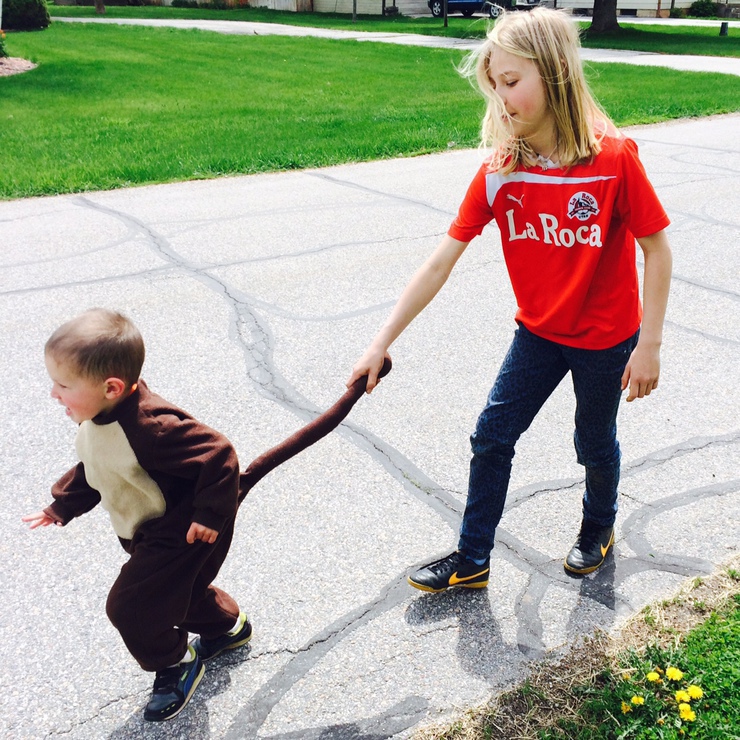 I showed the kids one of my old missionary badges this morning and when they wanted to try it on, I remembered that someone had given me a bunch of pretend kid ones about 3 years ago. I'd been saving them for... today, I guess. They were super excited and someone said something about being a missionary now, when Ruby said, "I tried that once in 2nd grade, but it didn't turn out so well."
Then she told me the sad story of her telling a little boy of another faith he couldn't be with his family forever because they weren't sealed in the temple and he started to cry, and Ruby's teacher (also of another faith) was mad. I was sorry for everyone involved, but mostly for my own daughter, who was only 8 years old and didn't know any better. She was trying her best.
Well, that's all I have for now. Hope you had a great week!
Love,
Chelsey
Testimony below:
When we lived in St. Louis, I had a visiting teaching companion named RaeJean Eisenhower. Almost immediately after the birth of her sixth baby, RaeJean went through a terrible divorce.
While counseling with her Bishop, he invited RaeJean to attend the temple every month with him and his wife. At this time the nearest temple was in Chicago--five hours away.
RaeJean enlisted a newly married student couple to stay with her kids and every month she would drive up to Chicago with the Bishop and his wife to attend the temple. She did this for years until the St. Louis temple was built and she could attend more frequently.
One of RaeJean's great worries was about how her children would end up. She knew the statistics... and her children did have some very painful experience, but there always seemed to be a Bishop or home teacher or youth leader for each of her children, right when they need them.
Except one daughter, in high school, went through a rough patch--hanging out with the wrong kids, making poor decisions--and then one day, almost overnight, she was fine.
One night RaeJean was talking about this with one of her other daughters and the daughter asked what RaeJean thought had caused the change. RaeJean started to rattle off a list of people--maybe it was because of a Bishop, a home teacher, or maybe someone else--when the Spirit stopped her.
It said, "No, RaeJean. It's because
you
went to the temple."
This story has stuck with me because the Spirit testified to me it was true when she told me and it taught me that I don't just go to the temple to bless myself with the Spirit or to save the dead, but I go to the temple to bless the lives of my children.
The temple truly is the house of the Lord and I know that having a temple within half an hour of us is a blessing beyond price. It is worth any sacrifice of our time to get there.