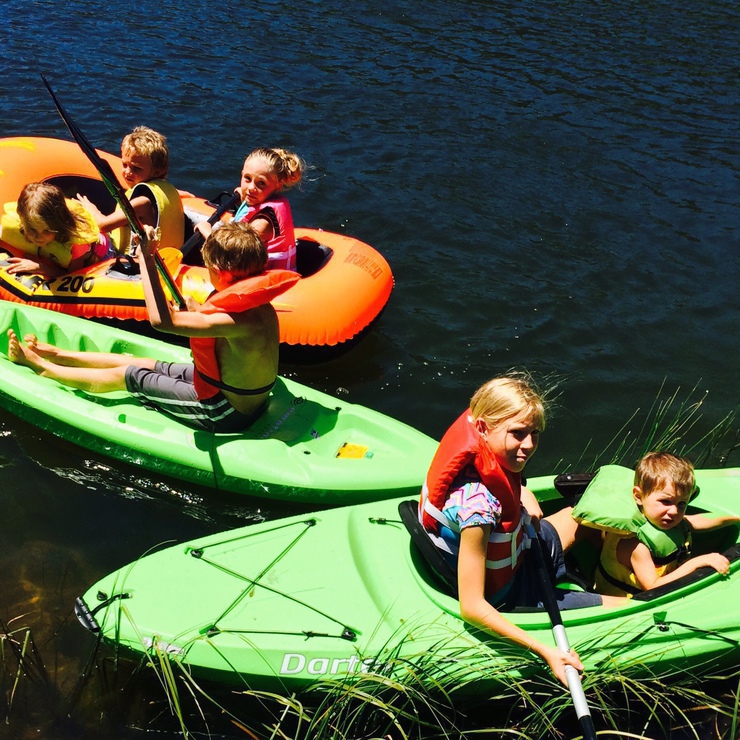 Monday
Ruby gets her turn with the face paints.
Ruby, Herbie and Moses get new fins.
As part of the Williams' annual vacation to the condos, they invite us to the pool.
Penelope does a lot of cute swimming in the baby pool to show off.
Linus is frustrated--too tall for the baby pool, too short for the big pool.
I finally remember the best way to deal with a tantrumy child (Archie): a hug, whisper their name until they're quiet, then an "I love you."
The library website wasn't loading. Linus: Mom, how 'bout this--Did you think to pray?
As part of the Williams' annual vacation to the condos, they invite us to the lake.
Woo enlists Ruby, Herbie, Moses and Linus' help in getting apricots (from Woo's parents) on the dehydrator.

Wednesday
We get a phone call from a neighbor: they narrowly missed running over Herbie, who raced through an intersection on his bike.
As part of the Williams' annual vacation to the condos, they invite us and Christine, along with her kids to a BBQ at our house.
Ruby starts setting up chairs in the backyard before I even ask her (or anyone).

Thursday
Archie spends the day playing with legos.
Moses worked on his baseball uniform; Linus worked on his slides to home plate; Ruby and Herbie actually played baseball.
Penelope pedaled 59 pedals in a row--the longest bike ride she's ever been on.
Ruby, Herbie, Moses and Woo are finally old enough to swim in the neighbor's pool. (Well, Woo's been old enough for awhile.)
Herbie shattered his kindle playing catch with it in the street. They were taking some sweet video footage, and we have it.
Ruby (yelling at her brothers): That's not a sin!! A sin is---like I'm sinning right now, cause I'm mad at you--- Oddly enough, all shouting and arguing ended after that.
I snuck in a haircut at the local school after a temple trip. The bad news: I had oil in my hair. The good news: the student got to practice her hair washing skills and the trainer cut almost the whole thing to get us out of there before closing.

Friday
Kids very quiet in the morning--they slept in!
Archie is very proud to be tall enough to throw his otter pop wrapper in the outside garbage can. He throws away his wrapper. He throws away my wrapper. He attempts to wrestle Penelope's unfinished wrapper from her.
Ruby, Moses and Linus spent the day building space stations from legos.
Herbie: I'm bored. Me: You can do some weed whacking. Herbie: Ok!
Herbie lost a tooth.
Ruby, Herbie, Moses and Linus played pickup baseball after dinner (Herbie's pretty good). Penelope, Archie and I played "crowd" and "fans."
Penelope loves my haircut. Before getting into bed, she said, "Thanks for getting your hair cut, Mom!"
Annual Cheltz-family outing to Dipper Pond.
The kids have tons of fun paddling around with cousins.
Herbie loads all the lifejackets/rafts into the car before we go, and all the kids help unload.
Woo and Brody swim to the island. I think they had fun?? Lyndy and I were sure impressed :).