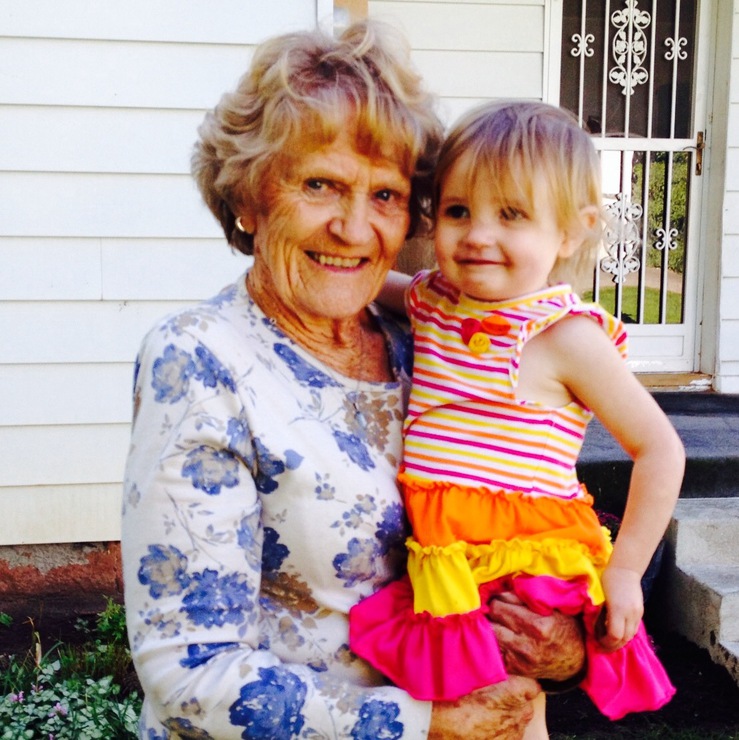 I've been thinking about a few of Grandma's traits or virtues that may not be mentioned otherwise:
1. Grandma was punctual always. Even unnervingly so. When I was in college I didn't have a car. I walked or rode my bike to work, except snow days, then Grandma drove me (often after she'd called to tell me she'd be picking me up).
I remember going to shovel snow at the MTC in the middle of the night and Grandma showing up in the car, fully dressed, not 5 minutes after hanging up (a time I had called her).
Once she drove me to my job in south Provo for several snowy days. Her car drove right up every time I walked out the door at the end of my shift.
2. Grandma was a great writer. Her punctuation and spelling were perfect (much better than mine), and the cards she wrote to my kids read exactly like a classic children's storybook.
3. Grandma had inherently good taste. Her decorating instincts were good. Her house was lovely, and she enjoyed looking her best. I remember friends in elementary school (at Grandparents Day) and up until my wedding reception telling me how cute my Grandma was. And she was.
One picture I wish I had, but don't, is the image of Grandma with her arm around her two sisters (Noreen and Alda) at Grandpa's burial. So sweet to see three sisters grown old and round, looking so much alike, and comforted in each other's presence.
Another picture I wish I had is one of Grandma laughing like a little girl. The most memorable one for me is the time I brought over a friend and Grandma took her on a tour of her newly remodeled house. I pointed something out to my friend (the purple beads Grandma had hung over her bathroom window) and my friend appropriately complimented them. Grandma turned to me with such a delightful laugh, so tickled and thrilled to have someone recognize something she'd worked hard on and thought was brilliant.
4. Grandma was quick and agile. In the temple you don't normally expect the 70-80 year old woman in the session to be the first one up and back down sitting, but Grandma was.
I also remember coming to visit with toddler Ruby, who could empty a house of its contents at lightning fast speed. She made a beeline for Grandma's kitchen cabinets, but Grandma lunged to a drawer and snapped rubber bands over the knobs, securing all her cabinet doors shut before Ruby could even open one. I was astonished.
I know Grandma has a Heavenly Father who loves her as His precious daughter. These words from the Book of Ruth come to mind:
"My daughter, shall I not seek rest for thee, that it may be well with thee?"
"The Lord recompense thy work, and a full reward be given thee of the Lord God of Israel, under whose wings thou art come to trust."
"Blessed be (s)he of the Lord, who hath not left off h(er) kindness to the living and to the dead."
There were times when I knew God was watching out for her because He guided me to help her in ways I could.
I know Grandma was incredibly lonely after Grandpa died. I believe the inspiration I received to start writing weekly emails was in response to my questions of how to help her when I lived so far away (and when I did visit, being so hindered by the needs of my young family). I'm happy that she loved them so much.
Below is a letter that presented itself to my mind one evening while I was in the shower. I had completely forgotten it was close to her birthday until I'd written the whole thing, then looked at the date. But Someone Else knew and knew that Grandma needed to be remembered, especially around her birthday.
Happy Birthday!
I know it's a little early, but I've been thinking of you tonight, and wanted to let you know that you have been a fantastic grandma! I think you have fond memories of your own grandparents, and it was important to you to be a great grandparent too, and I want you to know that you succeeded! I have so many memories of you taking me places as a little kid, of foods that you made me, taking me on walks, looking at the stars, etc., etc. I loved that you told me stories of when you were little whenever I would sleep over, and it has helped me to remember to tell my kids stories about my past.
If I think of every hard time in my life, I can remember you being there---one of the main people to support me: right before my mission, you went to the temple with me every week, and I would come home from class to find a soup or cookies waiting for me. On my mission, I could count on a letter from you EVERY week, which means SO much to a missionary. And when I first moved here, you gave me a couple of phone calls right when I needed it most.
One thought that is very meaningful to me, is that I know that you didn't just love my Dad, and you didn't just love the grandkids in general, but I have always known that you have loved ME! Thank you, Grandma! I have an image of you jumping up to help me or get something for me the second I enter the room, and there are a lot of times in life, when that is exactly what a person needs.
Thank you for being such a wonderful example of family history, temple work, service to others, and grandparenting. I hope that I can one day be half the Grandma you are!
I love you, Grandma! I hope you have a great birthday week!
Love, Chelsey