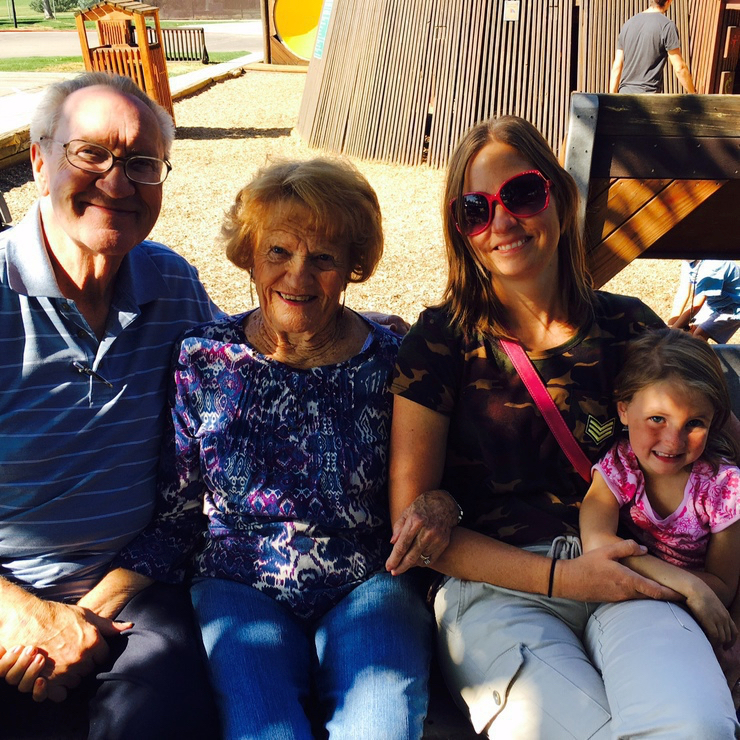 In her role as grandmother Grandma was A++, exceptional, extraordinary... and I'm not just saying that because I'm speaking at her funeral. She was truly amazing. It was as if she'd been born just to be a grandma. My grandma.
I don't know how she did it, but it was as if I was the only one.
I
was the one she thought was a cute and delightful child.
I
was the one she took by the hand and wanted to show things to, the one she worried about, the one she loved to have visit, the one she was sad lived so far away, and so on and so on.
As a small child, I didn't realize how constantly Grandma was serving someone. When we had family dinners and she took us on walks to feed the horses or to the cemetery I didn't think, "Oh, she's giving my parents a break." Or "She's getting the kids outside. She knows kids love to be able to run and yell and explore."
I thought, "Grandma loves me and wants to be with me and read the tombstones with me." Even though all were true.
When Grandma took me to see Santa I didn't think, "Oh, Grandma's giving my Mom a chance to buy or wrap presents." Or, "Grandma knows kids love outings and Santa."
I thought, "Grandma loves me and wants me to be happy and excited." Even though all were true.
When Grandma took me to visit Donna Zabriskie, a sick neighbor of hers, I didn't think, "Oh, Grandma isn't afraid to love and serve this woman who is kind of hard to look at and be around." Or "Grandma knows Donna never leaves the house and loves visitors. Some kids would be a special treat." Or even, "Grandma is trying to teach me how to love my neighbor."
I just thought, "Grandma loves to have me with her and she wants to show me Donna's chihuahuas." Even though all were true.
As I became older, it became clear that Grandma was serving me. She'd do anything to help me. And she did it because she loved me. And I, because I was grown up and independent, didn't want help. I thought it was a virtue not to accept help.
I remember one time, my junior year of college, she'd weaseled out of me that on snow days, my boss on the MTC grounds crew called me in the middle of the night to shovel the sidewalks. Well, she wanted to drive me. She didn't want me walking up there in the dark. I hemmed and hawed (I really didn't want to wake someone up in the middle of the night with a phone call). Grandma knew there was no way she could get me to let her know my boss had called, short of sleeping in my room all winter and taking the call with me. Instead she said in an anguished sort of voice, "Why won't you let me help you?"
I called her in the middle of the night every snow day from then on, and she was so excited when I did. And it was really pretty nice to have a ride in the middle of the night.
As I got older, at times, life got hard, sometimes even very hard and Grandma was always there. She would call me or write me. She even sent my favorite cookies overseas through the mail (which were a crumbled mess when I got them, but luckily encased in a ziplock so I could scoop out every crumb with a spoon.)
Even, on occasion, it felt like she was the only one who cared. Once she came to my house for one of my kids birthdays. I was pregnant with my fifth (Penelope), my other 4 kids were very young, we were remodeling our house and didn't have a dishwasher yet, and I didn't know it at the time, but I had anemia, which was making me tired. So very tired. I'd made dinner for everyone and the sink was full of dirty dishes.
Immediately after dinner everyone gathered in the living room to open presents except Grandma. She was filling up the sink with water to wash my dishes. I stopped her because my little boy was sitting in front of the presents that had been tempting him all day, and I knew how long that sink of dishes was going to take. I didn't want to make him wait any longer.
I probably made the wrong choice. I can't say whose need was greater, but oh, how I loved my Grandma for that. It seemed like it had been such a long time since anyone had tried to help me with anything, let alone an undesirable job that I was going to be able to do myself eventually. There was no doubt in my mind or my heart that my Grandma loved me, liked me and everything in between.
I was the lucky one who got to put together Grandma's slideshow. I watched it many times, and as I watched it, of course I remembered and loved Grandma. But as I watched the slideshow I realized something else for the first time. I understood how completely she loves each of you.
There's not a person in this room for whom she wouldn't dash through fire to serve a bowl of popcorn or hand a popsicle. But especially her children and her grandchildren and her great-grandchildren... she loves you so much! She is so proud. She is so pleased and delighted that you are hers. She feels so blessed and privileged to be your mother and your grandmother and your great-grandmother. She wants you to be hers forever.
As a young mother Grandma worked hard to get herself and her husband worthy and clean to go to the temple to be sealed as a family, bound for all eternity, to be together beyond this life.
The resurrection is real. Through the atonement of Jesus Christ all of us will be resurrected, but because Grandma made and kept her sacred temple covenants she will come forth, washed white in the blood of the Lamb and crowned with glory, immortality and eternal lives.
And she wants you to be there.
I know that Jesus Christ lives. I know that the temple is His house and that in it the power of godliness is manifest. I love my Grandma so very much. And I love Jesus Christ and that he has made it possible for us to live together in families after we die. In the name of Jesus Christ, amen.