I think we made it to four parties this week (if you count someone inviting us over for ice cream). We were able to make it to Lynds and Brode's School's Out party, which was lucky. I don't think we'll see them again before we leave for Portugal. We didn't get the notice it was a water party, so the kids were reluctant to get their clothes wet, but they all eventually broke down and had fun.
We also had the Fathers and Sons/Girls movie night and the annual Father's Day celebration at Dippet Pond. It was cooler and very windy. Woo ate, talked or napped in the yurt, and only really got this picture of Penelope trying on her new swim suit, but the kids all had fun in the water.
Ruby has been sharing a few memories of her teacher and even started writing a story entitled, "Love through Tacks." Apparently, Ruby once put a tack on her teacher's chair, but thought better of it and removed it. Her teacher still heard all about it and started putting tacks in places for Ruby to find like in her cubby, her desk, etc.
While the boys were at the Fathers and Sons, we watched some Strawberry Shortcake with Penelope and when she went to bed, Ruby and I watched
The Half-Blood Prince
, which Ruby has never seen and was very excited about.
At the Fathers and Sons, Herbie won the kids' frisbee golf, got a big box of swedish fish and shared them with everyone. ("
Everyone
there!" said Moses.) He ended up with three for himself, "So I won't get cavities!" he told me.
Herbie told us he wrote a talk and memorized it and when we went to Primary, he had nothing. He stared at the ceiling saying, "Um..." for like a minute before I told him to tell his story or end his talk. So, he ended it. Pretty abysmal, but hopefully he'll learn from his mistake.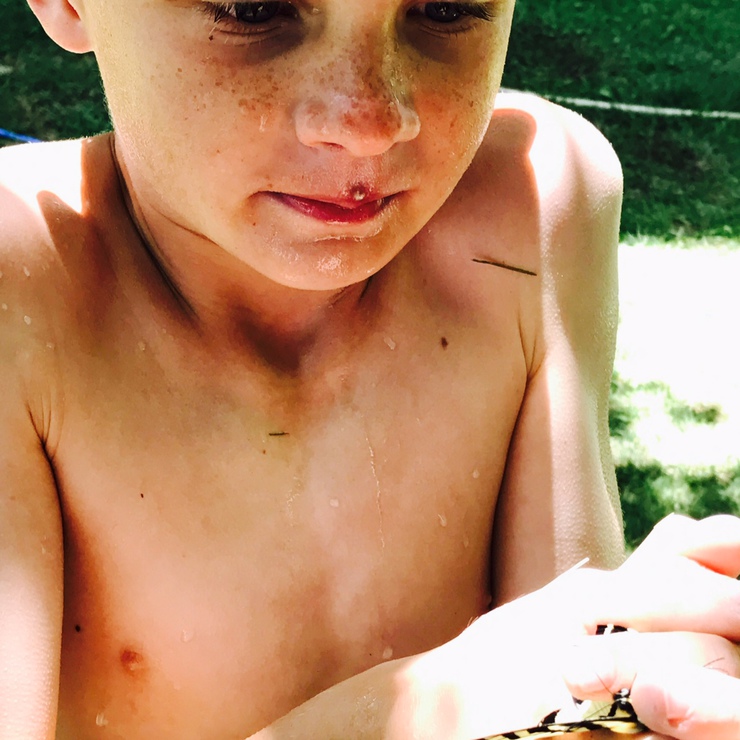 Moses has returned to his butterfly stomping roots. He grabbed this one out of the air at Lyndy and Brody's, but I think he's killed like four this week...
I went to the library for a few minutes and when I came back, Moses' "best friend" had come to stay for a couple hours. Moses was in heaven and the other kids were excited too. He was a very nice boy and helped the kids and I carry all our scrap metal to the front yard to be picked up, including a very heavy filing cabinet.
Linus got hurt playing football at the Fathers and Sons. Since it was just at the park this year, Woo sent him home to get his football pads to stop him crying. It worked. Linus ran home and returned the coolest player there. He even caught an interception at one point and started barreling for the end zone... the wrong end zone. His teammate picked him up by the shoulders, Linus' legs still churning, and put him down facing the right direction. Which would've been awesome, but he threw an incomplete pass about five seconds later.
Penelope lost her swimsuit just as summer was starting. She's asked me almost every day to buy her a new one, and I, knowing she was getting one from Grandma and Grandpa for her birthday, kept dragging my feet. We did go to the store one day, and made a cursory search, but didn't get one. So she was super, super excited to get her new suit this weekend. It even had "underwear at the bottom" like she'd been wanting, and now she's asking me several times a day when we can go swimming.
Archie just loves having all the kids home all day. Although, he still plays the most with Penelope, Linus has taught him how to catch a football; Herbie has let him wear one of his basketball jerseys; Moses gave him a piggy back all the way home tonight; and Ruby has been a big help, taking him to the library and the park.
Woo is starting to get really stressed out about everything that needs to be done to move to Portugal. Selling the van is one of them. We almost drove down to Lehi after Dippet pond for someone to check out the van, but luckily found out in Heber they were no longer interested and we were able to drive straight home from there.
I feel like I'm making steady progress... I've gotten rid of a bunch more junk, done some packing, had the kids do more deep cleaning, printed off and signed rental contracts, shopped Ikea Portugal for necessities when we first arrive (isn't the internet wonderful??) etc., etc.
Well, that's it!