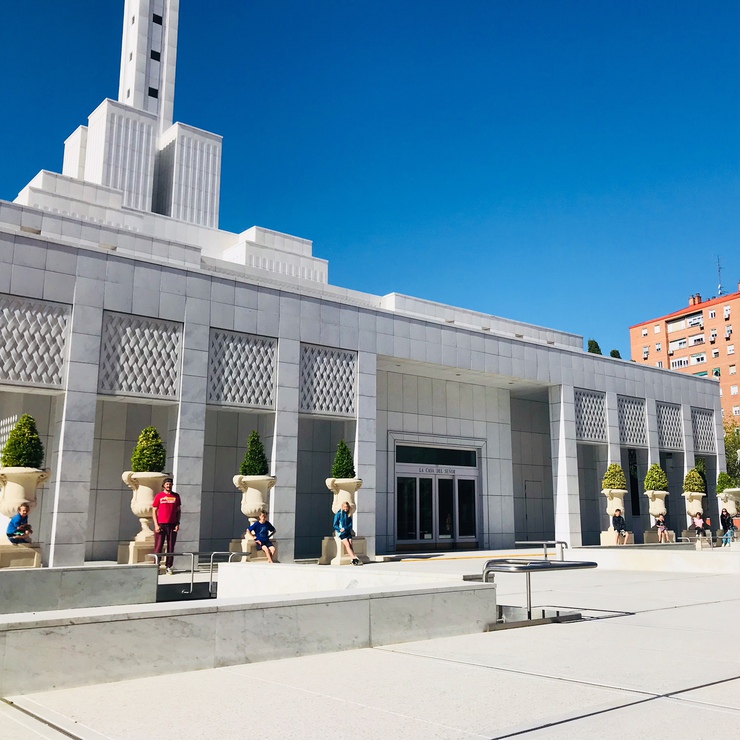 We spent most of the week in Spain (or driving to and from Spain) so Herbie could go to the temple for the first time. It was also Labor Day here so there were no groups doing baptisms. We got the font entirely to ourselves. Ruby and Herbie did baptisms and confirmations for over 80 ancestors.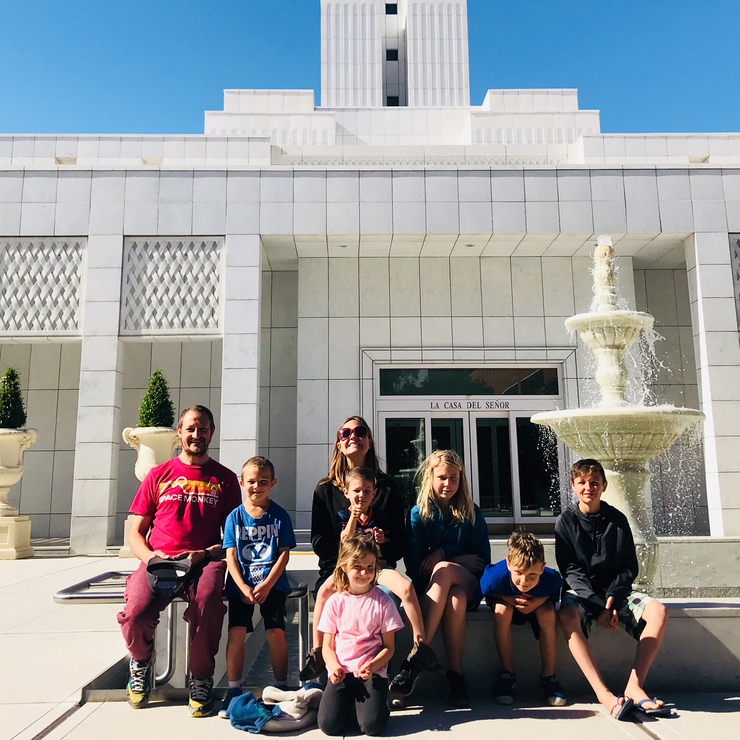 The first time we went to Madrid, we stopped at Costco on the way back. It seemed it little bit like coming home. The second time we had changed enough that it was kind of disappointing. By this time, we knew we didn't ever need to go to Costco again while we were in Portugal and let our membership expire.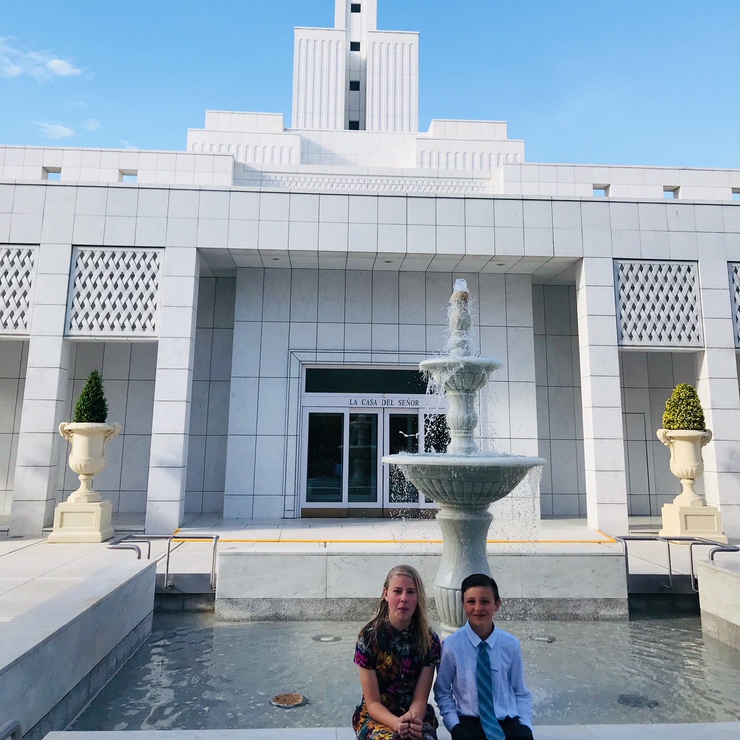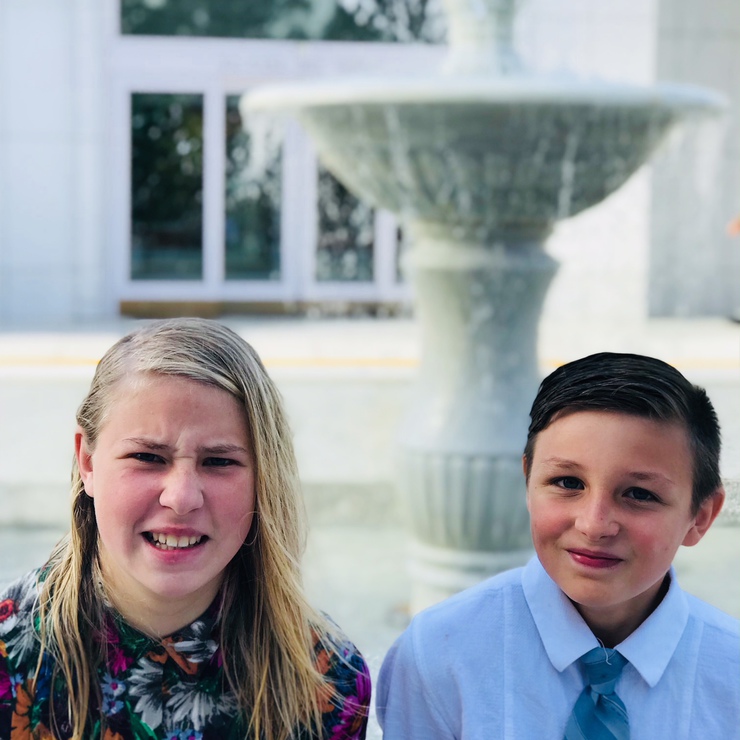 Thanks to Herbie's request, Ruby, Herbie and Woo did another round of baptisms our last morning with the extra time. They did family names for a few temple workers and patrons, and I'm sure it was a better use of our time.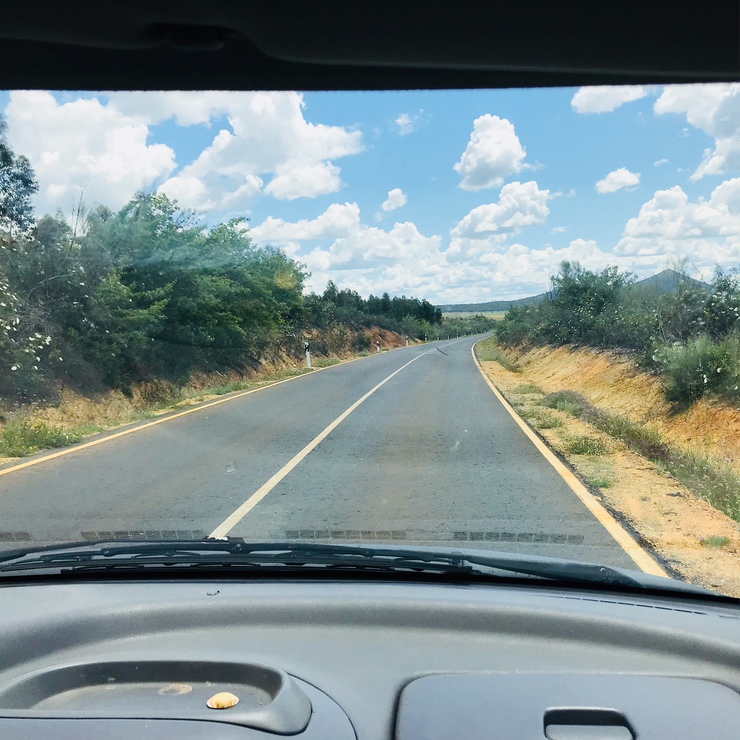 I'm probably the only person who enjoyed the drive. Mostly because I found it to be so pretty. Pictures out windshields are never the greatest, but I loved the blue sky, clouds and flowering bushes.
Ruby and Moses ate sushi for the first time. Here's Moses' first bite of wasabi: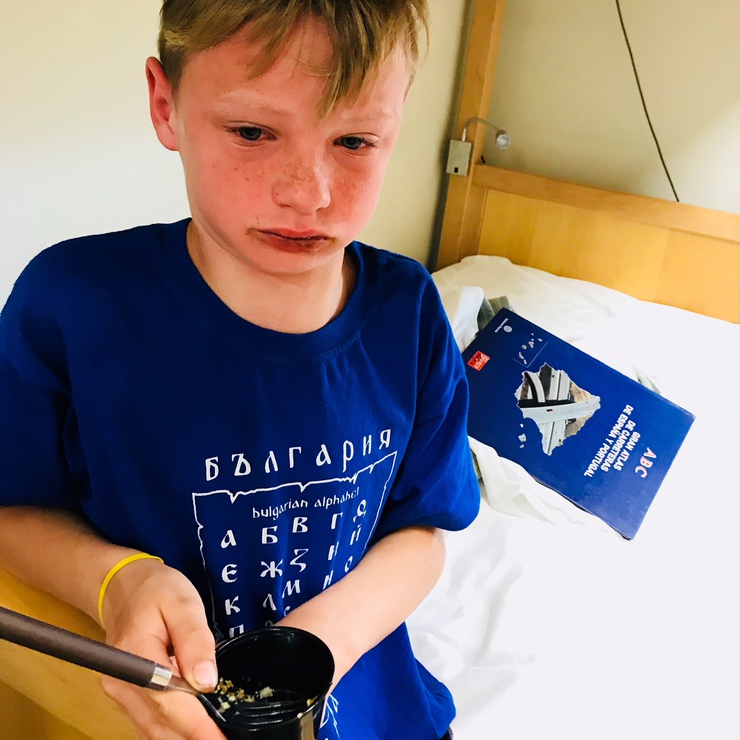 He turned all red and didn't make a peep. (I think he thought he had to finish it?) Until Woo told him to hurry and spit it out.
A similar suffering-in-silence situation occurred on the drive home when all of a sudden he screamed, "I CAN'T STAND THIS ANY LONGER!!"
My first thought was he was going to spew, but no, he had a bloody nose, he needed help and none of us had noticed.
On the subject of bloody noses... Ruby and Archie both had them their first day back in school. The school called for Ruby's and said they couldn't stop it; would we come pick her up? I was already near the school, but by the time I got Woo's message, it had stopped.
Woo: Of course it did... they always stop.
They gave Ruby the option of staying or coming home, and she chose to stay, but was weak and took things slowly.
It was not the day she came home and started her story with, "... so, when I was playing soccer and basketball, at basically the same time..."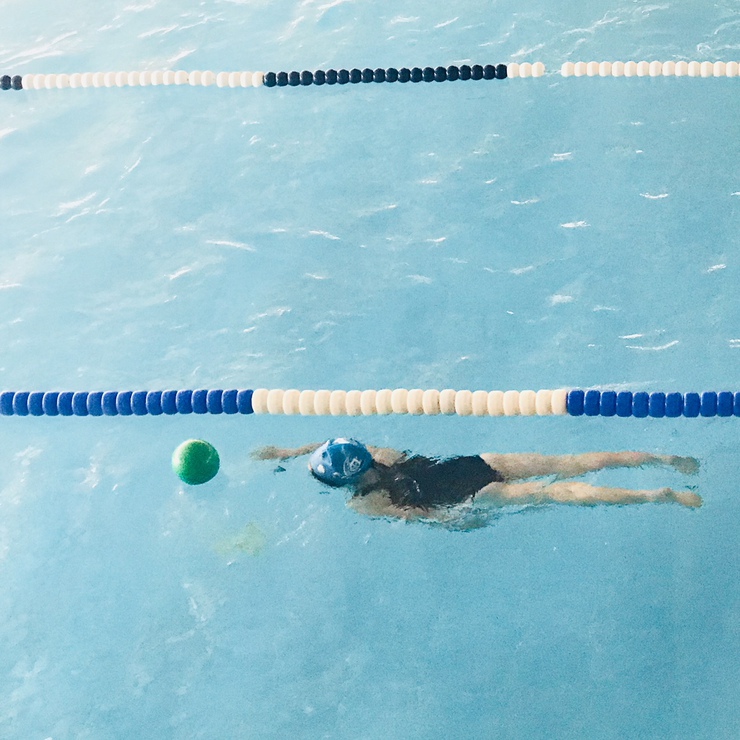 Before Grandma and Grandpa left we got to watch Penelope's swim class. She still has the same puppy-like enthusiasm for swimming she's always had.
Penelope (walking in the door): I think I won the test!
Me: What test?
Penelope: The math test! I did a whole entire page!
And some people didn't even start! Because the date was so hard!
Woo: What?
Penelope: We had to write the date, and then another date, and then our name, and some people have like 20 names!
So, really her biggest advantage on timed tests is her short 3-word name.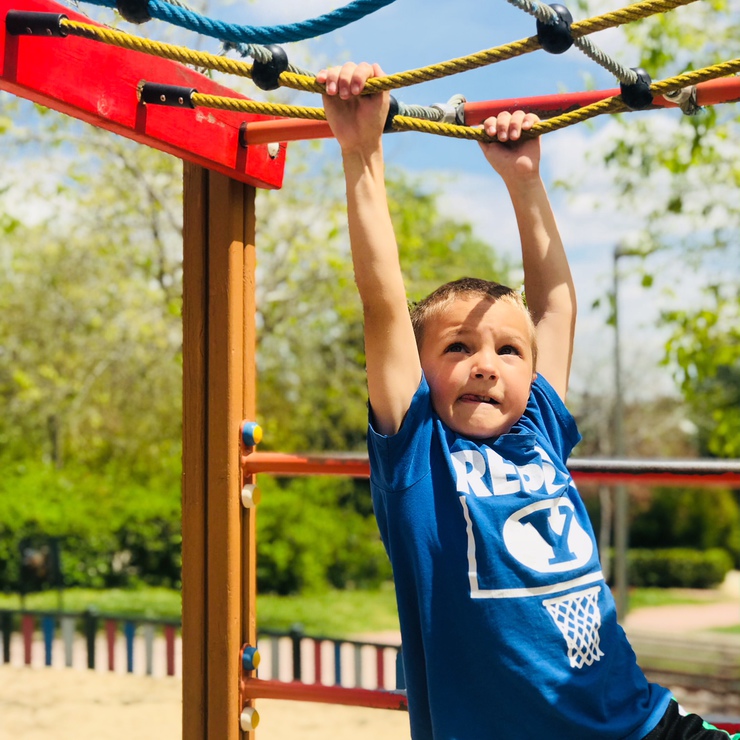 Linus had a really exciting development in his class. They got a new kid--a clown from the circus! He was instantly the most popular kid in school, doing tricks when the teacher wasn't looking, at recess, etc. And really it was brilliant... what better way to get every kid in town to want to go to the circus than place an act right in their school?
Unfortunately for Linus, the kid was too popular. Linus cried one night, as I was putting him to bed because the new clown/kid didn't want to talk to him, kept pushing Linus away every time he tried. And when we came back from Spain the circus and the new kid had moved on.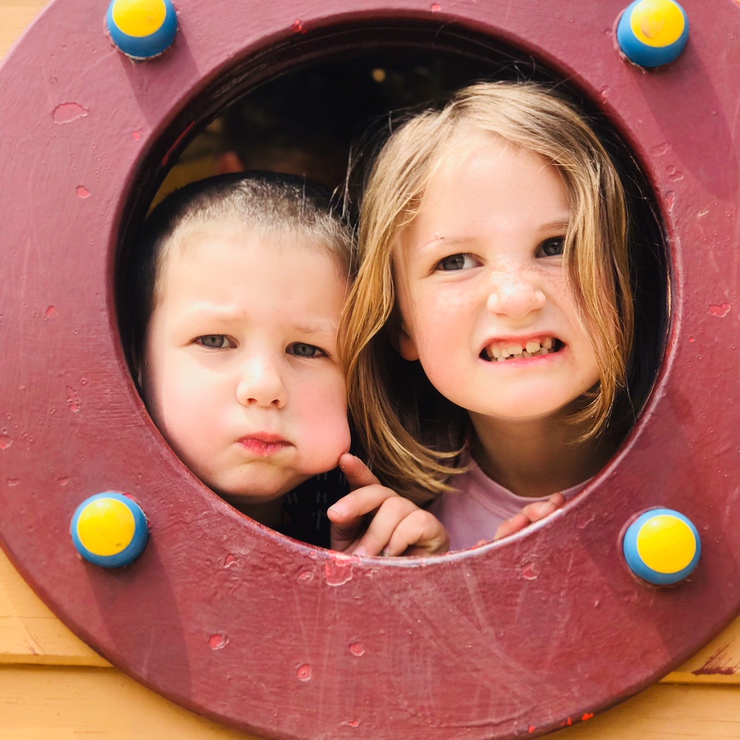 Archie was a handful to babysit while we were in the temple. We had the kids put themselves to bed one night while we did an endowment session together, and the next night when we did sealings. Both nights the room without Archie was quiet and some were asleep. The room with Archie was frustrated with his naughtiness and their inability to sleep with him playing around.
Herbie passed the sacrament today. All the other kids were very proud of him. There also is no deacons quorum in the branch, just a priesthood quorum, so he went to class with Woo.
Woo's pneumonia seems to be on it's last legs. He drove the entire way to Spain and back and was in a great mood the entire time, especially on the way home. (Okay, he did have a low moment or two.) We went to Burger King one night in Madrid after the kids were asleep, and we both got the most giant burger there. It was big. And Burger King seems to have burgers that taste the most like American burgers to us, but Woo's burger needs still remain unfilled. I think he's entirely given up on a good steak, but he makes up for it in seafood, so maybe it will turn out alright in the end.
I turned 41. There wasn't much I wanted to do for my birthday that I don't do pretty frequently anyway. I did make sure there were m&ms in the house. Archie wrapped a few toys for me, and the other kids wrote notes and drew pictures. My favorite presents were from Woo.
1. When he was in the celestial room (and I was at the park with the kids) he prayed for me to get something I've been wanting for a long time.
2. My birthday blessing.
That's about it. Hope your week was great!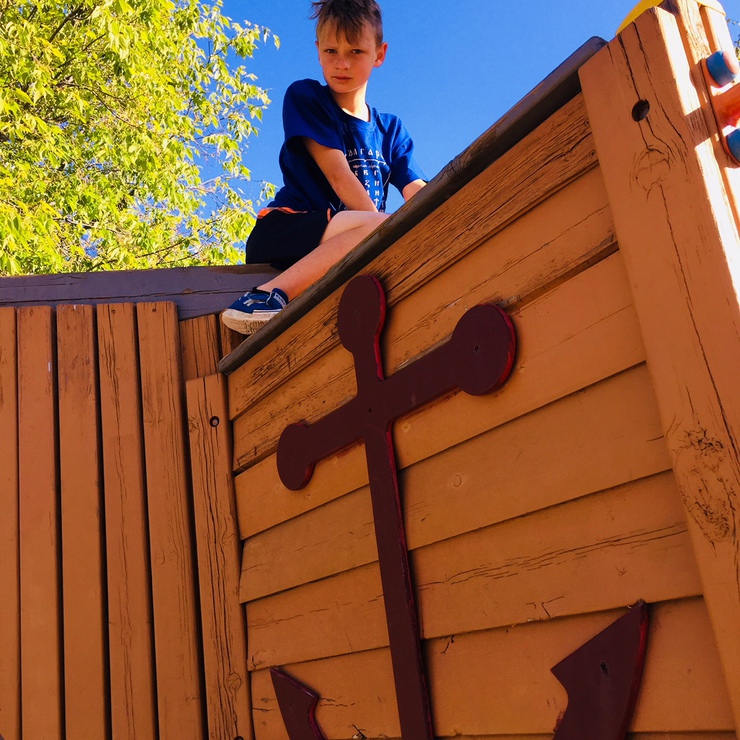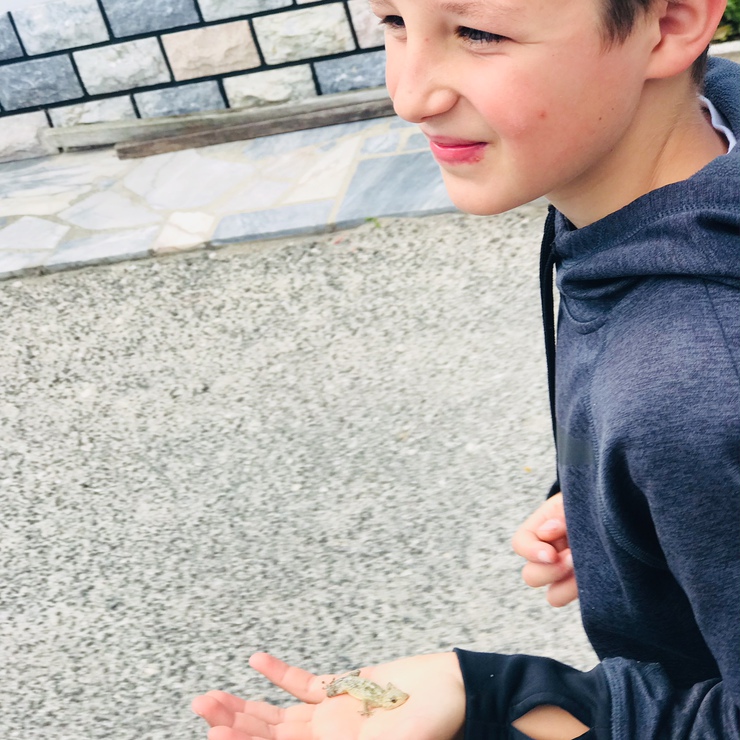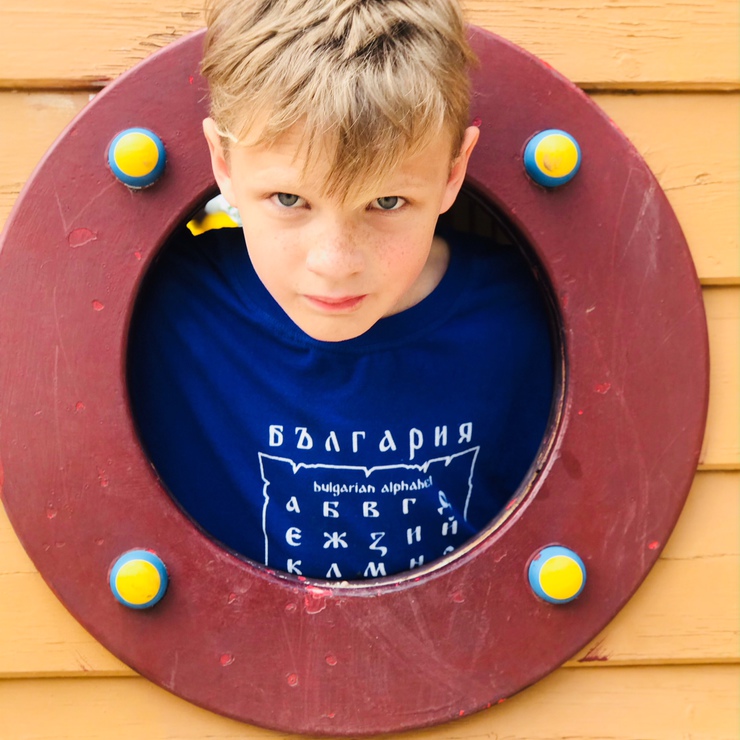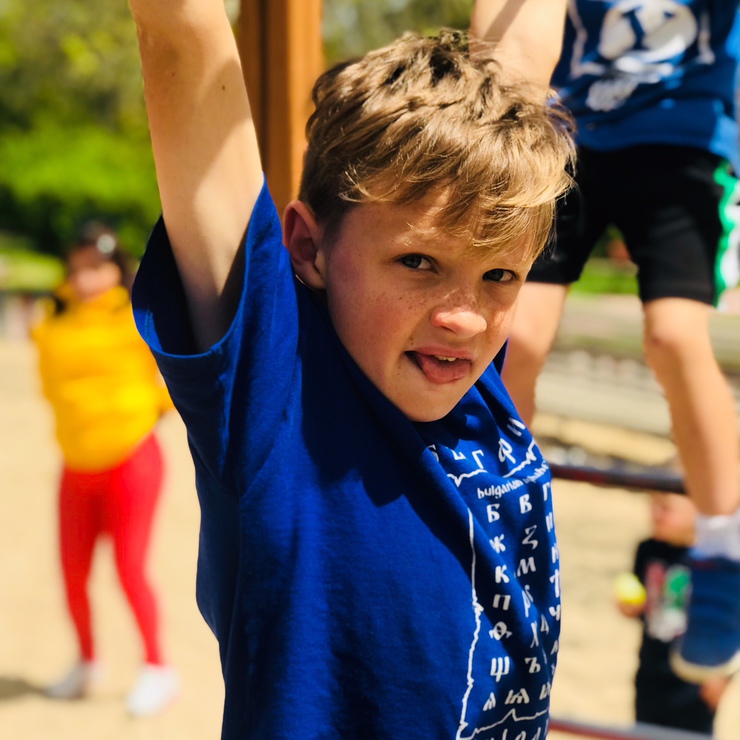 Testimony Below (as near as I can remember, and ends up reading kind of confusing... ):
I know that our living prophet is President Nelson. I know that his words that he said that we could have revelations every day are true. And also, I know that we can receive the power and authority of Jesus Christ from our covenants and our ordinances. President Nelson speaks for Jesus Christ.
Jesus Christ lives. This is His church.
In the name of Jesus Christ, amen.
**********************************
Eu sei que nosso profeta vivo é Presidente Nelson. E eu sei que suas palavras que ele disse que podemos ter revelações de Espirito Santo todas as dias são verdadeiros. E também eu sei que podemos receber o poder e a autoridade de Jesus Cristo de nossos convênios e nossas ordenanças.
Presidente Nelson fala por Jesus Cristo.
Jesus Cristo vive. Esta é sua igreja.
Em nome de Jesus Cristo, amém.