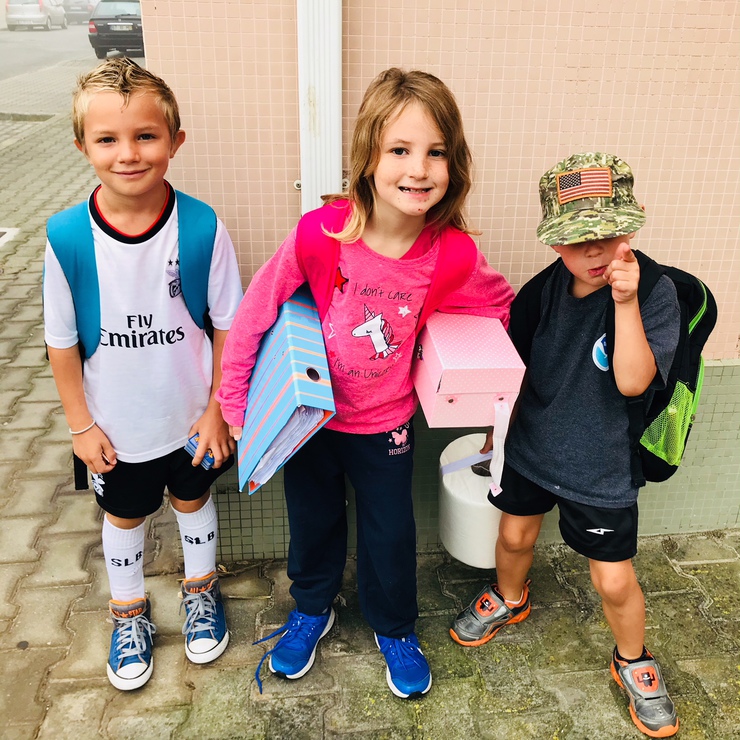 School started this week! I think it feels good for all of us to get back into schedule. I was not going to repeat the hours of line-standing we did last year, so I ordered all the kids school books online, assigned Herbie or Moses or Ruby to stand in line at their school bookstore between classes for certain items and made a few visits to other line-less stores myself. We are done school supply shopping!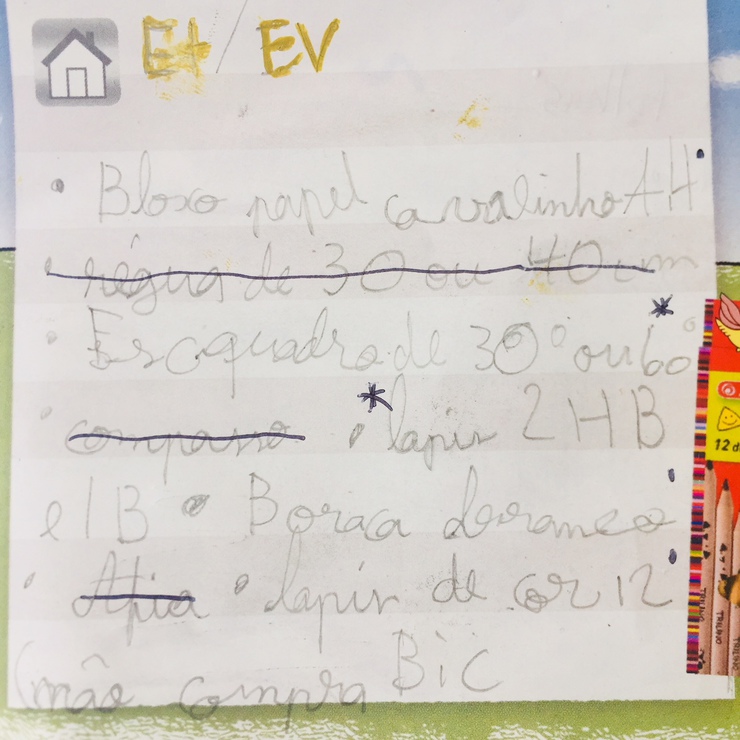 The only thing was some confusion with whether we needed to buy Moses, Linus and Penelope's books. All of Portugal had a new voucher program with their manuals this year. We applied online like we were supposed to, but of course, it didn't work for us. Then Woo received several confusing phone calls, all from different people, calling from different numbers. It sounded like we didn't qualify for vouchers as Americans... then some more confusing encounters with teachers... I really wanted Woo to go into the school office and get the whole mess figured out, or just pay the 200€ for the books...
I ended up going into the office myself when I found myself in the area with more time than I expected. It turns out I did have the language skills to handle the problem, and without any confusion at all, the office printed up the vouchers for me and we saved 200€. I was pretty pleased.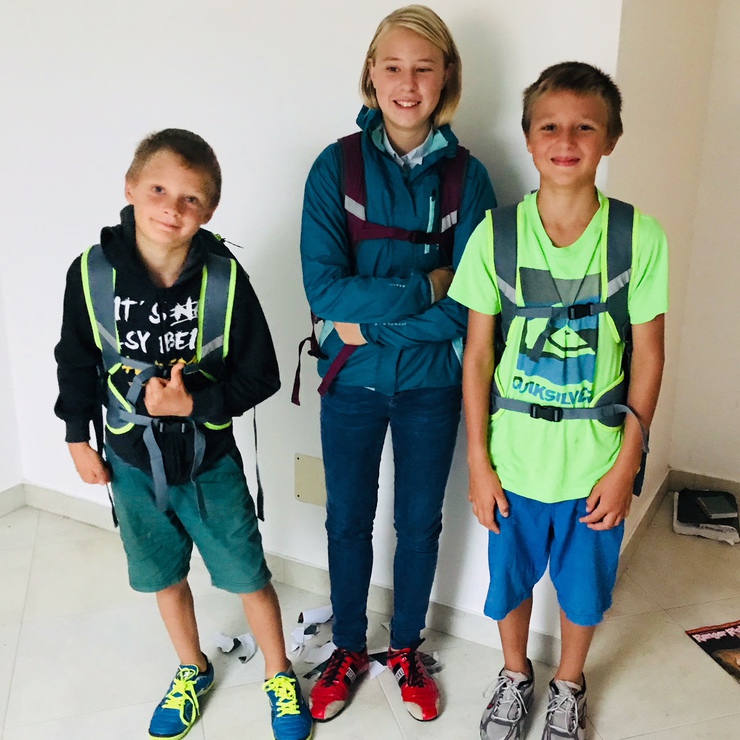 The kids don't have a full schedule until October and still had some afternoons off. One afternoon Ruby wrote several poems in Portuguese for each of her school classes. She read them to me, and I was surprised to hear that they were really quite clever, made me laugh even. I was impressed, and in Portuguese even... then I realized... "is it easier to find words that rhyme in Portuguese?"
Ruby (laughing): Yeah.
This was also the first full week of new chores. Herbie sliced onions for the first time. He HATED it! He was so upset. His eyes were too sensitive, he was crying and mad and could barely see. I sent him to his room to get revelation on how he could do his chore. This is what he got: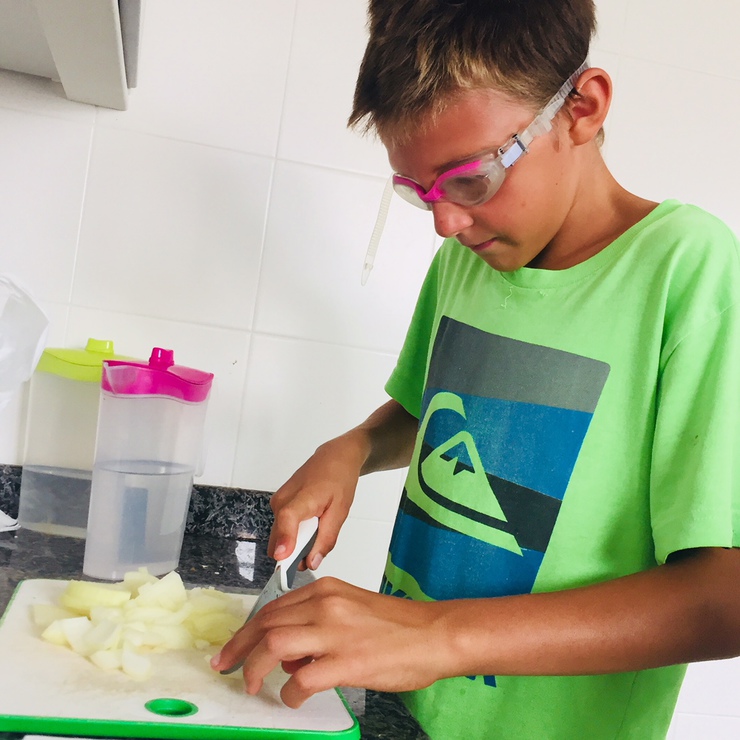 Woo has said that the best revelation often looks obvious in retrospect. I think this is true here, and I also thought it was pretty funny. Herbie keeps his goggles in the kitchen and uses them every time we need onions sliced.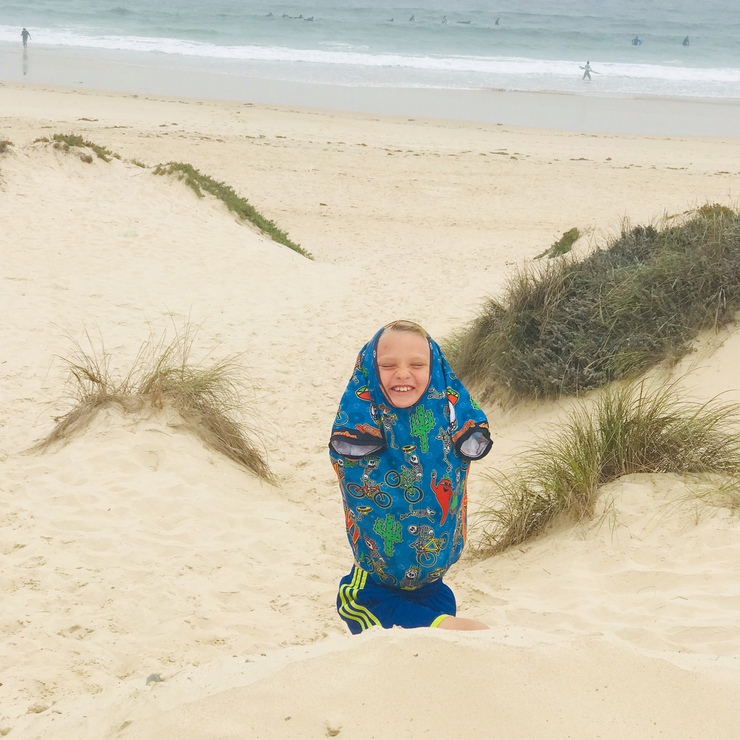 All our fears for Moses in middle school were completely unfounded? He loves it! He loves the change in classes; he made two new friends in his class right off the bat; he plays soccer every break ("It's more recess than the other school!") with Herbie and a bunch of other boys. He likes being trusted with money to buy his own school supplies, having a ID card to check in and out of the school... Ruby and Herbie also took him to the library the first day to get his library card and he's already checked out several books that he devours when he gets home.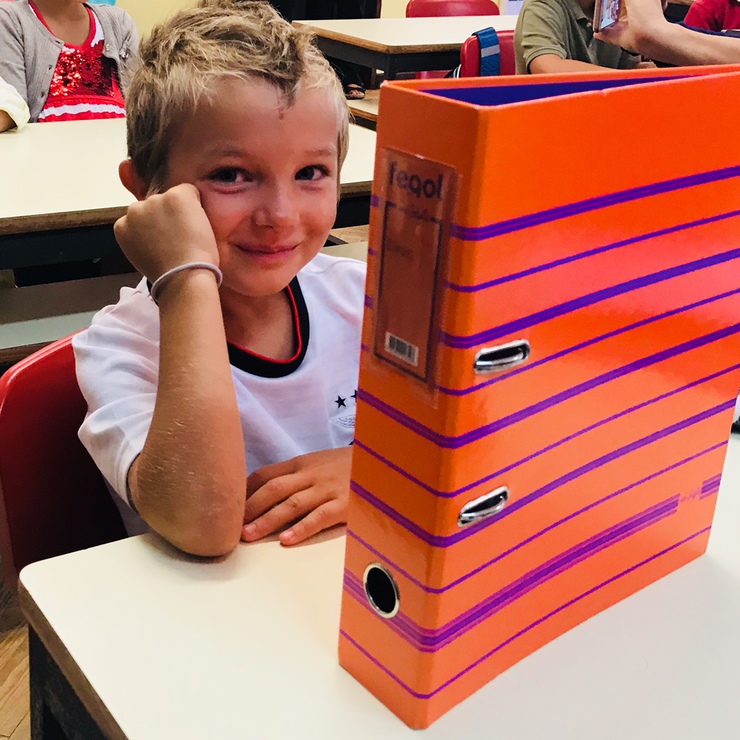 Linus is in a mixed class of 3rd and 1st graders. The 1st graders (more on this later) are sitting in desks for a full day of school for the first time. The entire school (from what Linus, Penelope and Archie say) was interrupted several times the first day by the crying of a little 1st grader named G--, who just wanted to play.
Woo encouraged them to be his friend and Linus did just that the next day, and made him a card the day after that. Linus says he's helped G-- be happy and have fun in school (although, I'm sure there's been a lot of help from other places too).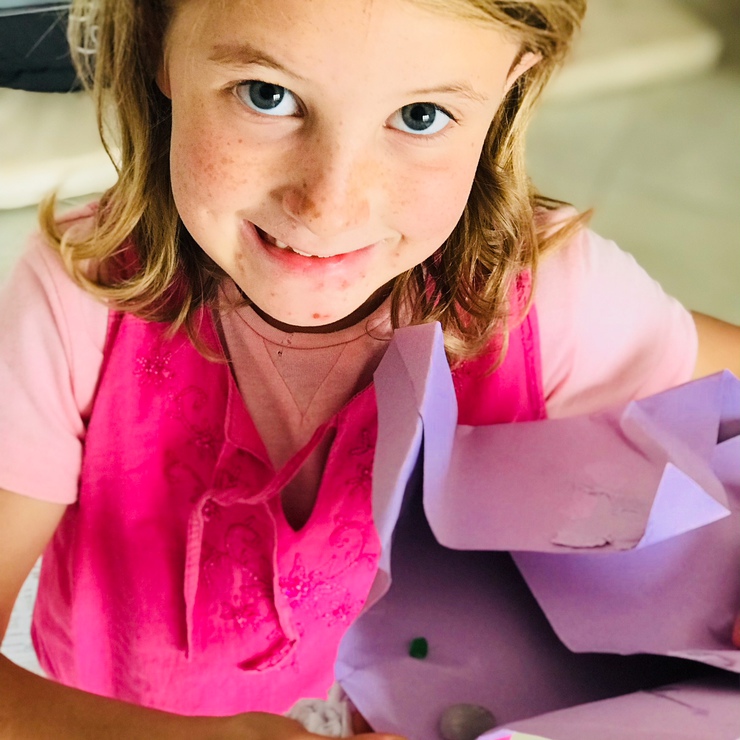 We did buy obvious things the kids needed before school, like pencils, paper, erasers, etc. I wouldn't let Penelope have hers until the first day of school, because I was afraid she'd get them all out and lose them before school even started. Unfortunately, I completely forgot to give them to her, and she was bawling in class when she realized it. Luckily, we were still at the school, and I was able to run home and run back.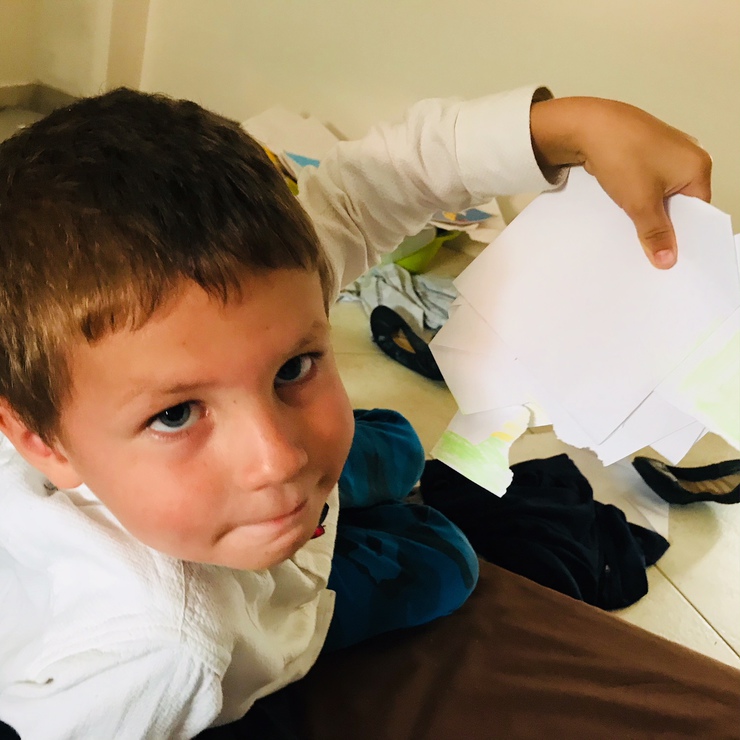 Archie would've been in Kindergarten this year, but they don't really have Kindergarten here. It's just the same pre-school thing we put him in last year (the first kid or ours to do preschool). They don't do letters or numbers or any reading prep. They do a lot of art, music and playing, and of course, there is a lot of Portuguese spoken. Archie loves it and was happy to be reunited with a lot of his old friends from last year.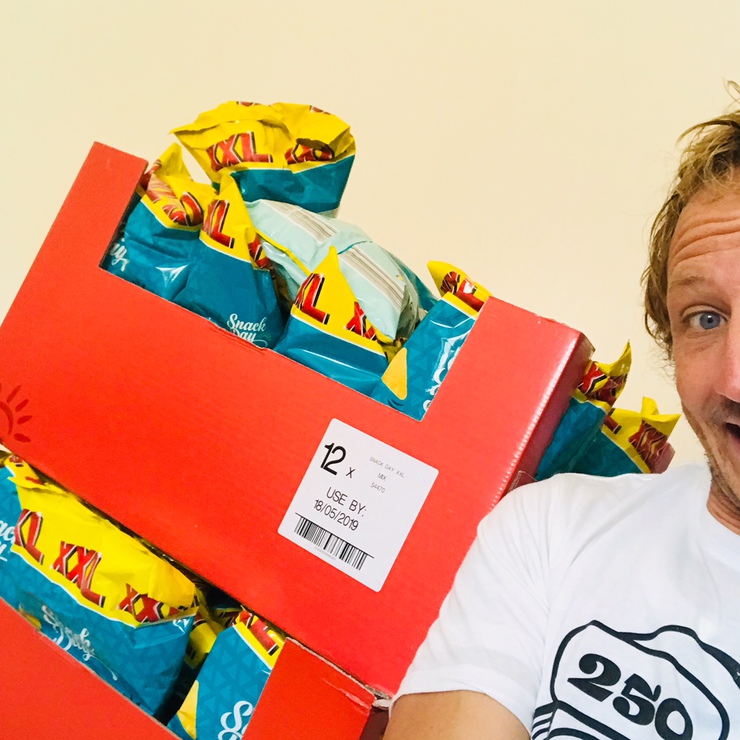 Finding tortilla chips here is often a struggle. When we find some, we buy as many as we can, because they're a staple in Woo's diet (eaten with his salsa and my guacamole--actually Herbie made most of it this week). Which is why we currently have 4 large boxes of tortilla chips in the house.
I decided to up my game in the talk arena. My talks have been too short. I can write a longer one, but it means I have to read it... I don't have the brain capacity to remember the Portuguese and the talk. Anyway, I read my first talk in decades. I don't know how I feel about it, but I'll probably continue along these lines.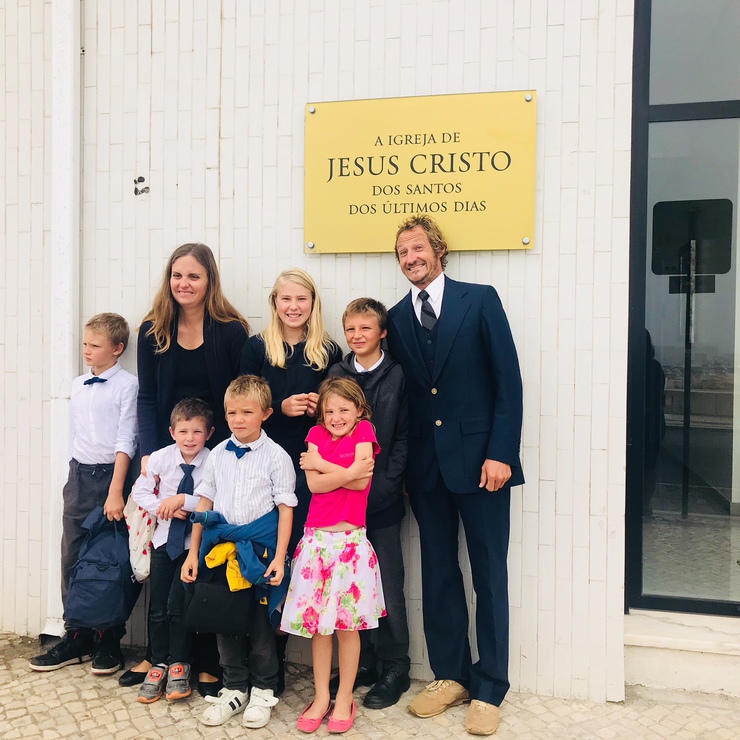 Also, we had a visit from a family that lives in Grandma June and Grandpa Wally's ward. They went to visit a couple weeks ago, and when they mentioned they were going to Portugal, Grandma June hooked us up. They've been coming to our city in Portugal for years, but never knew where the church was until now.
That's our week. Hope yours was great!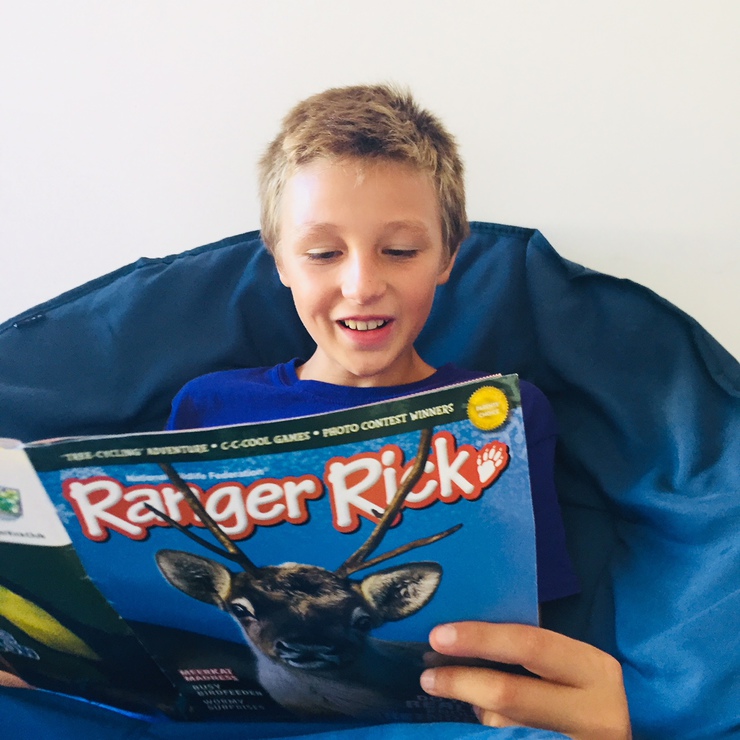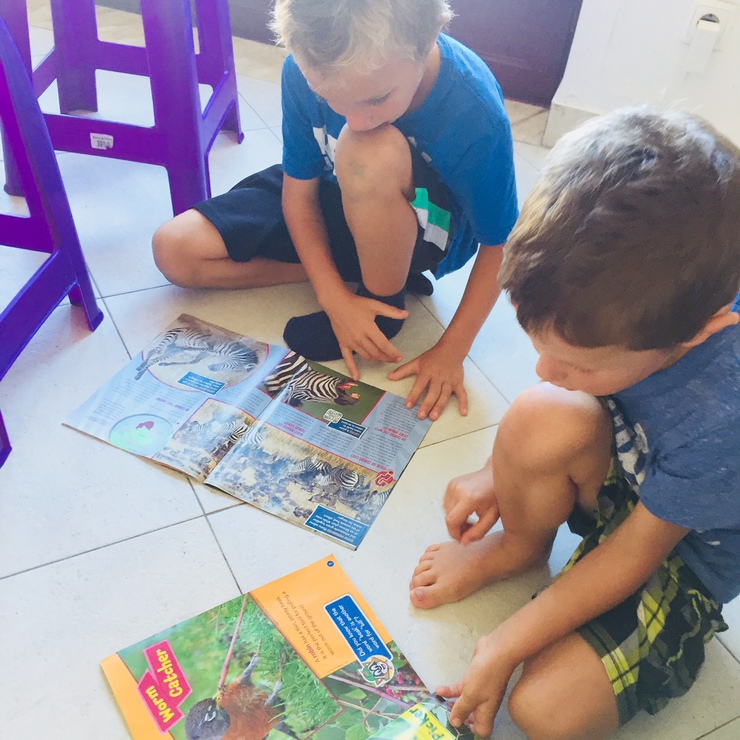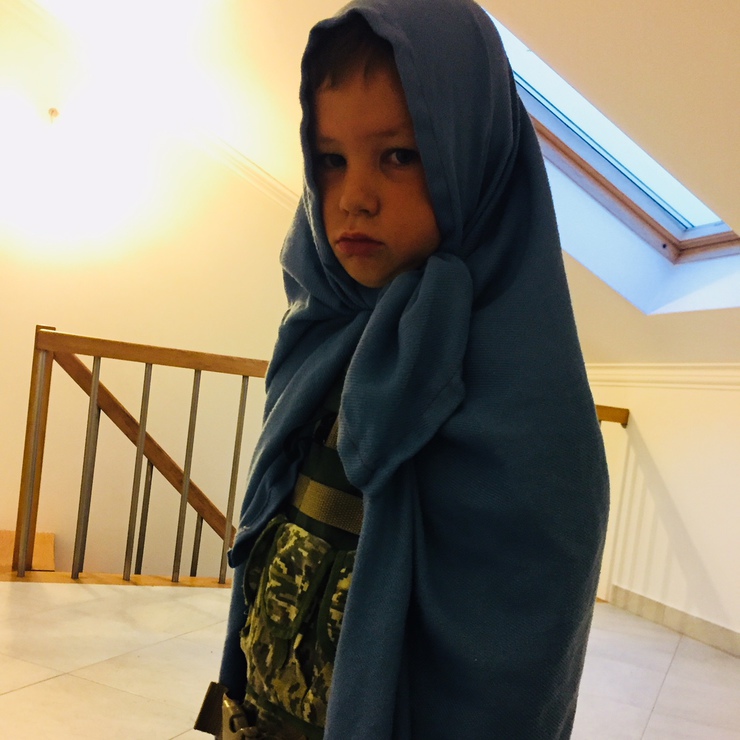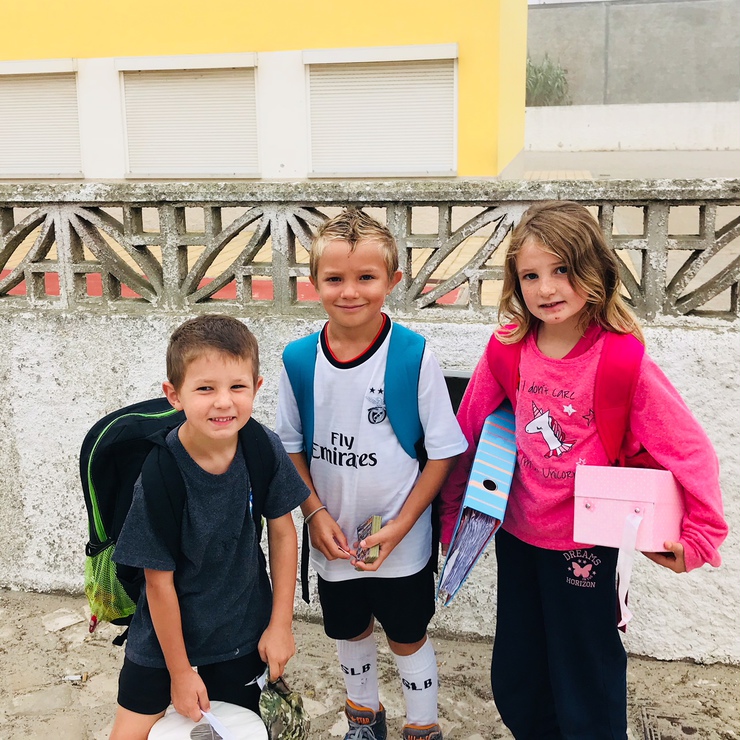 When I began to prepare for this talk, I first thought of examples of the Savior ministering to others in the scriptures. Then I began to think of times when the Savior had ministered to ME. And then I thought of times when other people had ministered to me in similar ways.
Before this talk, I would not have used the word "minister" in these examples. I would have used the word "love." These would have been examples of how the Savior and others have shown love for me. I would like to share several of these stories to demonstrate what I am talking about.
The first happened this spring and summer. I was praying for a specific blessing for my family. I did not get an answer, nor did the blessing come in another way.
Instead, a few days later, while I was thinking of something else, the Spirit told me to do family history for a few minutes every day, not just once a week. It also showed me how to help Ruby, Herbie, Moses and Linus do more family history.
I did those things and a couple weeks later I realized that my family was receiving the blessing I'd prayed for. The blessing had come through our doing family history.
I received the blessing I sought through Jesus Christ, but He did not just give it to me. He tested and built my faith first. Then He knew I was worthy of the blessing.
My dad did a similar thing. He had in mind a new bicycle for me, but he would not buy me the bicycle until I could ride my old bicycle all the way to a gate, far above my house, without stopping. It was not easy to ride a bike to the gate, and I had to practice every day, but when I did it, my dad bought me a new bicycle.
Here's another example: One time, one of my friends did something stupid. I was still thinking about how dumb it was when I opened my scriptures and read Romans 2:1
"Therefore thou art inexcusable, O man, whosoever thou art that judgest: for wherein thou judgest another, thou condemnest thyself; for thou that judgest doest the same things."
I was shocked, but with a little reflection, I knew the scripture was true and I repented.
Jesus Christ ministers to me by showing me my sins so I can repent.
One week, when I was little, I lied 3 or 4 times to my mom. I think my younger brother told her I had lied every single time. Finally, my mother sat down with me and asked me why I had started to lie.
She pointed out my sin and that was what I needed to stop and repent.
Another example.
About 4 years ago, I was very tired. I sometimes felt depressed and like my burden was very heavy. One day I felt completely weary. While I was trudging across my bedroom the Spirit reminded me of something that made me stop.
It reminded me that years earlier, it had instructed me to write an email every week for my family. My email was mostly about my children with pictures and funny things they'd said because I thought I was also writing for my children to read about themselves sometime in the future.
But in that instant, in my bedroom, the Spirit told me that the emails were a gift from my Heavenly Father and Jesus Christ to me. The Spirit showed me in an instant how much I would treasure those recorded memories in a future where I no longer had my little children with me. I was deeply touched.
Jesus Christ ministers to me by giving me blessings that are just for me because he knows ME and loves ME.
About this same time, we lived far away from a grocery store and rarely had treats in the house. One day Steven went shopping without me and bought several large chocolate bars that were on sale. He hid them to give me as a surprise on evenings after particularly hard days. The first time he brought a chocolate bar out was like heaven. It was just a little thing, but I count it as one of the top 10 nicest things anyone has ever done for me because it was the perfect thing just for me.
Another example.
When I turned 8, my grandma bought me my very first Book of Mormon. When I was 9, my primary teacher challenged me to read the Book of Mormon every day. And he kept challenging me until I did it.
Jesus Christ ministered to me by sending others to teach me what they knew.
In high school when I was upset about my swimming performances, my dad found coaches and sports psychologists to talk to me and try to help me figure out what I didn't know that could help me.
The greatest ministering act Jesus Christ did for me was, of course, His great atoning sacrifice. As if that weren't enough, He did not just sacrifice for me in Gethsemane or on Calvary, but everything He did before that, to be worthy for the final sacrifice, was a sacrifice for me. He sacrificed and prepared in the pre-mortal life to be able to accept the role of Savior. He left heavenly glory and splendor to live in a humble situation in a mortal body on earth. He left praise and adulation for mockery, scorn and indifference. He gave up every sin He may have been tempted by. He, the only person, who did not have to suffer the pain of sin, willing suffered the pain of all my sins because He loves me.
Many people have sacrificed for me, but the example I thought of is of my mother. When I was in college her knees were not good and she needed surgery, but she came and helped me move, carrying things slowly down my steep stairs. When I tried to start a job training runners, she was one of my first clients. It seems kind of crazy that she would do that (or that I would let her!), but she was willing to sacrifice in that way because she loves me and wanted to help me.
I'm going to share just two more stories, and they're both when I was sick.
The first came at the end of a long, sick week during a cold, drab winter. I woke up one morning feeling like I hadn't slept at all and I wondered how I would make it through the day. I felt like my body and my spirit were buried under a ton of bricks. I picked up my phone, turned it on and opened my scripture app. These words in 1 Thessalonians 2:20 were staring at me:
"For ye are our glory and joy."
And they were accompanied by such a surge of love from the Holy Ghost that I began to cry.
Jesus Christ ministers to me by offering me love and strength when I'm at the end of what I can do myself.
A week before Archie was born I got the flu. I was very sick, but I struggled to carry on my duties with my small children. Finally, Woo ordered me to bed. Until then I didn't realize how much I needed it. He fed the kids, read scriptures with them and put them to bed without me. He came in and gave me a blessing so I could rest and heal in time to deliver a baby. In the morning I felt much better.
Jesus Christ is perfect in His ministry to us. I was not called to repentance when I needed sympathy, or vice versa. The only way we can possibly know the perfect course of action for each person and situation is through the Holy Ghost.
Of course we will make mistakes, but as we continue to try and follow the Holy Ghost, Jesus Christ will lead us along to minister in the way He needs us to.
Soon after last conference I discovered that our prophet Russell M. Nelson had given us very specific instruction on how to pray to receive revelation. I began to do it every night, and I received revelation.
Most of the revelation I received was directed towards my family. Things I needed to tell the kids or have them do, little things I needed to do for my husband. A few were related to extended family and friends in the United States. Some were for this branch, mostly in relation to my callings. Some were for the people of this city. Many of the revelations were to do little things I wasn't super excited to do, but I did them anyway.
After a few weeks of this the Holy Ghost told me: this is ministering. This is what the church leaders hope for each us: to follow the Holy Ghost and follow its instruction in reaching out to others in the way they really need.
In general conference, Sister Bingham said it this way:
"As you have the privilege to represent the Savior in your ministering efforts, ask yourself, "How can I share the light of the gospel with this individual or family? What is the Spirit inspiring me to do?"
Before I end, I have just three more small thoughts.
First, I've learned that Holy Ghost's instructions rely heavily on my personal talents, which means my ministering may look nothing like the ministering of others.
Second, I briefly mentioned our Savior's preparation. He prepared more than anyone else and was able to help more than anyone else. The greater our willingness to be prepared by the Lord, the greater our ability to minister to others.
And lastly, I've learned that I do not have to help everyone at all times. As a family and as a branch and as a church we work as a team. The Holy Ghost will tell ME the exact right thing for ME to do at the exact right time I need to do it, and I can trust that God will inspire others to meet needs I just can't touch, either by distance or situation or personality or whatever.
I know that it is a great privilege and a blessing to minister as the Savior and that He will teach us how as we follow the promptings of the Holy Ghost.
In the name of Jesus Christ, amen.
****************************************
Quando comecei a preparar me para este discurso, primeiro pensei em exemplos do Salvador ministrando aos outros nas escrituras. Então comecei a pensar nos momentos em que o Salvador havia ministrado a mim. E então pensei nas vezes em que outras pessoas haviam me ministrado de maneira semelhante.
Antes deste discurso, eu não teria usado a palavra "ministrar" nesses exemplos. Eu teria usado a palavra "amor". Esses seriam exemplos de como o Salvador e outros demonstraram amor para mim.
Eu gostaria de compartilhar várias dessas histórias a demonstrar o que estou a falar.
O primeiro aconteceu nesta primavera e no verão. Eu estava a orar em busca de uma bênção específica pela minha família. Eu não obtive uma resposta, nem a bênção veio de outra maneira.
Em vez disso, alguns dias depois, enquanto pensava em outra coisa, o Espírito disse me a fazer a história da família por alguns minutos todos os dias, não apenas uma vez por semana. Também mostrou me como ajudar Ruby, Herbie, Moses e Linus a fazerem mais história familiar.
Eu fiz essas coisas e algumas semanas depois percebi que minha família estava a receber a bênção pela qual eu orei. A bênção veio através de nossa história familiar.
Recebi a bênção que busquei através de Jesus Cristo, mas Ele não apenas deu me. Primeiro, ele testou e construiu minha fé. Então Ele sabia que eu era digno da bênção.
Meu pai fez uma coisa semelhante. Ele tinha em mente uma bicicleta nova para mim, mas não compraria me a bicicleta até que eu pudesse andar com minha bicicleta velha até um portão, muito acima da minha casa, sem parar. Não era fácil andar de bicicleta até o portão, e eu tinha que praticar todos os dias, mas quando eu fazia isso, meu pai deu me uma bicicleta nova.
Um outro exemplo:
Uma vez, um dos meus amigos fez algo estúpido. Eu ainda estava a pensar em como era burro quando abri minhas escrituras e li Romanos 2:1
"Portanto, és inescusável quando julgas, ó homem, quem quer que sejas, porque te condenas a ti mesmo naquilo em que julgas o outro; pois tu, que julgas, fazes as mesmas coisas."
Fiquei chocada, mas com um pouco de reflexão, eu sabia que a escritura era verdadeira e me arrependi.
Jesus Cristo ministra para mim mostrando me os meus pecados para que eu possa me arrepender.
Uma semana, quando era pequena, menti 3 ou 4 vezes para a minha mãe. Eu acho que meu irmão mais novo disse a ela que eu menti todas as vezes. Finalmente, minha mãe sentou-se comigo e perguntou por que eu havia começado a mentir. Ela apontou o meu pecado e foi isso que eu precisava para parar e me arrepender.
Outro exemplo.
Cerca de 4 anos atrás, eu estava muita cansada. Eu às vezes sentia me deprimido e como se meu fardo fosse muito pesado. Um dia senti-me completamente cansada. Enquanto eu estava a caminhar pelo meu quarto, o Espírito lembrou-me de alguma coisa, que me fez parar.
Lembrei-me de que, anos antes, o Espírito instruíra me a escrever um e-mail toda semana para minha família. Meu e-mail era principalmente sobre meus filhos com fotos e coisas engraçadas que eles disseram porque eu pensei que também estava a escrever de que meus filhos lerem sobre si mesmos em algum momento no futuro.
Mas naquele instante, no meu quarto, o Espírito disse-me que os e-mails eram um presente do meu Pai Celestial e de Jesus Cristo para mim. O Espírito mostrou me em um instante o quanto eu apreciaria aquelas memórias gravadas em um futuro onde eu não tinha mais meus filhos pequenos comigo. Eu fiquei profundamente comovida.
Jesus Cristo ministra para mim dando-me bênçãos que são apenas para mim porque ele conhece me e ele ama me. Na mesma época, morávamos longe de uma loja e raramente recebíamos doces na casa. Um dia Steven foi às compras sem mim e comprou várias barras de chocolate grandes. Ele os escondeu para me dar uma surpresa nas noites depois de dias particularmente difíceis. A primeira vez que ele trouxe uma barra de chocolate foi como o céu. Foi apenas uma pequena coisa, mas eu a considero como uma das 10 melhores coisas que alguém já fez para mim porque era a coisa perfeita só para mim.
Outro exemplo.
Quando fiz 8 anos, minha avó me comprou meu primeiro Livro de Mórmon. Quando eu tinha 9 anos, minha professora da primária me desafiou a ler o Livro de Mórmon todos os dias. E ele continuava a desafiar me até que eu fizesse isso.
Jesus Cristo ministrou para mim enviando outros a ensinar me o que eles sabiam.
Na escola secundária, quando eu estava desapontada com minhas performances de natação, meu pai encontrou treinadores e psicólogos esportivos para falar comigo e tentar ajudar me a descobrir o que eu não sabia que poderia ajudar me.
O maior ato ministerial que Jesus Cristo fez para mim foi, naturalmente, Seu grande sacrifício expiatório. Como se isso não bastasse, Ele não apenas se sacrificou para mim no Getsêmani ou no Calvário, mas tudo o que Ele fez antes, para ser digno do sacrifício final, foi um sacrifício para mim. Ele sacrificou e preparou na vida pré-mortal para poder aceitar a função de Salvador. Ele deixou glória celestial e esplendor para viver em uma situação humilde em um corpo mortal na terra. Ele deixou louvor e adulação por escárnio, desprezo e indiferença. Ele desistiu de todos os pecados pelos quais Ele pode ter sido tentado. Ele, a única pessoa que não sofreu a dor do pecado, aceitou a dor de todos os meus pecados porque ele ama me.
Muitas pessoas se sacrificaram para mim, mas o exemplo que eu pensei é da minha mãe. Quando eu estava no colégio, seus joelhos não eram bons e ela precisava de cirurgia, mas ela veio e ajudou me a mover me, carregando as coisas lentamente pelas minhas escadas íngremes. Quando tentei começar um treinamento profissional, ela foi uma das minhas primeiras clientes. Parece meio louco que ela fizesse isso (ou que eu a deixasse!), mas ela estava disposta a sacrificar se dessa forma porque ela ama me e queria ajudar me.
Eu vou compartilhar apenas mais duas histórias, e elas são ambas quando eu estava doente.
O primeiro veio no final de uma longa e doente semana durante um inverno frio e sem graça. Eu acordei uma manhã sentindo-me como eu não tivesse dormido e perguntava me como eu faria isso durante o dia. Eu senti-me como meu corpo e meu espírito estivessem enterrados sob uma tonelada de tijolos. Tomei meu telemóvel, liguei e abri meu aplicativo das escrituras. Estas palavras em 1 Tessalonicenses 2:20 estavam me encarando:
"Pois és a nossa glória e alegria".
E eles foram acompanhados por tal onda de amor do Espírito Santo que comecei a chorar.
Jesus Cristo ministra para mim, oferecendo-me amor e força quando estou no final do que posso fazer sozinho.
Uma semana antes de Archie nascer, fiquei gripado. Eu estava muito doente, mas lutei para continuar meus deveres com minhas crianças pequenas. Finalmente, Woo mandou me para a cama. Até então eu não percebi quanto eu precisava disso. Ele alimentou as crianças, leu as escrituras com elas e as colocou na cama sem mim. Ele veio e deu me uma bênção para que eu pudesse descansar e me curar a tempo de entregar um bebê. De manhã senti-me muito melhor.
Jesus Cristo é perfeito em seu ministério para nós. Eu não fui chamado ao arrependimento quando precisei de simpatia, ou recebi simpatia quando precisei trabalhar. A única maneira pela qual podemos conhecer o curso perfeito de ação para cada pessoa e situação é através do Espírito Santo.
É claro que cometeremos erros, mas à medida que continuarmos a tentar seguir o Espírito Santo, Jesus Cristo nos guiará para ministrar da maneira que Ele precisa.
Logo após a última conferência, descobri que nosso profeta Russell M. Nelson havia nos dado instruções muito específicas sobre como orar para receber revelação. Comecei a fazer todas as noites e recebi revelação.
A maior parte da revelação que recebi foi direcionada para minha família. Coisas que eu precisava contar para as crianças ou fazer, pequenas coisas que eu precisava fazer para o meu marido. Alguns estavam relacionados a familiares e amigos nos Estados Unidos. Alguns foram para este ramo, principalmente em relação aos meus chamados. Alguns foram para as pessoas desta cidade. Muitas das revelações eram para fazer pequenas coisas que eu não estava super animada para fazer, mas eu ainda os fiz.
Depois de algumas semanas, o Espírito Santo me disse: isso é ministrar. É isso que os líderes da igreja esperam para cada um de nós: seguir o Espírito Santo e seguir suas instruções para alcançar os outros da maneira que realmente precisam.
Na conferência geral, a irmã Bingham disse assim:
"Ao terem o privilégio de representar o Salvador ao se esforçarem para ministrar, perguntem a si mesmos: "Como posso compartilhar a luz do evangelho com essa pessoa ou família? O que o Espírito está me inspirando a fazer?"
Antes de terminar, tenho mais três reflexões pequenas.
Primeiro, aprendi que as instruções do Espírito Santo dependem muito de meus talentos pessoais. Isso significa que meu ministério pode não se parecer com o ministério de outros.
Segundo, mencionei brevemente a preparação de nosso Salvador. Ele preparou mais do que qualquer outra pessoa e foi capaz de ajudar mais do que qualquer outra pessoa. Quanto maior a nossa disposição de ser preparado pelo Senhor, maior será nossa capacidade de ministrar aos outros.
E, finalmente, aprendi que não preciso ajudar a todos os homens em todos os momentos. Como família e como ramo e como igreja, trabalhamos em equipe. O Espírito Santo dirá a mim exatamente o que eu preciso fazer no momento exato em que preciso fazê-lo, e posso confiar que Deus inspirará os outros a satisfazer necessidades que simplesmente não posso tocar, seja pela distância ou situação ou personalidade ou qualquer outra coisa.
Sei que é um grande privilégio e uma bênção ministrar como o Salvador e que Ele nos ensinará como seguir os sussurros do Espírito Santo.
Em nome de Jesus Cristo. Amém.