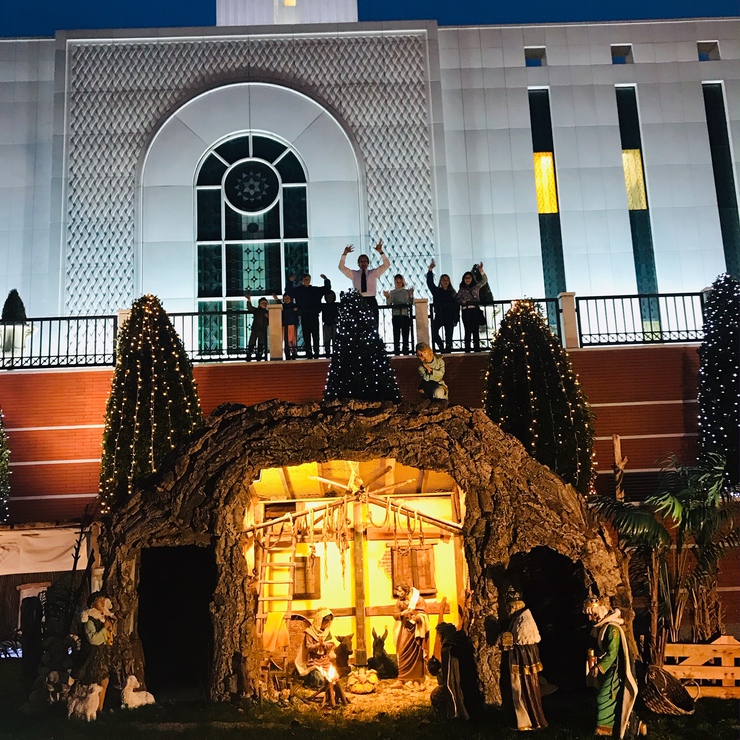 This was a week of building up the kids hopes and then squashing them.
Incident #1: The bumper cars are in town! One afternoon we went to ride them, but they were closed for lunch. The problem was no one knew when they would open. It was *supposed* to open about 5 minutes after we got there, but the man who was guarding the place admitted that was not set in stone. After 40 minutes of waiting we left, to the utter anger and disappointment of the kids. (And they are still mad about it!)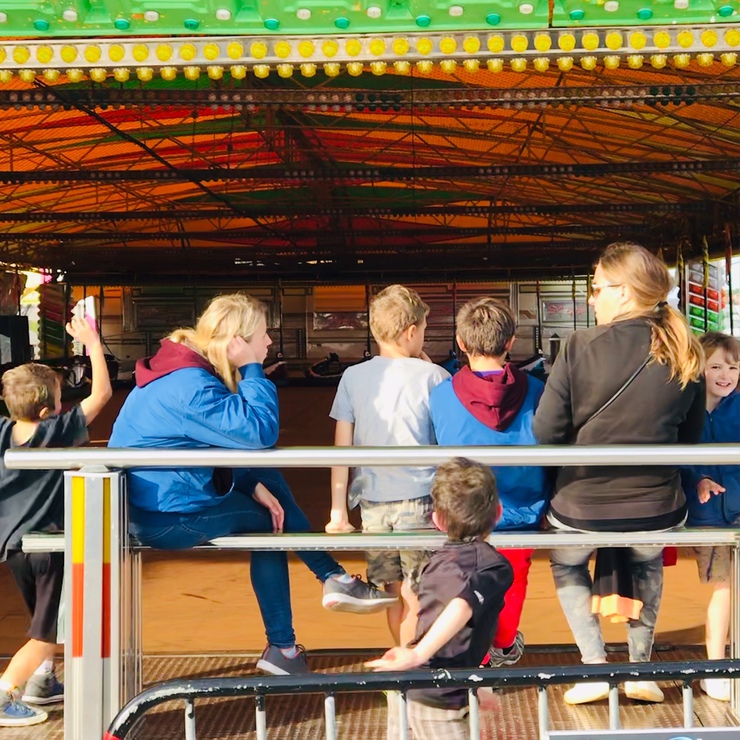 Incident #2: We thought maybe we could try the bumper cars again after dinner, so the kids hurried to eat and get ready, but they were nuts. Crazy tired. And we put them to bed.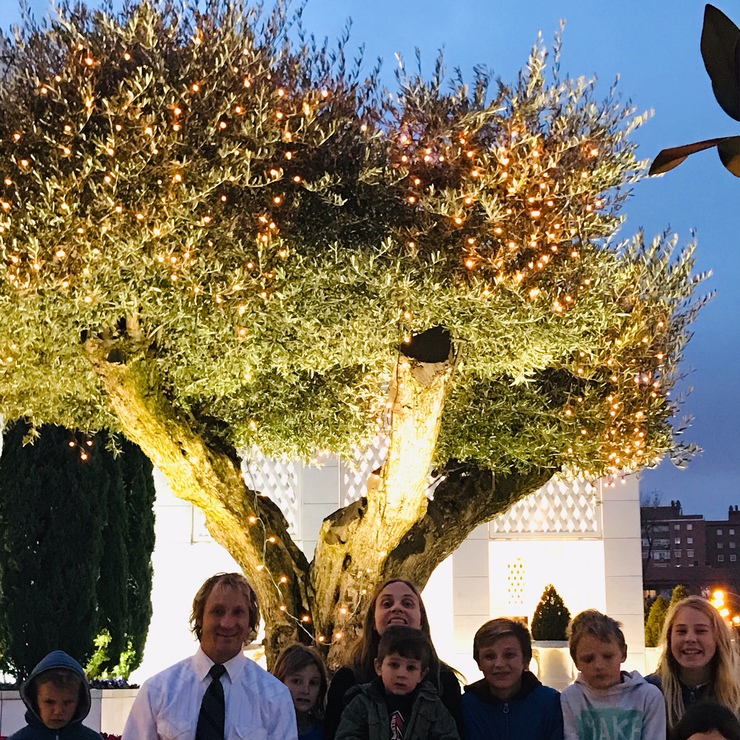 Incident #3: Usually while at the temple, the kids go to the park several times, but it was cold in Spain, and I only took them once. Woo took them never. Usually, right before we leave, Woo and I do sealings together and we send the kids alone to the park. Linus was really looking forward to it. But it never happened. Ruby and Herbie returned from doing baptisms at the same time Woo and I returned from doing sealings, and then we were ready to go. No park.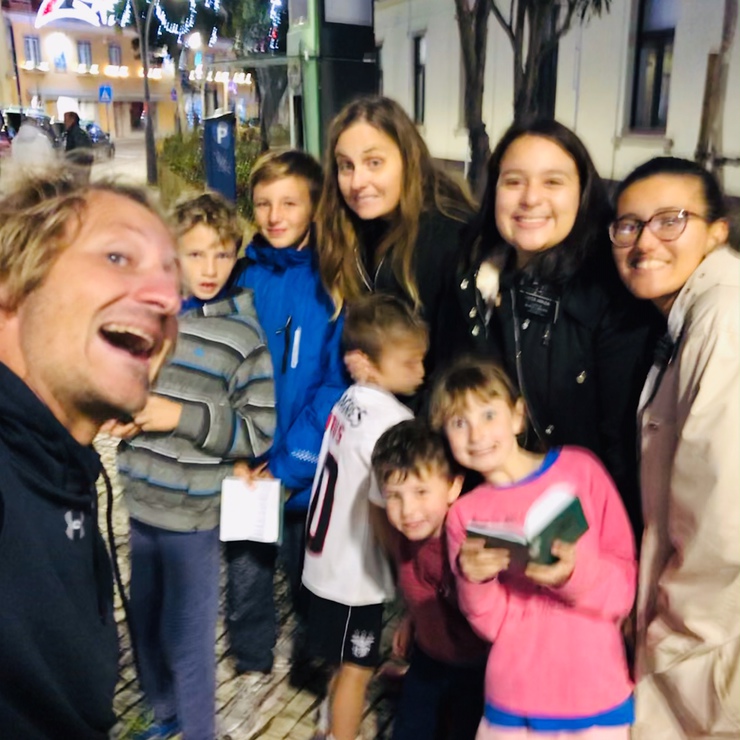 Incident #4: There are a lot of free kids things in town. Bouncy houses, Santa, things like that. The evening after we returned from the temple, we hurried with dinner, scriptures, etc. to go, but the kids were a mess. They could not get their heads around any simple task, and most of them were a pile of tears. They needed bed instead. Here's a picture that only partially illustrates their state.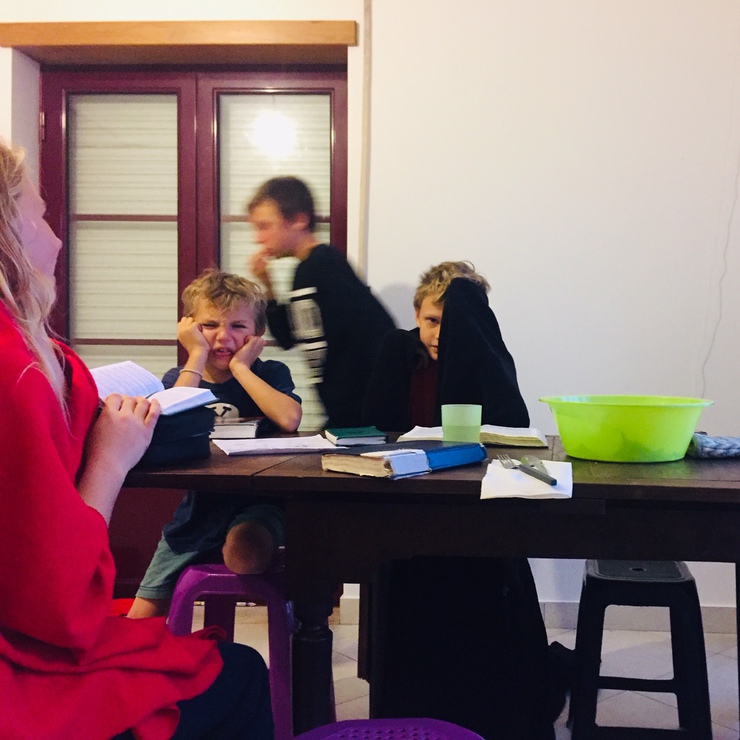 Incident #5: Ruby requested a Greek Book of Mormon for her birthday. A month ago, I ordered her a Greek one and a French one (because that's the one she always tries to read at the temple). They never came. I sent an email, but haven't heard back. I tried to buy them at the distribution center at the temple, but I kept missing its open hours. Ruby got another Portuguese Book of Mormon with an IOU.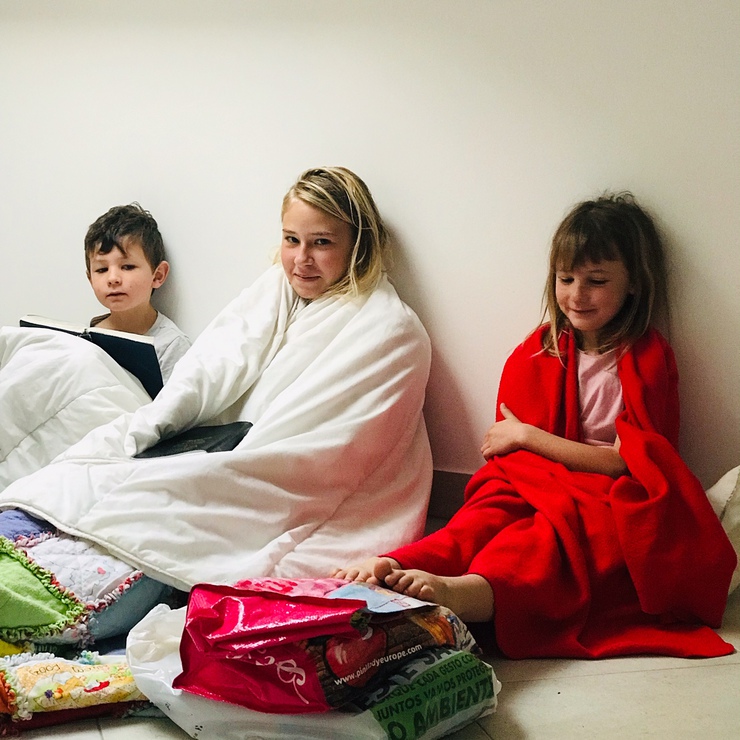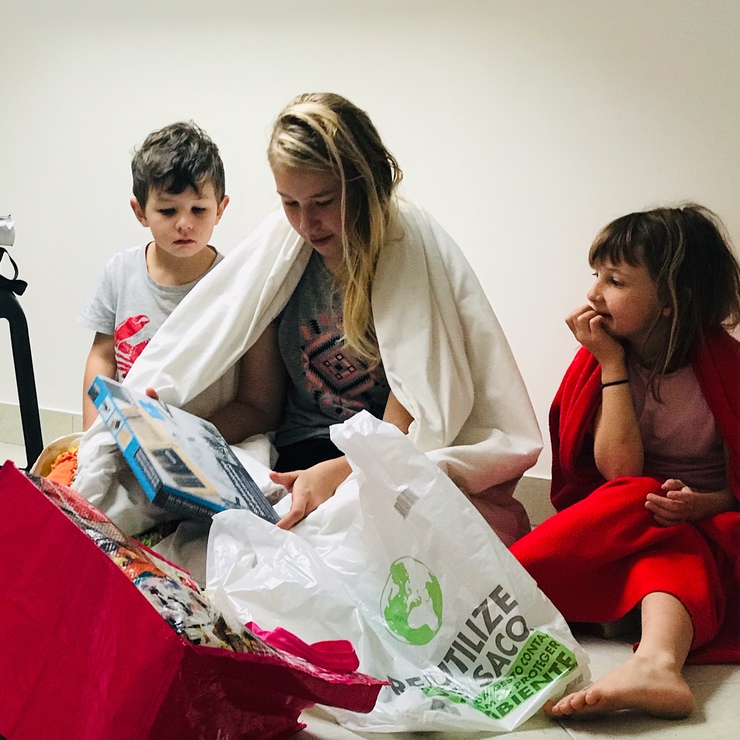 Anyway, next week we'll have fun! Tons of fun!!
Linus threw the most tantrums.
Woo (driving home from Spain): Everyone say something nice about Linus!
Lots of nice things were shouted out, and a sincere, nice Penelope said, "He's my second favorite brother!"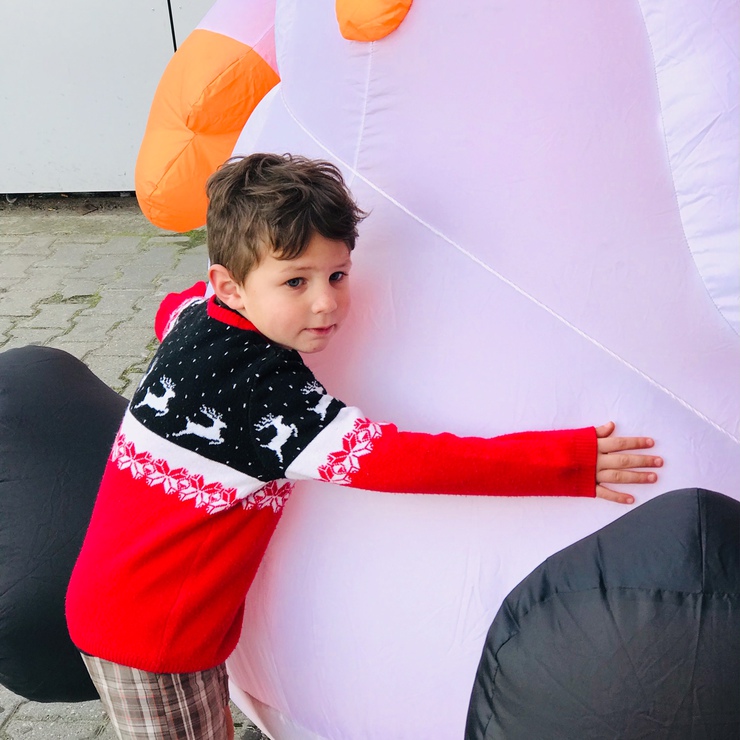 Archie had a good idea. He started singing Christmas hymns. He has a lot of them memorized in Portuguese, and we had no idea. (Penelope does too, but we know about her.)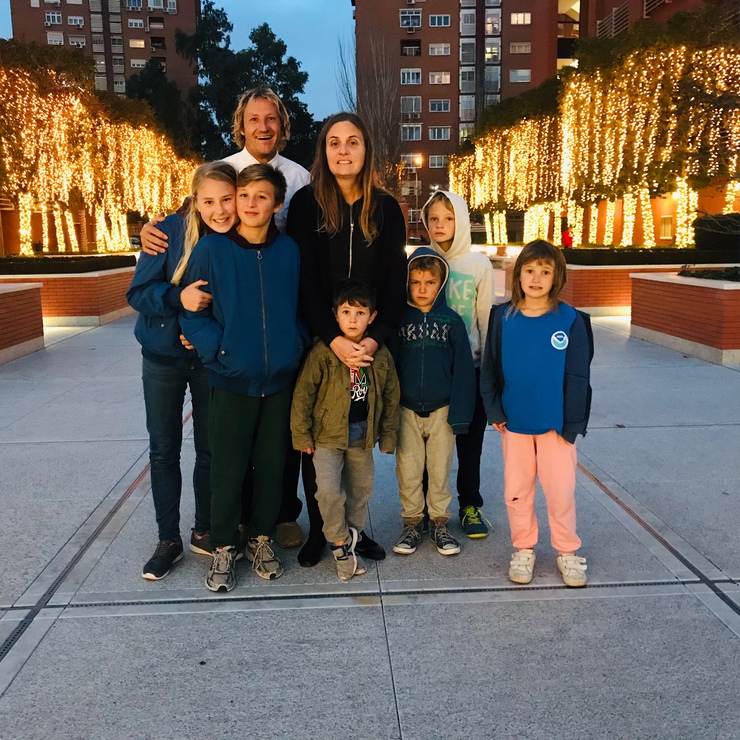 While at the temple I got two or three clear revelations. One was that it's always a sacrifice to go to the temple. That's part of what makes it holy.
Why do these two (3?) look so sweet?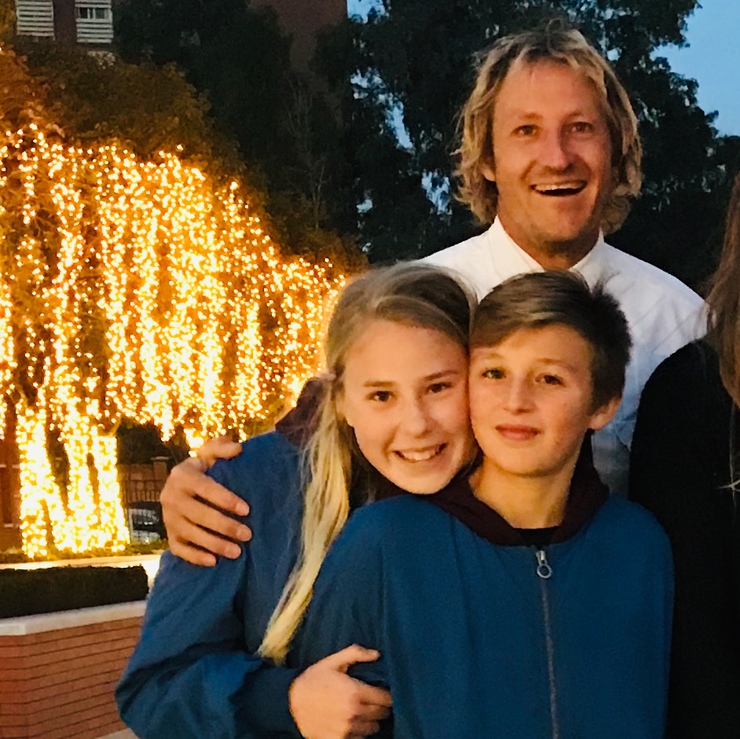 The evening we got home from the temple we put the kids immediately to bed, and they all fell straight asleep. Woo and I snuck out to an Indian restaurant.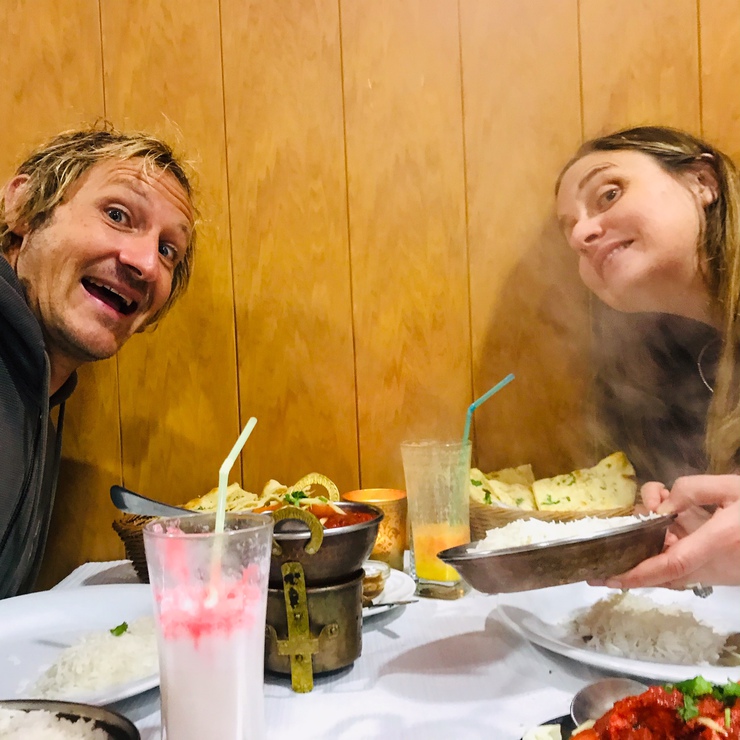 Christmas shopping has been pleasant. Woo and I went together at the end of November and got almost everything in one morning. I went one other morning for a few odds and ends and for an hour or so yesterday for food items.
Herbie and Moses helped me start wrapping yesterday. I would wrap the present in my bedroom and hand it out the door. They would attach and curl the ribbon and place it under the tree. They really, really love to curl ribbon.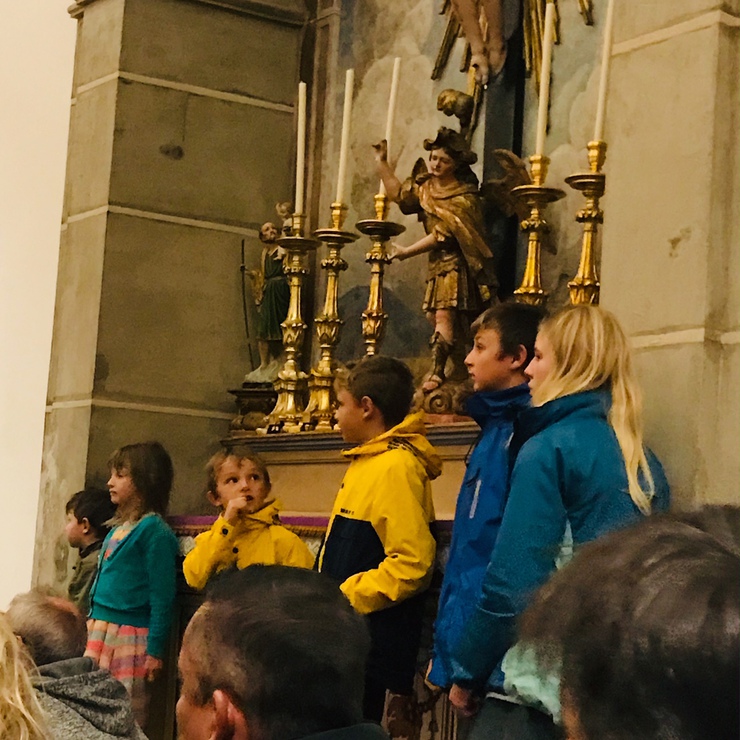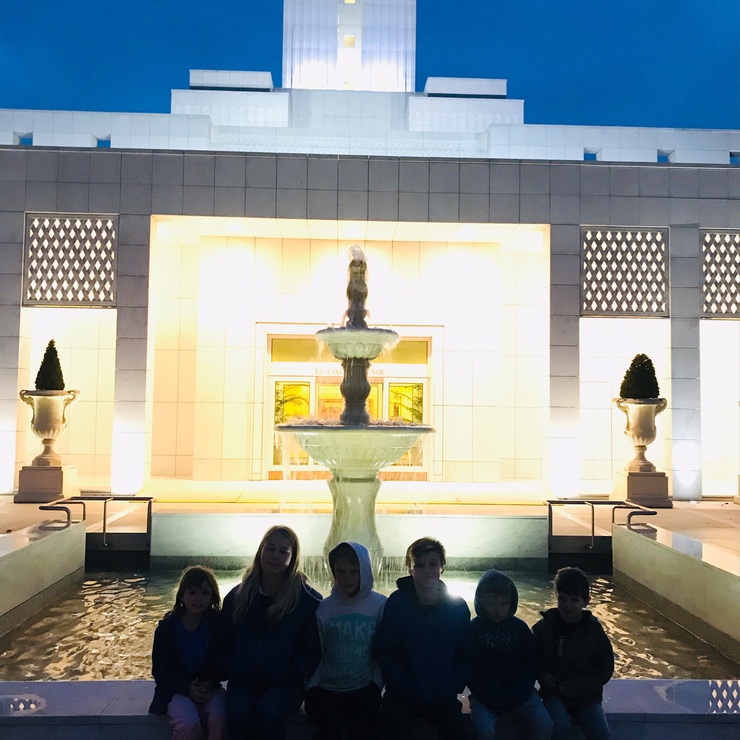 That's our week! Hope you all have a Merry Christmas!
Love,
Chelsey
I'm speaking today:
A scripture I've read a lot lately is in Ether 3:5. It is part of the brother of Jared's prayer, right after he has asked the Lord to touch the 16 molten stones so they will light up their ships to the promised land.
The brother of Jared says, "Behold, O Lord, thou canst do this. We know that thou art able to show forth great power, which looks small unto the understanding of men."
In seemingly all things, God works by small and simple means.
President Hinckley share this quote from E.T. Sullivan.
"When God wants a great work done in the world or a great wrong righted, he goes about it in a very unusual way. He doesn't stir up his earthquakes or send forth his thunderbolts. Instead, he has a helpless baby born, perhaps in a simple home of some obscure mother. And then God puts the idea into the mother's heart, and she puts it into the baby's mind. And then God waits. The greatest forces in the world are not the earthquakes and the thunderbolts. The greatest forces in the world are babies."
Jesus Christ, the Lord of Lords, the mighty God, the everlasting Father, the Prince of Peace, came into this world as a baby.
When Jesus Christ was born, there was a big celebration on at least 2 continents: choirs of angels, shepherds, prophecies in the temple, new stars, a day and a night and a day as if it were one day, a bit later... wisemen, and then all was quiet.
For years, no one seemed to care, nothing of significance happened. Nothing, except for the mundane, tedious, tasks of growing up, learning and preparing.
3 years ago I read an article entitled: It isn't a Sin to be Weak in the Ensign that taught me about Jesus Christ.
In it author, Wendy Ulrich writes: "Though He was without sin, Jesus Christ joined us fully in the condition of mortal weakness. He was born as a helpless infant in a mortal body and raised by imperfect caretakers. He had to learn how to walk, talk, work, and get along with others. He got hungry and tired, felt human emotions, and could get ill, suffer, bleed, and die."
Before this article, I never fully realized that as a mortal, Jesus Christ also had weaknesses. He got tired and needed rest. Maybe His body didn't always function in the way He wanted it to. It's likely that as a five year old boy he struggled to sit still, just like any other five year old boy on the planet. Possibly He struggled to fit in, or speak clearly, or stop coughing. These are not sins.
Some of my favorite scriptures about Jesus Christ are in Isaiah, also quoted in the Book of Mormon.
Isaiah 53:2 For he shall grow up before him as a tender plant, and as a root out of a dry ground: he hath no form nor comeliness; and when we shall see him, there is no beauty that we should desire him.
I've always been curious about this scripture because it seems to be saying that by just looking at the mortal Christ, we would've had no idea that He was the Son of God.
In fact, the next verse says we'd feel just the opposite.
3 He is despised and rejected of men; a man of sorrows, and acquainted with grief: and we hid as it were our faces from him; he was despised, and we esteemed him not.
Of course, these scriptures are also talking about how we feel about and treat Jesus Christ now, but I have another example from Christ's mortal ministry.
After Christ was baptized and fasted in the wilderness and was tempted, He "returned in the power of the Spirit into Galilee."
He went home, to His own synagogue and did what He'd done many times before.
Luke 4:16 And he came to Nazareth, where he had been brought up: and, as his custom was, he went into the synagogue on the sabbath day, and stood up for to read.
This was not a new thing for Him to do, but this time was different. He testified of Himself and His mission on earth, and verses 22 and 24 say:
And all bare him witness, and wondered at the gracious words which proceeded out of his mouth. And they said, Is not this Joseph's son? And he said, Verily I say unto you, No prophet is accepted in his own country.
I've wondered about this statement, "No prophet is accepted in his own country."
And it's very easy to think, well this people must have been very wicked to not recognize Jesus Christ among them. Or... of course they didn't recognize Him; they were looking for a general, a liberator.
But what if your brother, your brother-in-law, your schoolmate, or your neighbor had been Jesus Christ?
Isn't it likely you would've found ways to decide He wasn't perfect? He wasn't really all that great? That He couldn't possibly be the Son of God?
What about that time He tripped and lost a race in grade school? All those times He cried (because He was hungry)? The times when He didn't react in the way you thought He should have (because He was looking at something else); the time He fell asleep during your lesson; the times He (accidentally) slighted someone; those times He was late—He clearly wasn't perfect.
Wouldn't it be tempting to think you were just as good as Him? Maybe even better? (Now, this is a sin.)
Matthew also tells this story, but it's slightly different.
Matt 13:54 And when he was come into his own country, he taught them in their synagogue, insomuch that they were astonished, and said, Whence hath this man this wisdom, and these mighty works? 55 Is not this the carpenter's son? is not his mother called Mary? and his brethren, James, and Joses, and Simon, and Judas? 56 And his sisters, are they not all with us? Whence then hath this man all these things? 57 And they were offended in him. 58 And he did not many mighty works there because of their unbelief.
They *thought* they *knew* him, everything about him, his family, where he came from, everything. They knew the prophecies about the Messiah, but they did not understand them, nor did they really know Jesus Christ. But because they believed that they already did, they never did come to know him. And because they believed He wasn't capable of performing miracles, He never did perform miracles for them.
What if they had been humble? What if, instead, they had thought: how blessed I am to have the Son of God grow up right here in my town? How amazing is that? And wonderful for me?
But this humility wasn't even possible because they didn't know him. They didn't even try to know him.
In my scriptures, by these verses in Matthew, I've written:
They "knew" him, but didn't know him. Mary knew him.
Mary had been told by angels and prophets who her Son was. And we know from the scriptures that she treasured these experiences and pondered them, but she also had more. She had a practical knowledge, not only of who He was, but also of what He could do.
The changing of the water into wine is our first recorded miracle of Jesus. But it can not have been His first miracle. Mary had a perfect knowledge of His power over the elements. She went to Him when she had a problem and instructed others to do what He said without the slightest hesitation.
John 2:3 And when they wanted wine, the mother of Jesus saith unto him, They have no wine. 4 Jesus saith unto her, Woman, what wilt thou have me to do for thee? that will I do. For mine hour is not yet come. 5 His mother saith unto the servants, Whatsoever he saith unto you, do it.
Jesus Christ is no longer a mortal man with human weaknesses. He is now a resurrected, glorified being who stands today on the right hand of His Father, but our challenge is still the same.
Our challenge is to come to know Him. The real Jesus Christ—not who we think He is, not who we assume He is, not who those around us think He is, but the real Jesus Christ with a practical knowledge of what He can do. Because He is a real being, and He has great power. He has all the power.
We do this by studying His words spoken to His prophets, exercising faith in His words by keeping His commandments and receiving (aka listening to) the Holy Ghost. And we do not assume we know enough, or even, everything about Him until we have seen His face.
The scriptures call this process "seeking."
Mormon writes in Ether 12:41 And now, I would commend you to seek this Jesus of whom the prophets and apostles have written, that the grace of God the Father, and also the Lord Jesus Christ, and the Holy Ghost, which beareth record of them, may be and abide in you forever. Amen.
And Jesus Christ himself says in D&C 101:38 And seek the face of the Lord always, that in patience ye may possess your souls, and ye shall have eternal life.
I know that Jesus Christ lives. I know that He stands at the head of this church, and that we are preparing the world for His second coming.
In the name of Jesus Christ, amen.
**********************************
Uma escritura que li muito na semana passada está em Éter 3: 5. Faz parte da oração do irmão de Jarede, logo após ele ter pedido ao Senhor para tocar as 16 pedras fundidas, para que elas acendam seus navios para a terra prometida.
O irmão de Jared diz: "Eis que, ó Senhor, tu podes fazer isto. Sabemos que és capaz de mostrar grande poder, o qual parece pequeno ao entendimento do homem".
Em aparentemente todas as coisas, Deus trabalha por meios pequenos e simples.
O Presidente Hinckley compartilha esta citação da E.T. Sullivan.
"Quando Deus deseja realizar uma grande obra no mundo, ou corrigir um grande mal, Ele age de maneira muito incomum. Não suscita terremotos nem despeja raios e relâmpagos. Em vez disso, faz com que nasça um indefeso bebê, talvez num lar humilde, de uma mãe muito simples. E então, Deus coloca uma idéia no coração da mãe, e ela a põe na mente do bebê. Depois, Deus espera. As maiores forças do mundo não são os terremotos, raios e relâmpagos; as maiores forças do mundo são os bebês".
Jesus Cristo, Senhor dos Senhores, Deus Forte, Pai da Eternidade, Príncipe da Paz, veio a este mundo como um bebê.
Quando Jesus Cristo nasceu, foi uma grande celebração em pelo menos dois continentes: coros de anjos, pastores, profecias no templo, novas estrelas, um dia e uma noite e um dia como se fosse um dia, um pouco mais tarde. .. magos, e então tudo ficou quieto.
Durante anos, ninguém parecia se importar, nada de significância aconteceu. Nada, exceto as tarefas mundanas e tediosas de crescer, aprender e se preparar.
3 anos atrás eu li um artigo com o título: Ser Fraco Não É Pecado na Ensign (a Liahona em português) que me ensinou sobre Jesus Cristo.
Em seu autor, Wendy Ulrich escreve:
"Embora não tivesse pecado, Jesus Cristo assumiu plenamente a fraqueza mortal, tal como nós. Ele nasceu como uma criança indefesa num corpo mortal e foi educado por humanos imperfeitos. Precisou aprender a andar, falar, trabalhar e relacionar-Se com as pessoas. Sentia fome, cansaço, todas as emoções humanas e podia ficar doente, sofrer, sangrar e morrer".
Antes deste artigo, eu nunca percebi plenamente que, como mortal, Jesus Cristo também tinha fraquezas. Ele se cansou e precisou de descanso. Talvez o corpo dele nem sempre funcionasse da maneira que Ele queria. É provável que, como um menino de cinco anos, ele tenha se esforçado para ficar parado, como qualquer outro menino de cinco anos no planeta. Possivelmente, Ele lutou para se encaixar, falar claramente ou parar de tossir. Estes não são pecados.
Algumas das minhas escrituras favoritas sobre Jesus Cristo estão em Isaías, também citadas no Livro de Mórmon.
Isaías 53: 2 Porque foi subindo como renovo perante ele, e como raiz de uma terra seca; não tinha forma nem formosura; e olhando nós para ele, nada víamos em sua aparência, para que o desejássemos.
Eu sempre fui curioso sobre essa escritura porque parece estar dizendo que apenas olhando para o Cristo mortal, não teríamos ideia de que Ele era o Filho de Deus.
Na verdade, o próximo verso diz que nos sentiríamos exatamente o oposto.
3 Era desprezado, e o mais rejeitado entre os homens, homem de dores, e experimentado em padecimentos; e como um de quem os homens escondiam o rosto era desprezado, e não fizemos caso algum dele.
Naturalmente, essas escrituras também estão falando sobre como nos sentimos e tratamos Jesus Cristo agora, mas eu tenho outro exemplo do ministério mortal de Cristo.
Depois que Cristo foi batizado e jejuado no deserto e foi tentado, Ele "pelo poder do Espírito, voltou Jesus para a Galileia."
Ele foi para casa, para sua própria sinagoga e fez o que tinha feito muitas vezes antes.
Lucas 4:16 E chegando a Nazaré, onde fora criado, num dia do sábado, segundo o seu costume, entrou na sinagoga, e levantou-se para ler.
Isto não era uma coisa nova para Ele fazer, mas desta vez foi diferente. Ele testificou de si mesmo e de sua missão na terra, e os versos 22 e 24 dizem:
E todos lhe davam testemunho, e se maravilhavam das palavras de graça que saíam da sua boca; e diziam: Não é este o filho de José? E disse: Em verdade vos digo que nenhum profeta é bem recebido na sua pátria;
E é muito fácil pensar, bem, esse povo deve ter sido muito mau em não reconhecer Jesus Cristo entre eles. Ou ... claro que eles não o reconheceram; eles estavam procurando por um general, um libertador.
Mas e se seu irmão, seu cunhado, seu colega de escola ou seu vizinho fosse Jesus Cristo?
Não é provável que você tenha encontrado maneiras de decidir que Ele não era perfeito? Ele não era realmente tão bom assim? Que Ele não poderia ser o Filho de Deus?
E naquela vez em que Ele tropeçou e perdeu uma corrida na escola? Todas aquelas vezes Ele chorou (porque Ele estava com fome)? Os tempos em que Ele não reagiu da maneira que você achava que deveria ter (porque Ele estava olhando para outra coisa); a vez em que ele adormeceu durante sua lisção; às vezes Ele (acidentalmente) desprezou alguém; naqueles tempos Ele estava atrasado - Ele claramente não era perfeito.
Não seria tentador pensar que você era tão bom quanto ele? Talvez melhor ainda? (Agora, isso é pecado).
Mateus também conta essa história, mas é um pouco diferente.
Mateus 13:54-59 E chegando à sua pátria, ensinava-os na sinagoga deles, de sorte que se maravilhavam, e diziam: De onde veio a este a sabedoria, e estas maravilhas? 55 Não é este o filho do carpinteiro? e não se chama sua mãe Maria, e seus irmãos, Tiago, e José, e Simão, e Judas? 56 E não estão entre nós todas as suas irmãs? De onde lhe veio, pois, tudo isso? 57 E escandalizavam-se nele. Jesus, porém, lhes disse: Não há profeta sem honra, senão na sua pátria e na sua casa. 58 E não fez ali muitas maravilhas, por causa da incredulidade deles.
Eles *pensaram* que eles o conheciam, tudo sobre ele, sua família, de onde ele veio, tudo. Eles conheciam as profecias sobre o Messias, mas não os entendiam, nem conheciam a Jesus Cristo. Mas porque eles acreditavam que eles já fizeram, eles nunca vieram a conhecê-lo. E porque eles acreditavam que Ele não era capaz de realizar milagres, Ele nunca fez milagres para eles.
E se eles tivessem sido humildes? E se, em vez disso, eles tivessem pensado: como eu sou abençoado por ter o Filho de Deus crescendo bem aqui na minha cidade? Quão incrível é isso? E maravilhoso para mim?
Mas essa humildade não era possível porque eles não o conheciam. Eles nem sequer tentaram conhecê-lo.
Nas minhas escrituras, por esses versículos em Mateus, escrevi:
Eles o "conheciam", mas não o conheciam. Maria o conhecia. (Mas em inglês :)
Maria foi informada pelos anjos e profetas que seu filho era. E sabemos pelas escrituras que ela valorizava essas experiências e as ponderava, mas também tinha mais. Ela tinha um conhecimento prático, não apenas de quem Ele era, mas também do que Ele poderia fazer.
A mudança da água em vinho é o nosso primeiro milagre gravado de Jesus. Mas não pode ter sido seu primeiro milagre. Maria tinha um perfeito conhecimento de seu poder sobre os elementos. Ela foi até Ele quando teve um problema e instruiu outros a fazer o que Ele disse sem a hesitação.
João 2:3-5 E faltando o vinho, a mãe de Jesus lhe disse: Eles não têm vinho. 4 Disse-lhe Jesus: Mulher, que queres que eu faço por ti? Isso farei; porque ainda não é chegada a minha hora. 5 Sua mãe disse aos servos: Fazei tudo quanto ele vos disser.
Jesus Cristo não é mais um homem mortal com fraquezas humanas. Ele é agora um ser ressurreto e glorificado que está hoje à direita de Seu Pai, mas nosso desafio ainda é o mesmo.
Nosso desafio é vir a conhecê-lo. O verdadeiro Jesus Cristo - não quem nós pensamos que Ele é, não quem nós assumimos que Ele é, não quem aqueles ao nosso redor pensam que Ele é, mas o verdadeiro Jesus Cristo com um conhecimento prático do que Ele pode fazer. Porque Ele é um ser real e tem um grande poder. Ele tem todo o poder.
Fazemos isso estudando Suas palavras faladas a Seus profetas, exercendo fé em Suas palavras, guardando Seus mandamentos e recebendo (ou seja, ouvindo) o Espírito Santo. E nós não assumimos que sabemos o suficiente, ou mesmo, tudo sobre Ele até que tenhamos visto o Seu rosto.
As escrituras chamam esse processo de "busca".
Mórmon escreve em Éter 12:41 E agora vos exorto a que busqueis esse Jesus sobre quem os profetas e apóstolos escreveram, a fim de que a graça de Deus, o Pai, e também do Senhor Jesus Cristo e do Espírito Santo, que dá testemunho deles, esteja e permaneça em vós eternamente. Amém.
E o próprio Jesus Cristo diz em D&C 101: 38 E buscai sempre a face do Senhor para que, em paciência, possuais vossa alma; e tereis vida eterna.
Eu sei que Jesus Cristo vive. Eu sei que Ele está à frente desta igreja e que estamos preparando o mundo para a Sua segunda vinda.
Em nome de Jesus Cristo. Amém.