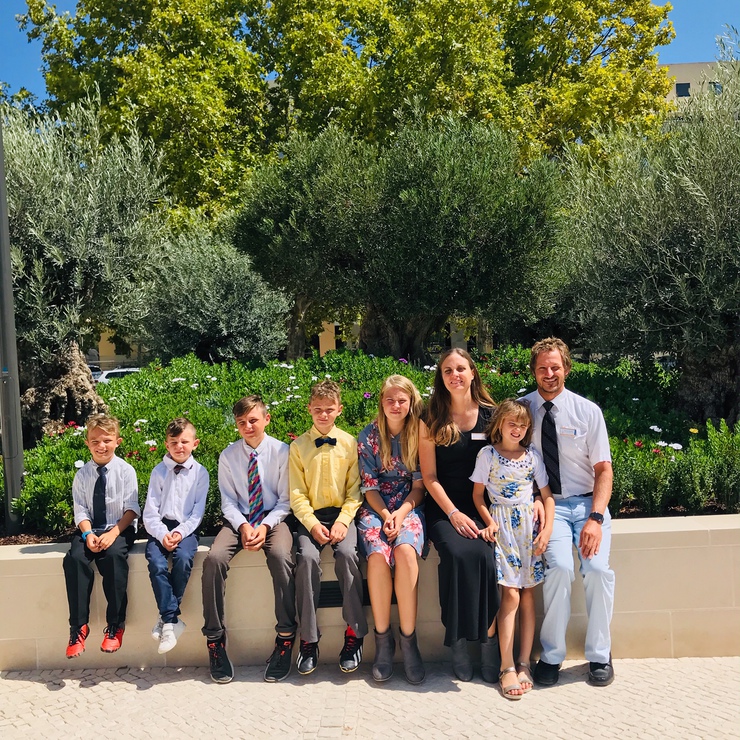 We did more tours this week than last, even though we had one day where we had none. I had been praying for another opportunity for us to give the kids a tour ourselves, because it had dawned on me a couple nights before what an INCREDIBLE blessing it is to be able to take our own kids on a tour of a temple ourselves.
Anyway, on this day without other tours, we took the kids through the temple and it was easily, from many different angles, the worst tour we have ever done or experienced. However, I happen to know that a lot of good things can be happening when everything seems to be failing, and I was not discouraged. It was still an amazing blessing.
As English guides, Woo and I continue to meet people from all over the world: Germany, 3 chemists from Spain and Portugal (who insisted that English was the best language for them all to go through together), Ukraine, Ireland, Texas, Switzerland, Zimbabwe, Angola, Japan, Arizona and Spanish Fork. AND, Woo and I did our first tour in Portuguese.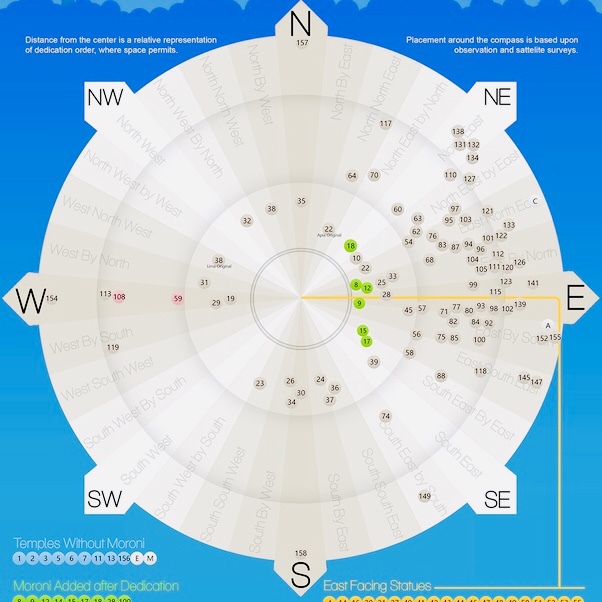 (We're also learning with the questions we get asked. Not all Angel Moronis face east.)
I let Woo go in front on the Portuguese tour, thinking I would follow the group and have to say essentially nothing. (The guides for the Portuguese tours just accompany the group through the temple; there is a person stationed in each room to give an explanation. In English, we do ALL the talking.)
However, the guy at the back of the line was a guy off the street who lived in the neighborhood, and he had a lot of questions. Surprisingly, I could answer a lot of them. More surprisingly, he could understand me. Even more surprisingly, there were a couple of times where native Portuguese speakers spoke to him and he could not hear them or understand them.
Woo took over at the end, because the man wanted to know the significance or symbolism of 5 of the olive trees on the grounds, and my answer was not satisfying him (or maybe he couldn't understand me). Woo started speaking of the olive tree as a symbol for the House of Israel (one of many symbols for the olive tree), and luckily, just before this tour, someone had told me where the Book of Mormons were "hidden." I was able to run and get one, and just as Woo turned and asked a sister missionary, "Do you have any Book of Mormons?" I was able to hand him one and the man was happy to receive it.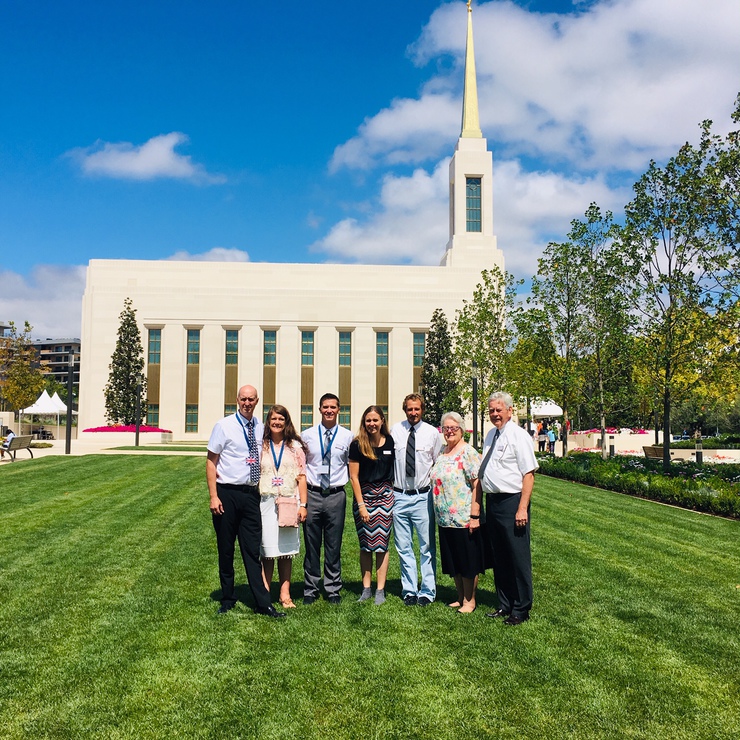 (Us and the other native English speaker tour guides)
It was a good Book of Mormon day for us because the night before a Facebook friend, who is a worker at the elementary school, had replied to my post where I shared what President Nelson had posted in Portuguese about the Book of Mormon. She asked, "Where can I get this book?"
What?!?
So I, Ruby and Archie ran to her house right before leaving for the temple that next morning to give her a book. I let Archie hold the book and he handed it to her and later he said, "I gave out my first Book of Mormon!"
The worker was very happy to receive the book and we invited her to the temple and Ruby gave her a great summary of the temple, and invited her to church, and told her about the missionaries (Ruby is a great missionary herself).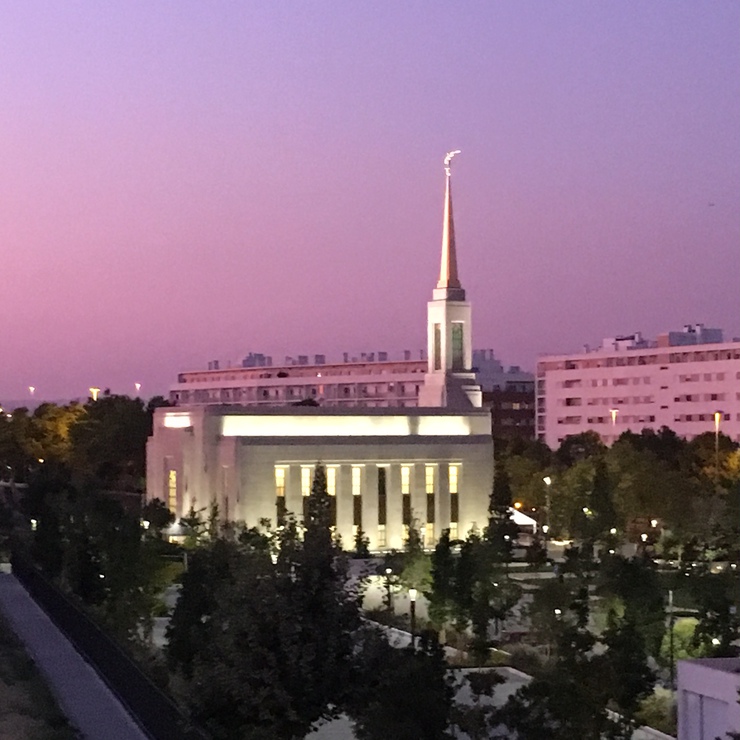 We stepped it up with the temple invitations this week too. We'd already invited all the people we know best, who've all said they'll try to come, but...
And we've given some out to random people too. Woo invited the taxi driver who drove us to the airport, for example.
Anyway, one day at the temple, Ruby got in a little tiff with another girl putting on shoe coverings where Ruby had said something about smokers in Portugal and this girl took it personally as a slight on her country and responded with something about polygamists in Utah, which Ruby responded to...
Anyway, on the ride home we showed Ruby that what she had said had offended this girl and Ruby felt really bad when she realized. We all had to run into the bank when we got back home to pay rent.
On the walk into the building, Ruby found a temple invitation in her pocket. (I had another one and Woo asked for it.) Ruby was nervous, but knew she should give her invite to the girl sitting at a loan desk when we first walked in.
After some deliberation she walked up and started talking to her about the temple (Linus, Penelope and Archie all slid into seats across the desk). The girl took the invitation and Ruby walked back beaming. I whispered to her, "Now your sins are forgiven." (Based on DandC 62:3 and personal experience)
Woo began inviting the teller, who he sees on a monthly rent-paying basis, and Ruby walked up to talk to her too, and together they invited her and told her about baptisms for the dead, eternal families, etc.
Yesterday we did not work at the open house because we were attending with our branch. (Well, Ruby did work because she took the bus with the branch and arrived much earlier than we did in the van.) In the morning I ran to the store and invited 4 people we always smile and say hi to.
2 of these were in situations where I NEVER would've been so bold in the past. One was in a very crowded checkout area (and remember, I'm speaking room-silencing Portuguese) and the other was a woman talking to a group of friends. I actually interrupted her conversation to tell her about the temple with all her friends listening in.
But before I could think too much about how I disliked these situations these words ran through my mind, "They're just grass." (Isaiah 51:12)
And also this "Be not afraid, but speak, and hold not thy peace: For I am with thee, and no man shall set on thee to hurt thee: for I have much people in this city."
And also the realization that this is why I'm here... This is what I'm here in Portugal to do. Why waste everyone's time? So I handed out the invites and talked a little about the temple, no matter who could hear me or what they thought.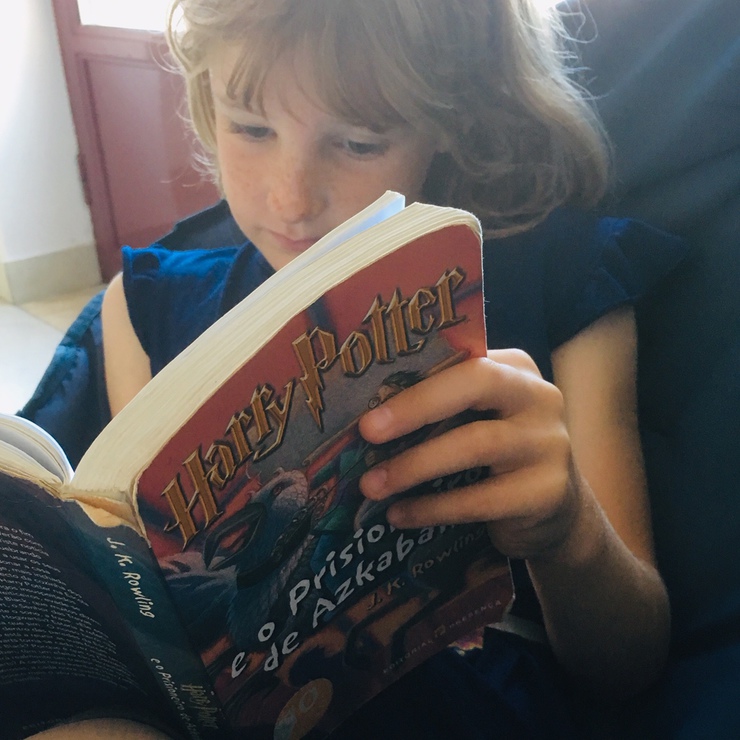 Anyway, after lunch yesterday, we picked up a man, who's been to church a few times, but couldn't leave work to catch the bus in the morning for a temple tour with our branch (more on this later). After the tour, we switched the man (E--) for Ruby (he rode the bus back, Ruby rode with us) and stopped at Burger King in a mall for dinner.
We gave every kid a temple open house invite and told them to pray and give it to someone. Most of the kids actually enjoy giving out pass along cards. They're young enough and cute enough, people will take anything they hand them.
However, these invites are different. You have to talk about them a bit because the date on the invite is wrong. (They're extending the open house one more week—more on that later.) And this made it a whole different ballgame for a lot of the kids.
Ruby stopped a man and gave hers away right off the bat. Archie gave his to the worker at Burger King, with some help from me. Moses stood up and gave his to a cute family with 3 girls (2 of them twins) sitting next to us. Ruby helped him too and they were very receptive.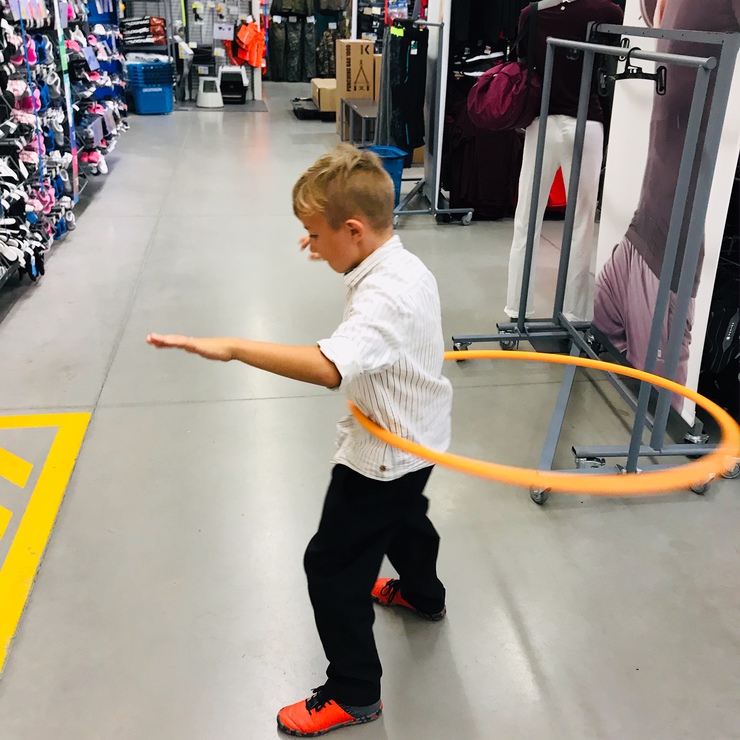 Ruby and I both spotted a woman standing alone looking unhappy. Ruby grabbed Linus's invitation from him and went to talk to her. I sent Linus over to help and give smiles, which he did, and with Ruby they were able to get her to smile and she accepted an invitation.
Penelope gave hers to a doting, elderly couple. They probably had no idea what she said, but smiled and nodded and took her invitation.
And Herbie was rejected 3 times and finally just slipped his invitation in a car with a rolled down window.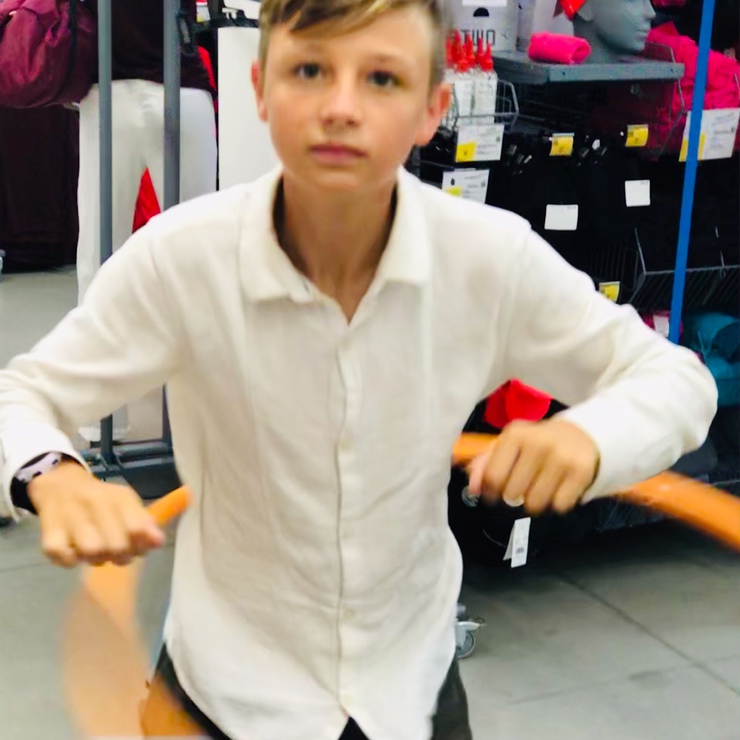 But Herbie had maybe the best experience in the temple this week. One day he got to go through two tours, wheeling people in wheelchairs. (This is a somewhat tricky job because there are covers for the wheels to protect the floors and they have to be regularly adjusted.)
In one tour, the volunteer speaking in the instruction room said, "... our life has a purpose..." and one of the men on the tour interrupted with life doesn't have a purpose, his daughter had died, etc., etc...
The volunteer bore his testimony that life does have a purpose and also told the man about eternal families and said the man would see his daughter again, and the man started to cry. Herbie said the man cried even more in the Celestial room.
This appears to have been an exceptionally inspired volunteer because he also had said that if you go into the Celestial room with a question, it will be answered.
Herbie asked a question about something that has been bothering him lately, and he also got revelation.
[edited]
One morning we got to the temple and Moses, Linus, Penelope and Archie were all invited to join a stake primary about to go on a tour of the temple. Our kids were excited to go with the other kids and we were excited to let them.
Woo and I were sitting in the chapel waiting for a tour, when they all filed past, holding hands, on their way to the temple. Woo ran to take pictures and discovered that one poor primary worker was trying to say everything in Portuguese and English. Penelope and Archie hadn't told her they could speak Portuguese. Woo let her know, to her relief.
These primary workers were doing a great job; they had the kids divided up into class sizes, and they gave thorough, kid-friendly explanations. Penelope, Archie and Linus all said it was their favorite thing of the day.
The stake primary leader told Woo that they had 23 children in the Celestial room and that it was silent! (Woo smiled as he considered a primary president's definition of silence and a normal person's definition of silence were possibly a bit different.)
Archie and Penelope both told me that the Celestial room had been the very best part. Archie said that the teacher had told them to pray in the Celestial room and that he did, and that he felt really good.
[edited]
(Which reminds me, Woo and I got to hear a dad tell his 9 year old son a pretty cool Celestial room story on one of our tours.)
Linus is with Moses. He likes the baptistery. After the temple tour, the primary gave our kids a boxed lunch with a quote and a picture of the temple on it. (I guess they had extras???) And then they played some games outside.
I kind of wondered what the kids would do when the primary thing was over and Woo and I were in a tour. I was happy to hear that after a few games and when some of the other kids started to leave, Moses gathered up all his siblings and took them to the break room, and they happily went with him.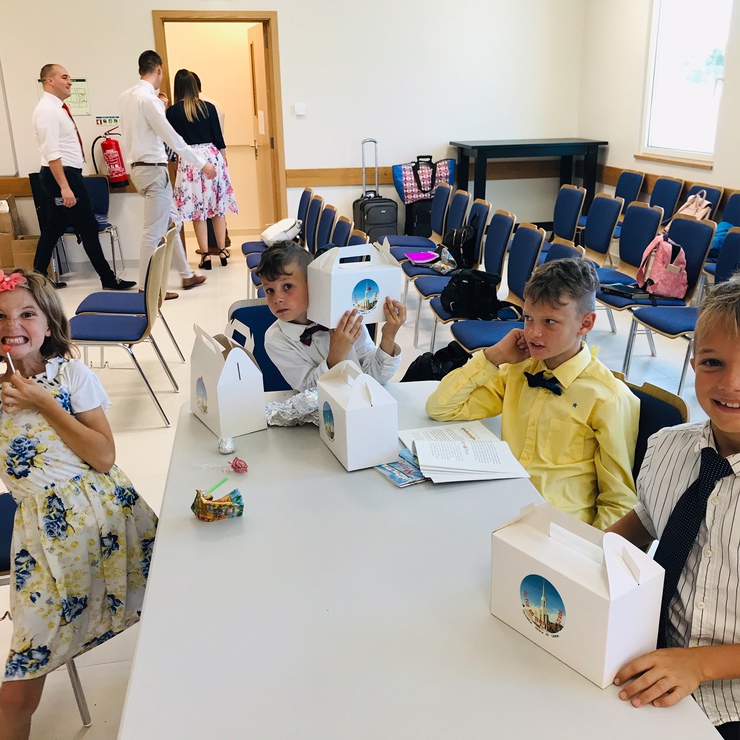 Another highlight of the week (for the kids at least) was stopping at Decathlon. The nearest Decathlon is halfway between us and Lisbon. The kids had some money they wanted to spend, and Decathlon is really the best place for everyone to be happy. Woo suggested we go after a temple trip, and I suggested we go on the last day to encourage good behavior. (It was not our last day, but I'd said a date and that was the date the kids were all counting down to, so we kept that.)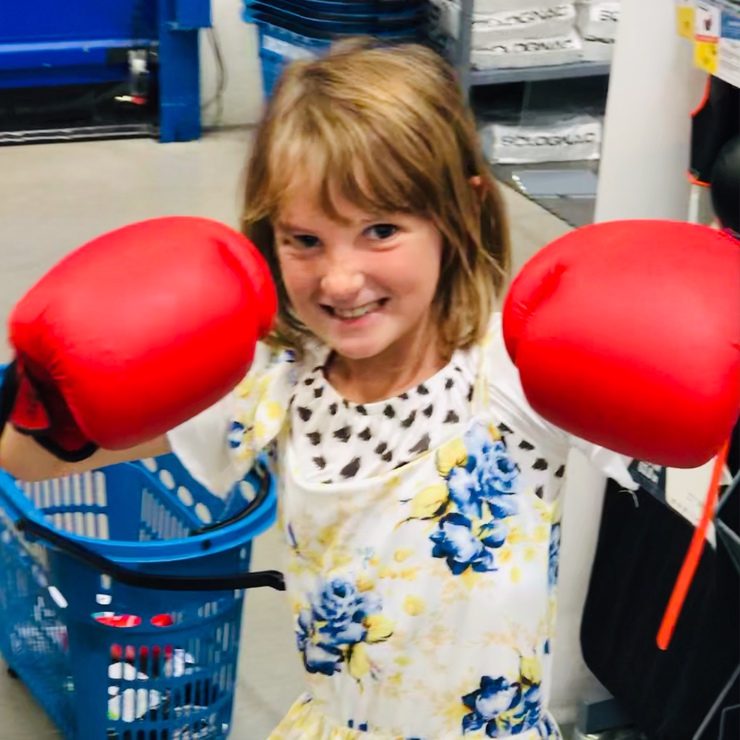 Each of the kids needed a handful of school clothes or backpacks, which we also got there, but mostly skateboards or scooters were purchased by the kids, along with some ballet stuff for Penelope and shoes and watch for Ruby. Herbie only bought a couple socks, and is saving up for the best skateboard.
Moses had a really difficult time at first, just putting random stuff in this cart (bodyboard, fins) then taking it out, then putting more random stuff in (tennis racket, canister of tennis balls). I was helping individual kids with the back-to-school list and Moses walked by telling me he didn't feel very good about how his shopping experience was going. I advised him to go to Woo (who was sticking with Archie and Penelope) and talk about it.
Woo helped him to decide on something he would actually use and could afford... one of the skateboards... and he felt much better and has been very happy with his purchase since.
All the kids are very happy with their purchases and especially Ruby, Herbie and Moses like to tell me over and over again how much they like their new shorts, or watch, or whatever.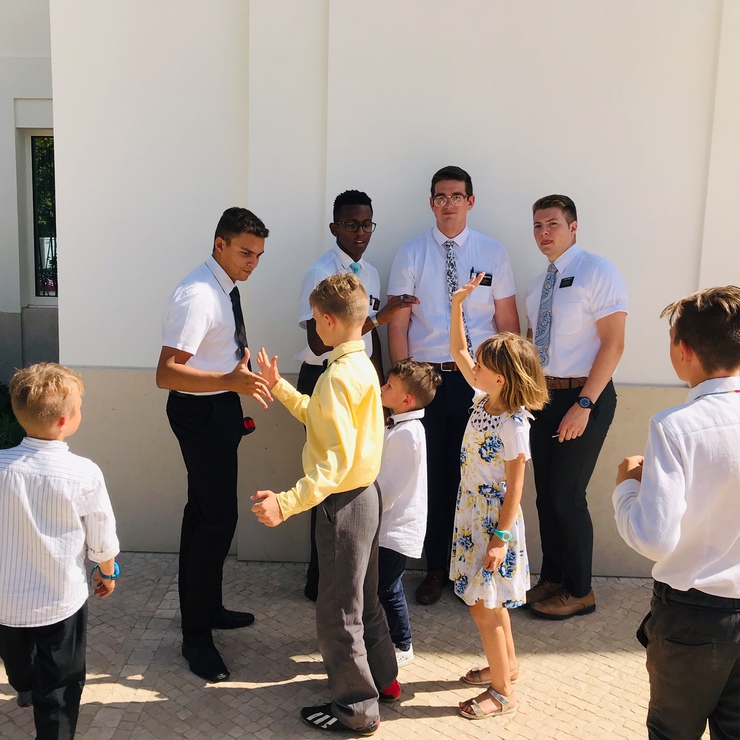 So back to this story (if you can remember that far back)... we arrived at the temple with E-- on Saturday, much later than everyone else on the bus. The stake center was crowded and confusing when we got there. I glimpsed our Elders on the other side and took E-- to them since I'd seen other Elders go through the temple all week with people they're teaching.
When I got back to my family, we found our group and they had already started the video portion of the tour, and then Penelope needed to go to the bathroom. I took her since it's easy to get turned around in the stake center, especially when it's busy, and found M--, one of our most diligent Sunday attendees, but smokes and won't meet with the missionaries (whatever, we're just happy she comes to church), sitting all alone in a chair on the opposite side of the stake center from our group, who'd, like I said, already started.
I asked her how she was and she grimaced and said she didn't know, but I told her to come with me, and she did. Upon returning, our group was leaving the video for the temple. Woo decided to just go with them because we've already seen the movie, but I decided to watch the movie with M--, because it would be good for her to see it. Archie and Herbie would stay with me. The rest of the kids would go with Woo.
While we were deliberating, A--, our most recent convert, wandered past, looking lost. I decided to take him with us, said bye to Woo and went in search of room 3 (or was it 5?). A room someone who wasn't super sure of themselves had mentioned as the next starting film.
On our way, I saw E-- with the Elders in the reception area, all of them lost in a black hole of socializing. I decided to get them on our tour too.
While I was talking to the Elders, A-- wandered away, and then M--. I ran after those two, got them seated in room 3, which didn't look all that ready, and returned for E-- and the Elders. They were coming, and they came in the room. I think A-- maybe stood up again, and I got him sitting again (Did I mention there were a lot of people, and the whole place was kind of confusing?), and then the Elders left to continue socializing.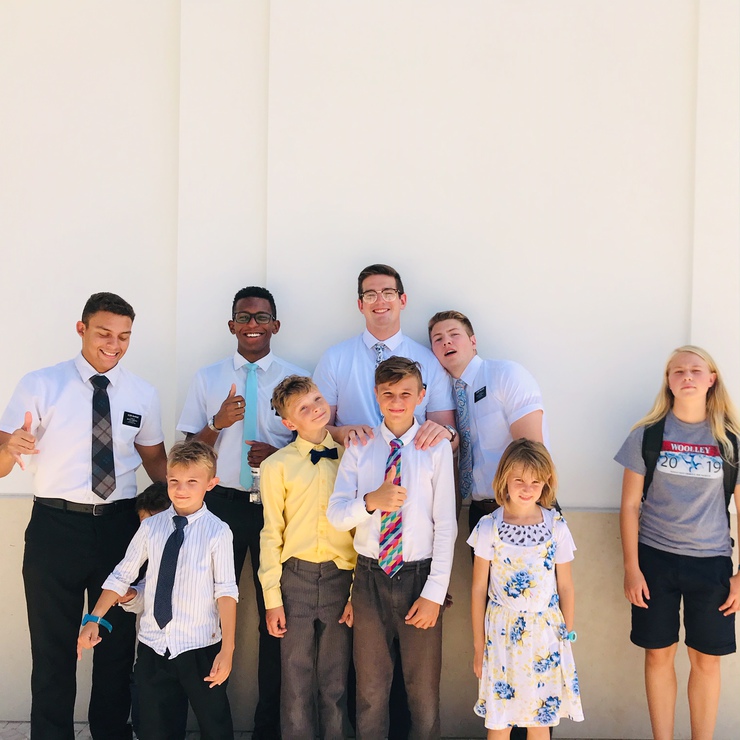 I was kind of miffed to be left alone with the 3 people in our branch who should be getting the most care, and the Sisters who were supposed to be introducing the video presentation also seemed to be preoccupied. I stepped out of the room to see what was up, and Woo with Moses, Linus and Penelope suddenly showed up. Thankfully, because I needed Woo's help.
After a brief discussion with the Sisters and Woo where room 3 (or was it 5??) was again brought up, and several more people slipped into our room, we got started.
The guides are supposed to keep everyone in the group together, one in the front and one in the back, but with the amount of people milling about and taking pictures, it was again difficult to keep from being separated on the way from the stake center to the temple. The front guide was so far ahead, M-- almost took a couple wrong turns. A-- walks with such a slow shuffle, he was in serious danger of being left behind. Woo and Herbie stayed with him. I tried to stay with M-- while holding hands with jumpy Linus and clingy Archie. E-- was fine on his own (other than not having a clue what was going on and getting little individual attention).
A-- had trouble standing at the bars and lifting his feet up for the youth volunteers to put coverings on his feet, but Herbie's already a foot covering expert. At Woo's suggestion, he grabbed two booties and knelt and put them over A--'s shoes while he wiggled his feet.
The baptistery is the second stop on the tour, and I was in there getting annoyed that these 3 had been completely abandoned by everyone... members, missionaries... and if I hadn't showed up they may never have even gotten into the temple, the whole point of them being there.
And then the Holy Ghost reminded me that I had read the talk True Friends by Henry B Eyring the night before. These kinds of talks mostly remind me that I'm not a good friend. I don't do any of the things listed as things friends do. Of course I never do any of the specific stories told of some diligent or especially amazing friend. And the "little things" often listed like smile or make a phone call, well, I don't do those either. This talk, which talked a lot about being friends to new members and people learning about the church, was no different.
But in the baptistery I was reminded that I'd just read this talk as if to say, "You got these three in the temple. See, you ARE a true friend."
There was also a feeling that I was the one who needed to do it, or rather, I was the one who was privileged with the blessing of getting these three in the temple. I was touched.
(Full disclosure: the Elders found E--, invited him to the temple, and set up everything for us to pick him up. Also, they're assigned to a tough area where the days are long and the weeks are too. Being around so many friends is like water in the desert. The members got M-- and A-- on the bus and to Lisbon. Like I said, it was crazy in there, and people were losing each other left and right. Really, we all did our part, I just got to do the last part--with Woo and my kids' help.)
At the end of this tour, when we got to the sealing room, Herbie sat in the sealers chair and Archie and Moses sat on his sides in the witnesses' chairs during the presentation. Woo thought it was very cute. If ever there was a time Woo wished he could take a picture in the temple, this was it. And it was fun for him to think that this might really happen someday, like in a hundred years.
When we first started working at the open house, and we were adjusting, and rumors began to circulate that they were going to extend another week... I didn't think we could do it. As in, handle it. I wasn't sure we could handle it.
But we all got used to our new schedule after a couple days and the Holy Ghost whispered, "the blessings are in the second mile."
And then I was FOR working next week, because the truth is I could use some blessings. And so could the kids. And so could Woo. So all our next week will be spent at the temple too.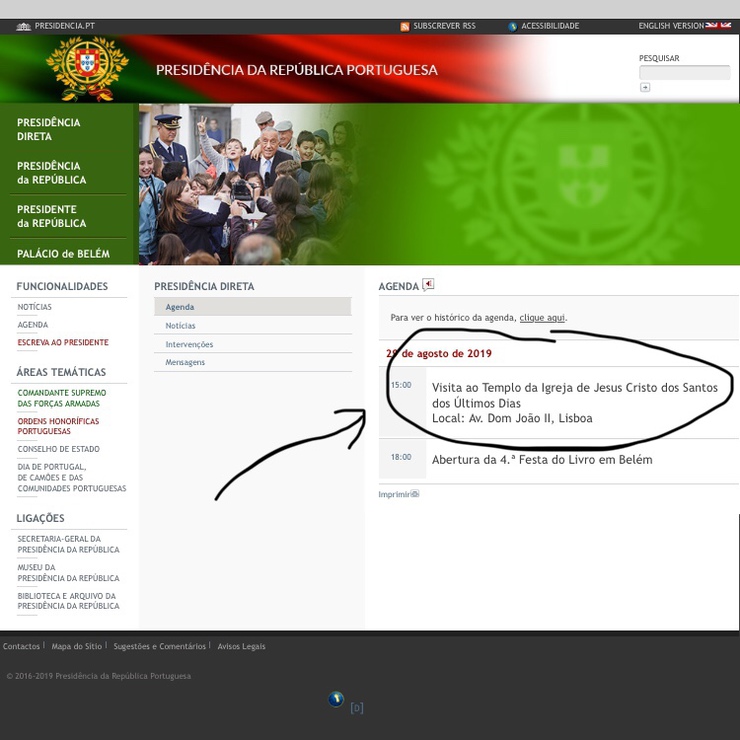 And really, the only other thing of note is that the President of Portugal came to the open house this week. We weren't there when he came, but I guess this is the first time that a President of a country has ever visited a temple open house? The members were pretty excited about it. It was on the news and newspapers and stuff. I guess the President stopped all television programming for a few minutes that afternoon where he had a little press conference and said nice things about the church and the temple.
Aaaaaaaand... I think I'm finally done! I hope you had a great week.
Love,
Chelsey
Testimony Below (I was very happy to give a short testimony when everyone had just been through the temple and had plenty to say.)
I've attended some temple dedications and they are always occasions where we feel the Holy Ghost very strongly.
I'm very excited for the temple dedication and to attend the temple the week after that.
I know that the temple is the House of the Lord and is sacred.